Eduardo S. Carrillo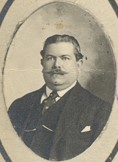 Eduardo S. Carrillo was responsible for some commercial vales but we also have two references to an issue made in his official capacity as Jefe Político.
On 9 December 1914 a Carrancista force of 2,000 men, led by Ramón Iturbe, Angle Flores and Miguel L. Cornejo, left Mazatlán for La Paz and the next day took the city. Two days later the Carrancistas held a consultation to choose a Jefe Político. They chose Eduardo S. Carrillo, a distinguished businessman who had been effected by the forced loans that the Villistas had made.
On taking office on 14 December Carrillo proposed that Carrancistas and Villistas consider the district of Baja California del Sur a neutral zone. Eight days later the Carrancistas withdrew to Topolobambo and Mazatlán, more because of the need for troops in Sonora rather than Carrillo's political acuteness, and Carrillo made peace overtures to the Villistas holding out in El Triunfo.
Carrillo was Jefe Político until January 1915.
In a list, dated January 1916, of revolutionary notes collected within the district were $13,990 in fractional currency, issued by E. S. Carrillo, by order of General Iturbe in 1915ABCS, Hacienda, vol. 658 1/2, exp. 50. Then, on 31 July 1916 $50,796.50 in various obsolete notes were incinerated by the authorities in La Paz. Among them were 25, 438 50c cartones ($12,719) of Jefe Político Eduardo S. CarrilloABCS, Hacienda, vol. 658 1/2, exp. 50.