Advertisements on Chihuahua notes - Clubs and bars (1)
Black Cat Café
'BLACK CAT CAFÉ (rubber stamp)' known on $1 dos caritas
There was a Black Cat Cafe on calle de Comercio in Ciudad Juárez. It was the location for one report of dealing in counterfeit currency.
Central Bar And Cafe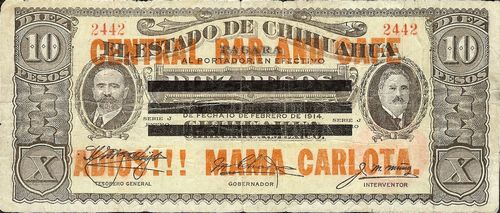 'CENTRAL BAR AND CAFE/ADIOS!!! MAMA CARLOTA and three black bars', known on $10 dos caritas
The original "Adiós á Mamá Carlota" was a song about Maximilian's empress, written by Vicente Riva Palacio as a parody of "Adiós Oh Patria Mia!" by the poet Rodríguez Galván.
There was a Central Bar and Cafe at 215 South Stanton Street, El Paso, in 1915 though the proprietor, S. G. Gonzalez, had another establishment called the Central Cafe in Avenida 16 de Septiembre, Ciudad Juárez.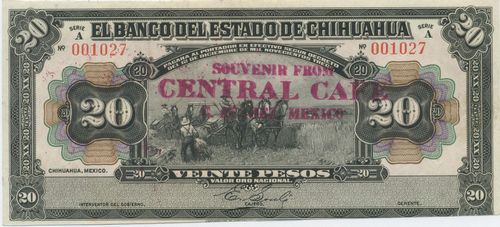 A rubber-stamped 'SOUVENIR FROM / CENTRAL CAFE / C. JUAREZ, MEXICO', known on $5, $10, $20, $50 and $100 Banco del Estado.
El Charro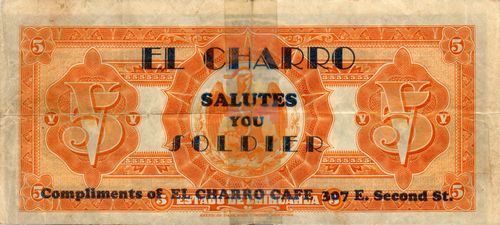 'EL CHARRO / SALUTES / YOU/ SOLDIER / Compliments of EL CHARRO CAFÉ 307 E. Second St.', known on $5 Banco del Estado.
Farewell Bar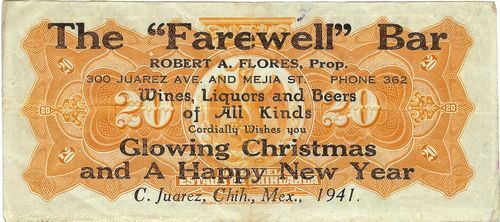 'The "Farewell" Bar/Robert A. Flores, Prop./300 JUAREZ AVE. AND MEJIA ST. PHONE 362/Wines, Liquors and Beers/of All Kinds/Cordially Wishes you/Glowing Christmas/and A Happy New Year/C. Juaraz., Mex., 1941.', known on $20 Banco del Estado.
Good Luck Tavern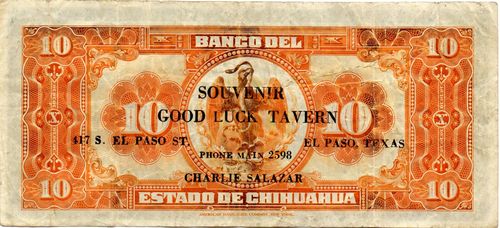 'SOUVENIR / GOOD LUCK TAVERN / 417 S. EL PASO ST. EL PASO, TEXAS / PHONE MAIN 2598 / CHARLIE SALAZAR', known on S10 Banco del Estado.
The Good Luck Tavern on 417 S. El Paso Street was operating by 1935 and still in business in August 1949, when it was accused of openly running gambling tables El Paso Herald-Post, 1 December 1949.
Holywood Night Club
'VISIT / Holywood Night Club & Café / DINING – DANCING – ENTERTAINMENT / 301 S. EL PASO ST. / American and Mexican Dishes / TONY SALEM, Mgr. Phone Main 2685 El Paso, Texas', known on $10, $20 Banco del Estado.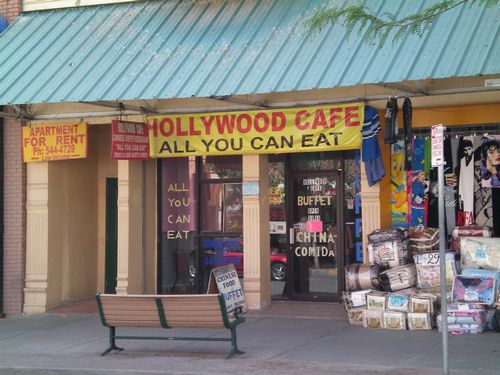 The Merrick Building at 301 South El Paso Street was built in 1887. It became the Hollywood Café in 1931. The Hollywood Night Club was started in the forties, and Tony Salem was the manager for over twenty years. Nowaday it survives as a Chinese buffet, but retains the name Hollywood.
Hotel Almada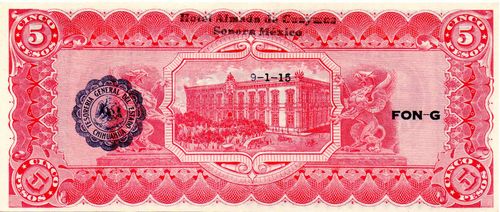 'Hotel Almada de Guaymas / Sonora México', known hand-stamped on $1, $5 and $20 dos caritas.
The Hotel Almada, owned by Manuel Almada, located on the seafront, facing the bay, had for 70 years the best reputation in the state, with its restaurant and Gambrinus cantina.
Hotel Plaza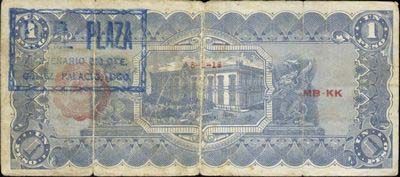 'HOTEL PLAZA / CENTENARIO 210 OTE / GOMEZ PALACIO, DURANGO.' known on $1 dos caritas.
Lobby Cafe
SOUVENIR LOBBY CAFE/C. JUAREZ, CHIH., MEX', known on $50 Banco del Estado