Private issues (bars and cafes)
As stated in the article in the Mexican Herald in September 1914The Mexican Herald, 20th. Year, No. 6941, 8 September 1914 saloons issued a large amount of their own vales. Bars and cafes included the following.
"Antigua Café y Nevería de Manrique"


A cafe and ice-cream parlour run by Jesús Perca, hijo at 1a. calle de Manrique 4.
Cafe de Berna
A 50c note. This note was part of a display of vales photographed by Casasola in c. 1915https://mediateca.inah.gob.mx/repositorio/islandora/object/fotografia%3A191512.
Cafe de Tacuba

5c and 10c notes.
"La America"
A bar, pool hall and bowling alley run by Antonio Perez. The 20c notes are dated to 6 September 1914.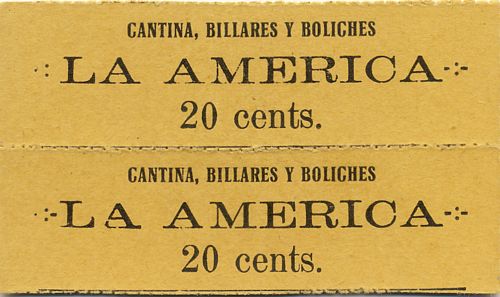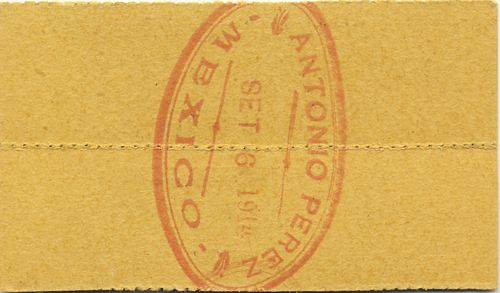 La Granja
A pastry and cake shop mentioned in July 1915 as having issued valesEl Combate, Tomo I, Núm. 20, 7 July 1915.
"La Colonia"
This cafe and cake shop (cafe y dulcería) issued a 50c note
Cantina Lobby
Run by Tomás López at 1a San Francisco 8.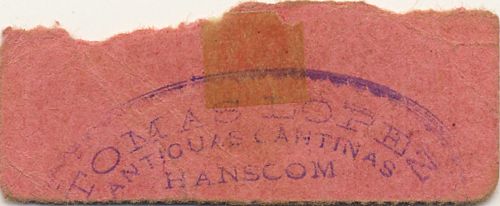 Cantina Monaco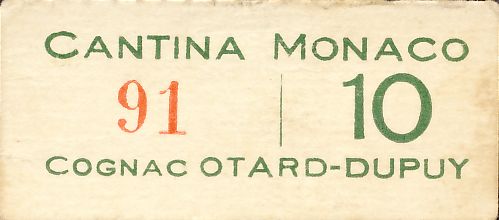 5c and 10c notes.
Cantina Salón Azul
A 5c note from this cantina, run by D. Celorio Hermanos.
Cantina Salón Paris
A 10c note from this cantina run by Placido González Carrera. The Salón Paris was located at the corner of avenida de los Hombres Ilustres and 1a calle Puente de Mariscala.
Salon Bach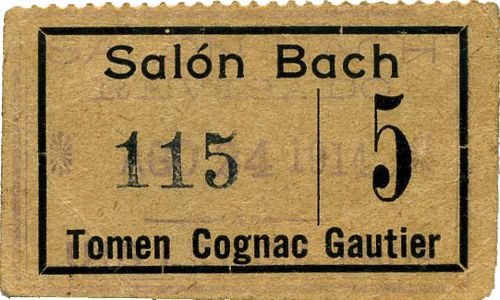 Ironically, the Mexican Herald reported in September 1914 that saloons issued a large amount of their vales during the days immediately preceding their closing, and as these vales were good only at the particular saloon issuing them, patrons of these places can not make them pass in any other establishments and consequently would lose their amounts if the saloons remain closed indefinitelyThe Mexican Herald, 20th Year, No. 6941, 8 September 1914.
Cercle Francais de México
A restaurant and bar run by J. B. Zerboni.
10c and 20c notes, the latter known dated 8 February 1916.
El Alcanzar
A cafe, restaurant and ice cream parlour at Gante 7. The stamp on the reverse reads TRINIDAD GUARNEROS - ABARROTES NACIONALES Y EXTRANJEROS and is dated 1 September 1915.
"La Condal"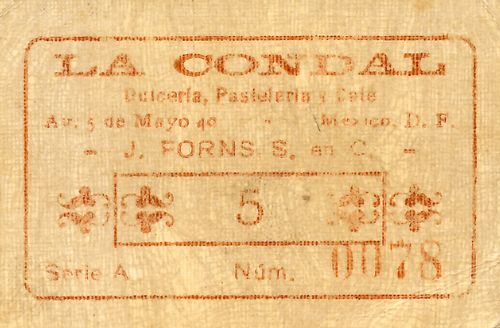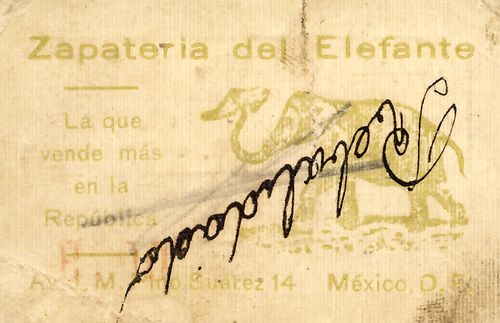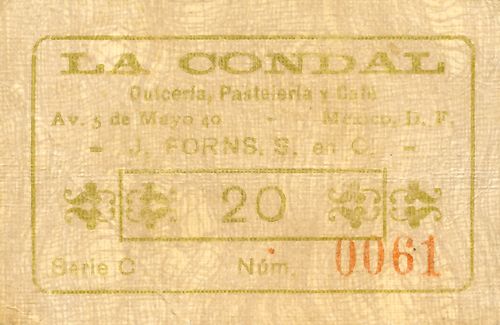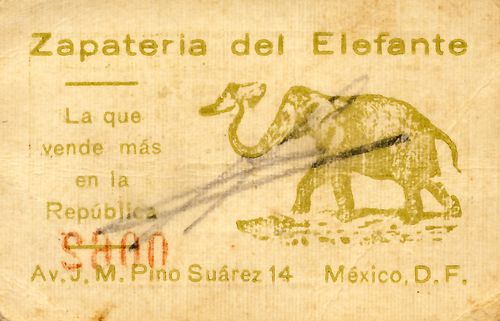 A sweet, pastry and coffee shop run by J. Forns, S. en C. at Avenida 5 de Mayo 40. The notes have an advertisement for the Zapatería del Elefante shoeshop at Avenida J. M. Pino Suárez 14 on the reverse.
"La Fama Italiana"
A 5c note from a restaurant(?) run by Valentín Fernández.
"La Fama Mexicana"
A 5c note from a restaurant situated at 2a calle de Bolivar 21.
La Lonja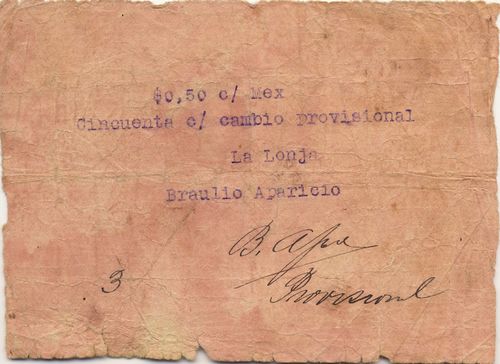 Cantina Colón
On the corner of Independencia and Juárez.
La Universal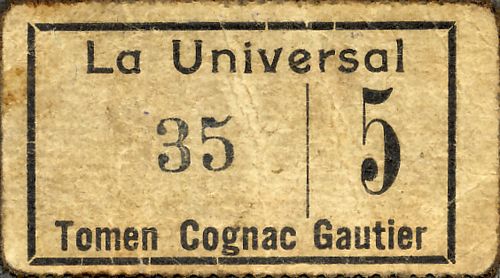 run by Modesto Abrisqueta.Centro Mercantil
A 5c note with the exhortation 'Tomen Cognac Gautier' so possibly a bar.
Restaurant Teatro Principal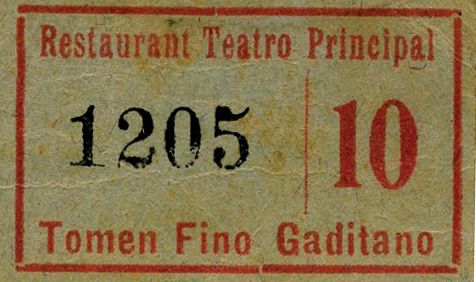 Restaurant "Roma"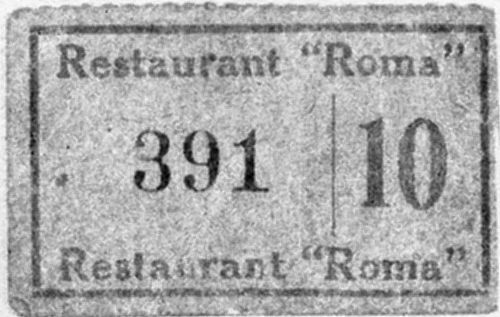 A 10c note dated August 1914.
Restaurant Sylvain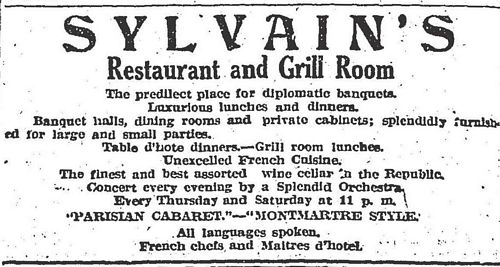 A 5c note.
Sanborns
This retail company was founded in Mexico City on 19 June 1903 by Walter and Frank Sanborn, two immigrants from California, who also opened Mexico's first soda fountain. The original location was across from the main post office and is still in operation.
During the Mexican Revolution, troops of Emiliano Zapata used Sanborns as a gathering place, a fact that gave rise to some iconic photographs.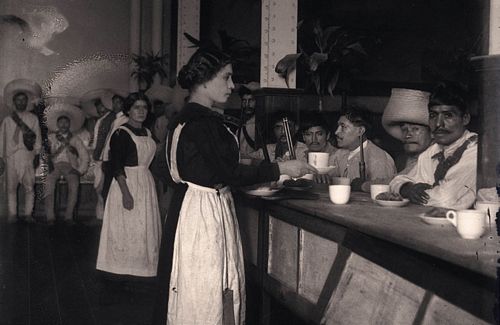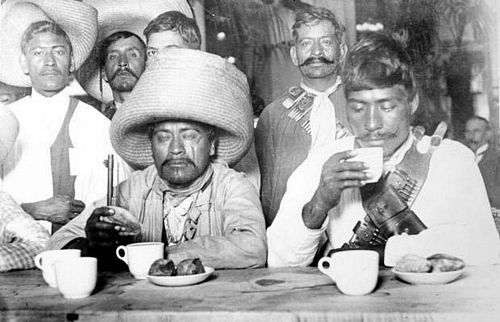 To address the shortage of small change Sanborns produced chits, specifically stated to be "for the exclusive use and convenience of our clients". 20c and 50c values are known.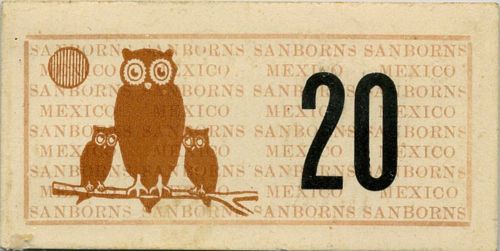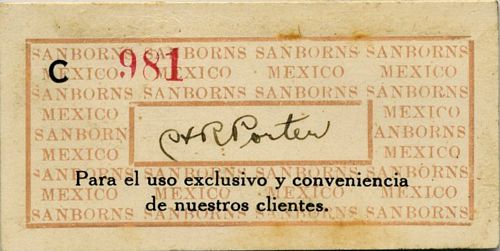 On 23 June 1915 the Conventionist newspaper El Combate indignantly wrote: 'The cashier at the Sanborn's drugstore (three calluses on each finger), showing that she is not only ugly but ill educated, refuses to accept the notes that she does not like: yes, the ones that she does not like. And when forced by the outright and convincing arguments of a customer to accept the paper money, she tries at all costs to give in change the shop's own vales.
Governor, by what right is the famous house of Sanborn's, which sells cocaine to the fashionable rich )Fifis( to powder their noses, authorized to issue paper money, or customers obliged to accept those filthy things called vales, which ought to be sent to the Board of Health for disinfection?"El Combate, Tomo I, Núm. 8, 23 June 1915
El Combate returned to the theme on 7 JulyEl Combate, Tomo I, Núm. 20, 7 July 1915, and finally on 27 July the governor of the Federal District banned the use of these vales by shops, hotels, cantinas, restaurants etc under threat of a fineEl Renovador, Tomo I, Núm. 34, 28 July 1915.