Private issues (others)
Baños de los Arquitos
Baños del Factor
Baños del Harem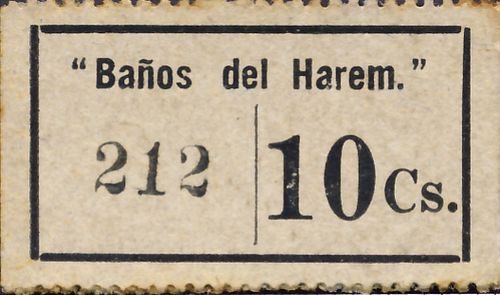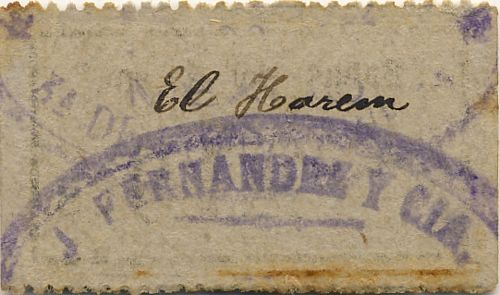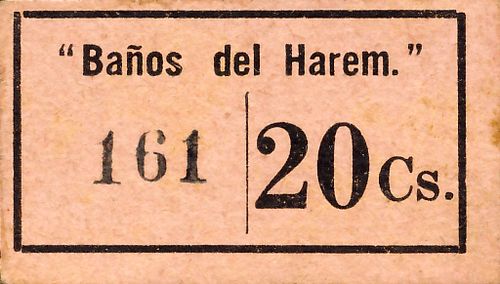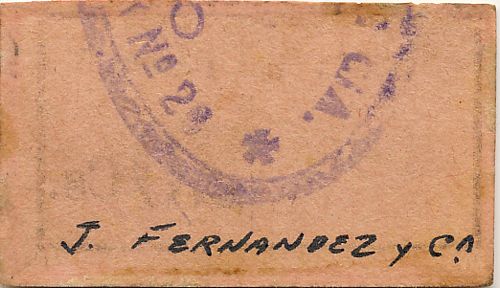 run by J. Fernández y Cía.
Billares Gillow
A pool hall run by Santoyo Picazo y Cía., at Avenida 5 del Mayo.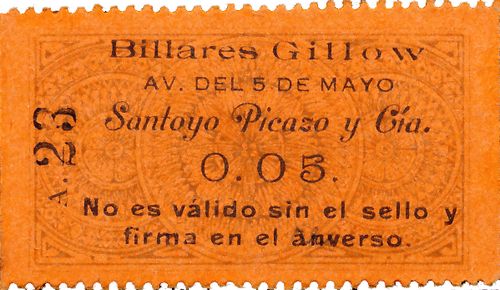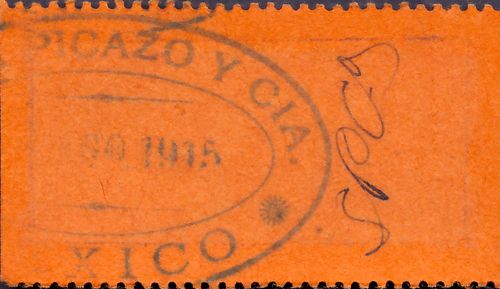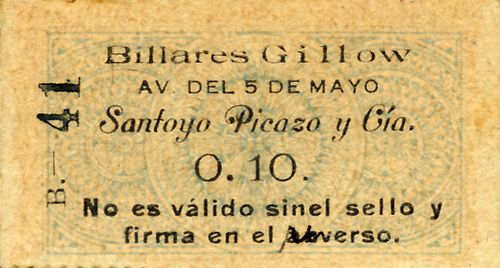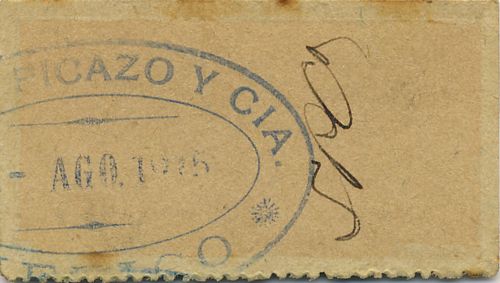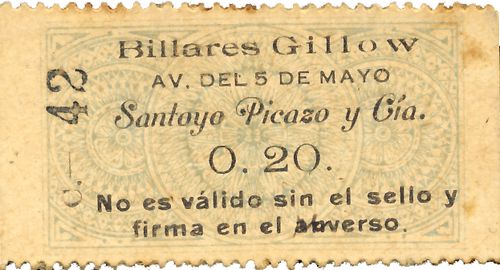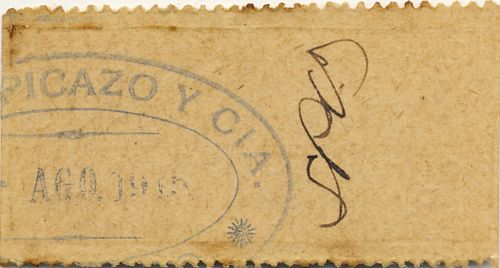 Casino de la Unión Filarmonica
A series of identical notes in three denominations (5c, 10c, 20c).
Compañía Exportadora de Petróleo Mexicano, S. A.
(Mexican Petroleum Export Co. Ltd.)
This company's offices, in 1916, were at 3a Capuchinas, no. 63 in Mexico City.
Among the archives that were thrown into landfill by the new owners of the American Bank Note Company was correspondence from 1915-1916 on notes for the Mexican Petroleum Export Co. Ltd ABNC, 40241.00. This might have been for a proposed (and possibly effected) issue of notes, to be used to pay workers and suppliers, during the Revolution.
Dulcería "La Moderna"
Run by José Balsells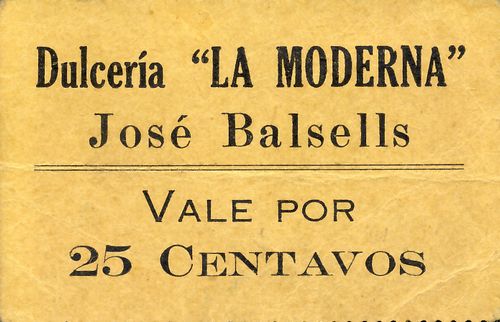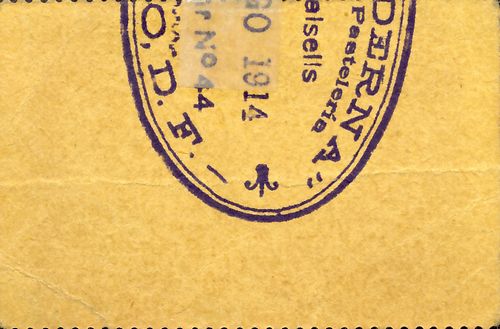 Dulcería y Pastelería "La Victoria"
Run by Pedro Paytuvi.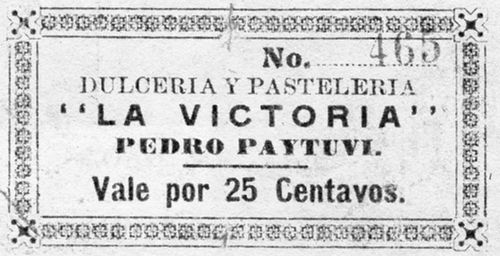 25c and 50c notes are known.
El Lazo Mercantil
Two series. One (5c, 10c and 20c) with the name Palomo y González.
Another (5c, 10c and 20c) with the advertising slogan "Tomen Cognac Gautier".
El Vaso de Leche
A shop mentioned in July 1915 as having issued valesEl Combate, Tomo I, Núm. 20, 7 July 1915.
Farmacía y Droguería "Colon"
A 50c note dated 31 June 1915.
F. G. McCann y Cía.
10c and 20c notes.
Hotel Palacio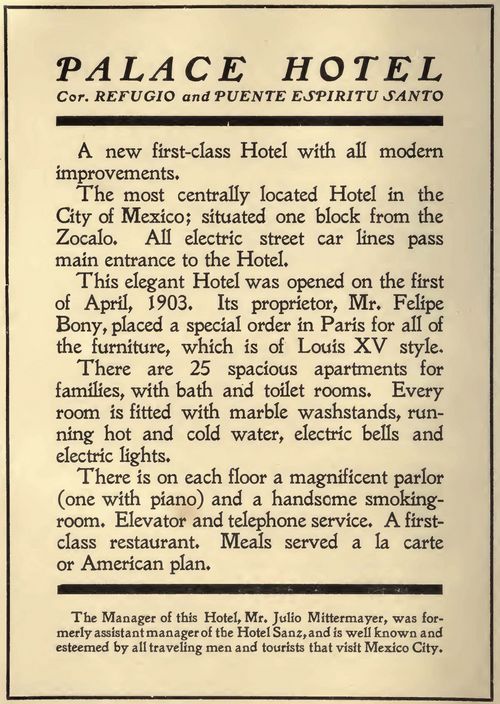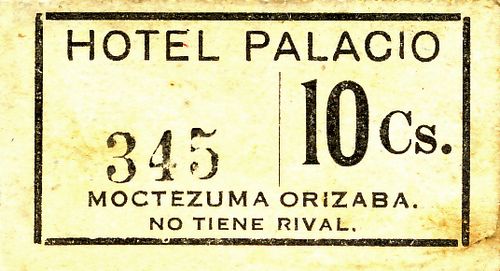 5c and 10c notes. The Moctezuma Orizaba, that has no rivals, is a beer.
"La Abeja"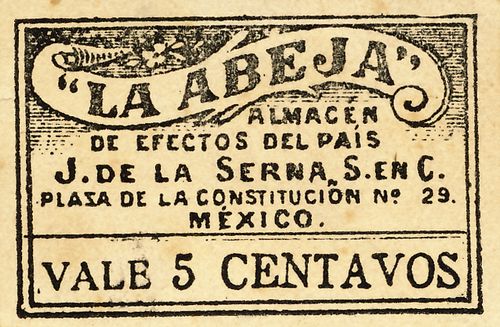 La Casa Gratuita, S. A.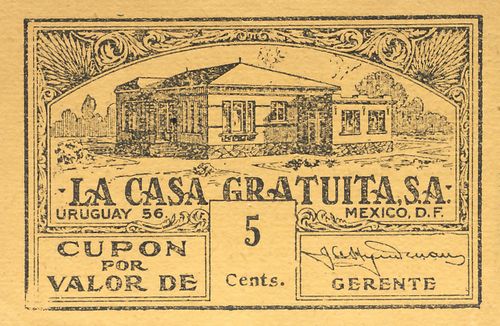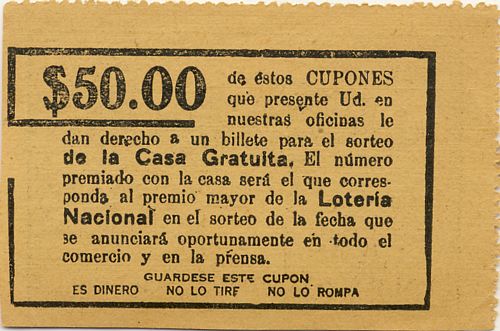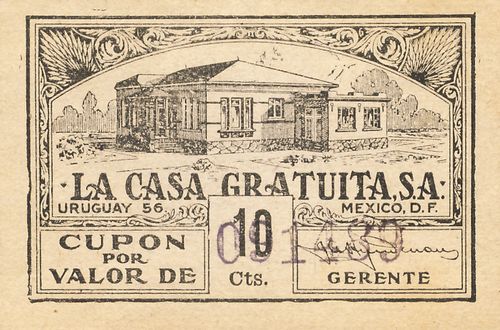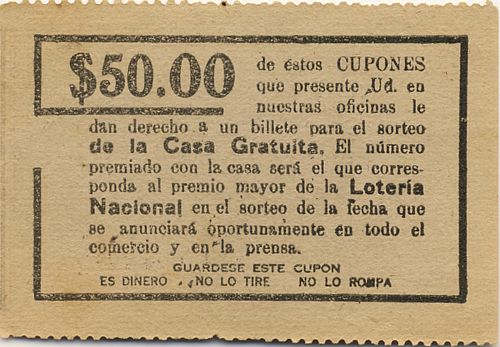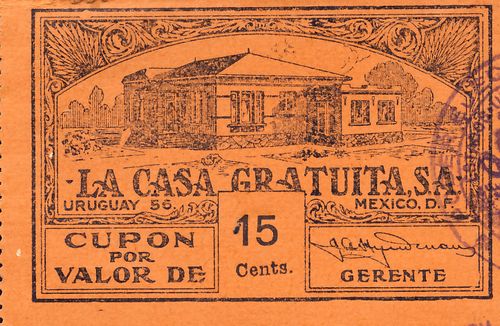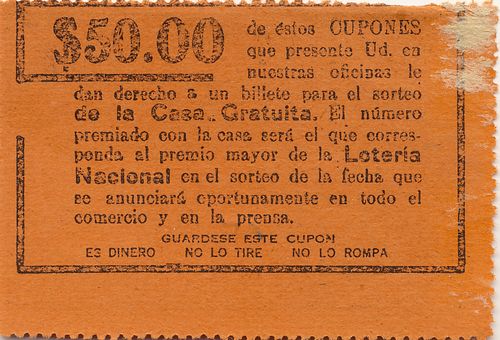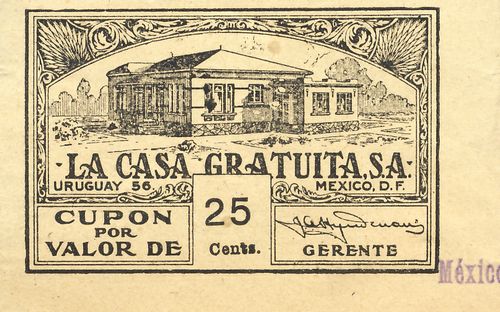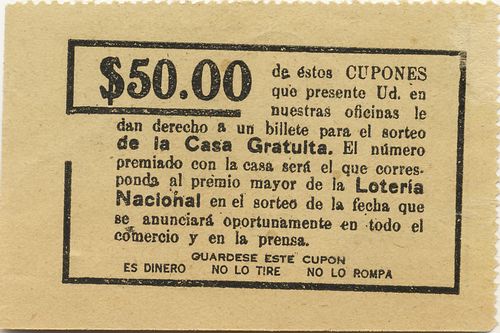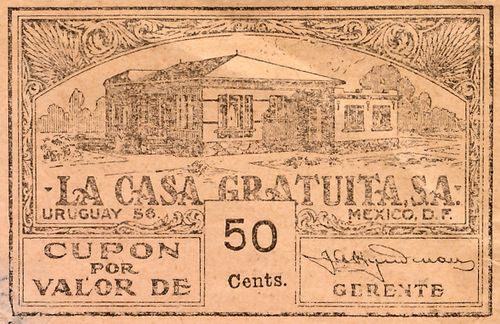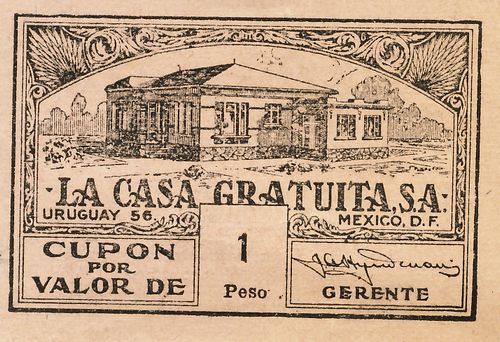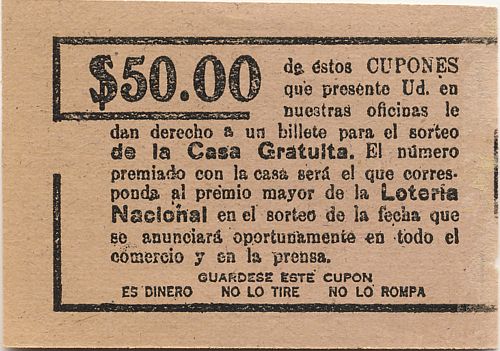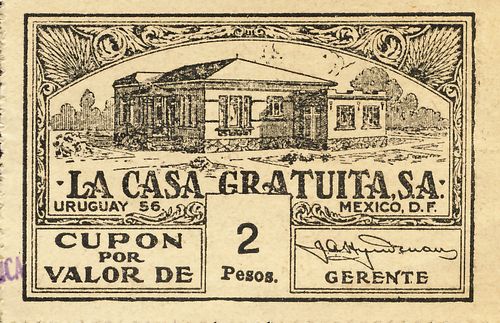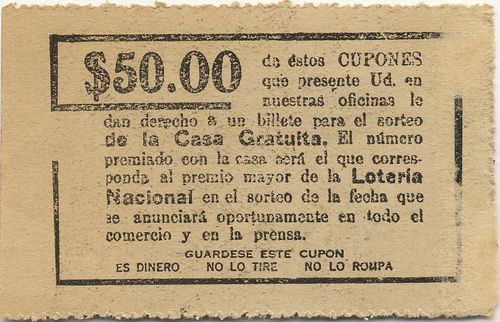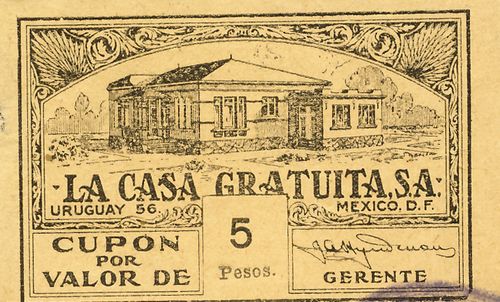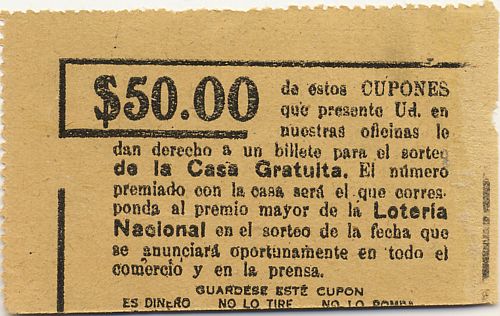 Though the text on the reverse claims that these have value (ES DINERO) $50 worth of these coupons entitled the holder to one ticket in a lottery of/for the Casa Gratuita (Free House). The wining number would be the same as that for the major prize in the National Lottery.
The Excelsior Shoe Factory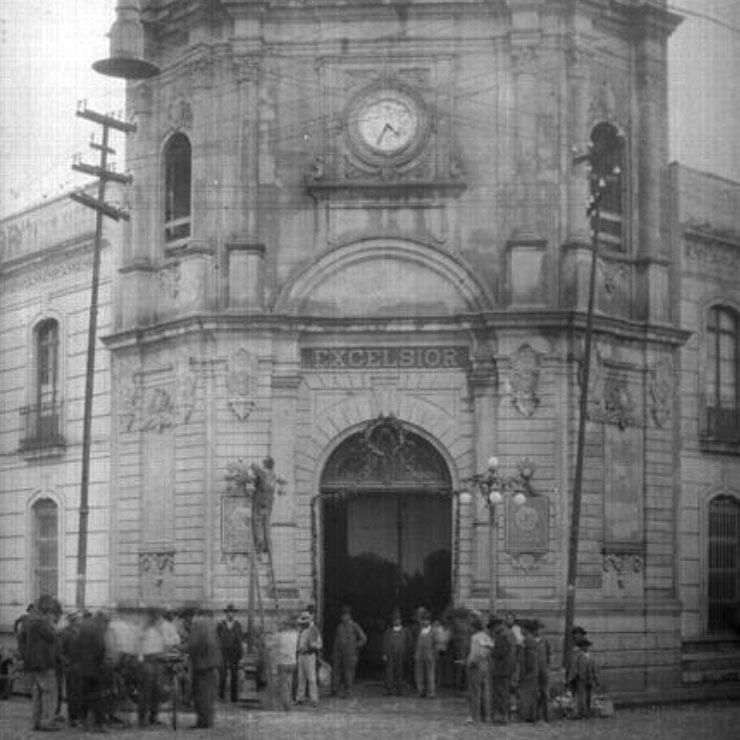 The Excelsior Shoe Factory (Fábrica de Calzado "Excelsior" y Anexas, S. A.) was located on the corner of present calles Benjamin Hill and Carlos B. Zetina (named after the man who founded Excelsior in 1902 who later became a senator, as well as presidential candidate) in the Tacubaya district of Mexico City.
It was a giant undertaking with, as its notes proclaim, a capital of $2,000,000. It issued a series of notes (1c, 2c, 5c, 10c, 20c and 50c) dated 15 May 1914.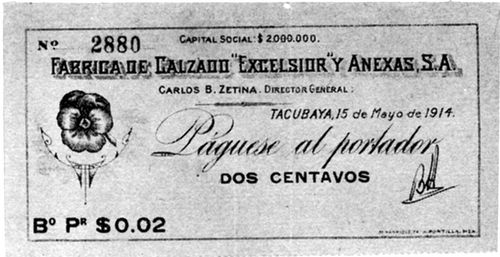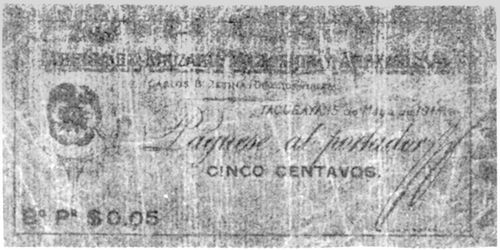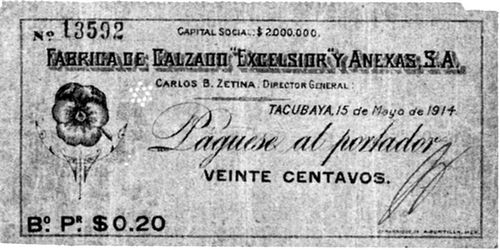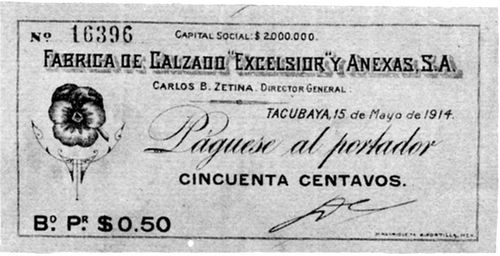 La Popular
A 10c note from a store located at Palma and 5 de Mayo..
"La Protectora"


La Providencia"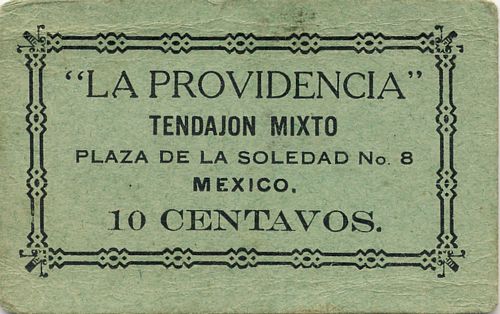 Lazaro Petrides Tabaquería
A 5c note from a tobacconist, situated at Avenida San Francisco 8..
Parisiana
A cinema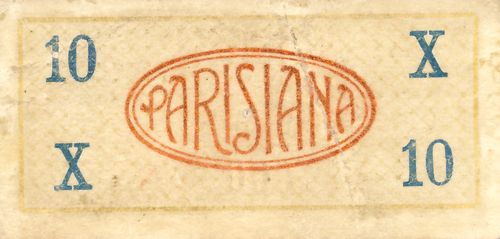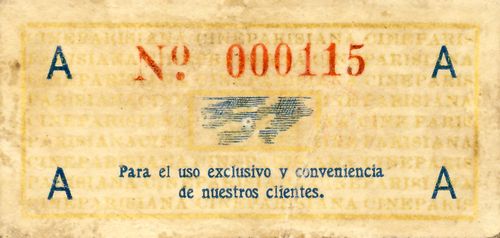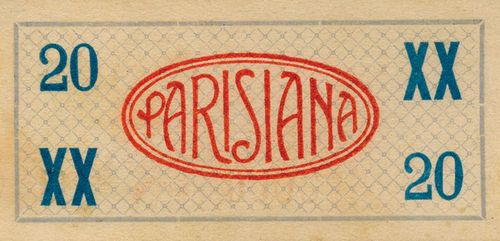 Again, these seem unlikely, but confirmation comes from the fact that they were included in a display of vales photographed by Casasola in c. 1914https://mediateca.inah.gob.mx/repositorio/islandora/object/fotografia%3A191511.
Peluquería de Los Baños de San Agustín
A 30c note from a barber's.
Peluquería Imperio
A 10c note from another barber's, run by Fructuoso Vallecillo.
Salon Rojo
A 20c note from a cinema, run by J. Granat.
Teatro "El Alcazar"
A 10c note.
The Jersey Dairy Association. S. A.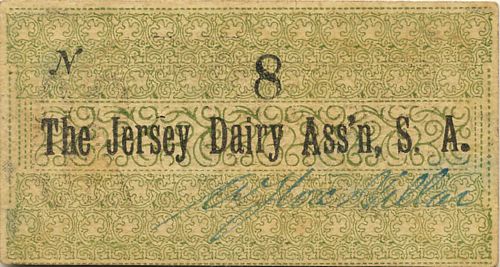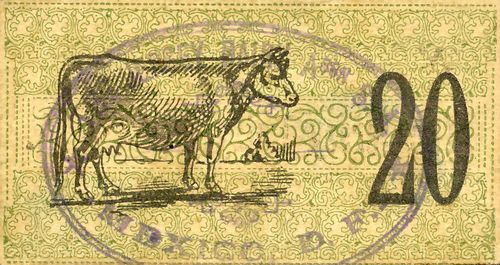 20c and 50c notes.
Y.M.C.A.

Althogh this one appears implausible, Gaytan records it, and states that the Y.M.C.A. was on the corner of Balderas and Morelos.