Nicolás Zúñiga y Miranda
Not really paper money but akin to the issues of Emperor Norton I (who was also the Protector of Mexico).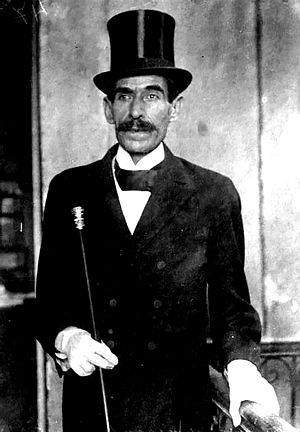 Nicolás Zúñiga y Miranda (13 May 1865 – 8 July 1925) was a Mexican eccentric who was famous for being a perennial candidate in his country's presidential elections. Although he never won a significant share of the votes, he considered himself to be the victor every time.
Zúñiga y Miranda was born in Zacatecas into a family of old Spanish nobility. He went to Mexico City to study law and became a lawyer, but first gained fame in 1887 when he claimed to have invented a machine that could predict earthquakes. He successfully predicted an earthquake that struck the capital that year. After this success, he predicted that on August 10 of the same year Mexico City would be completely destroyed by simultaneous eruptions of the Cerro del Peñón and Popocatépetl, which caused several inhabitants to leave the capital at that date. The prediction proved to be false. He founded several ephemeral magazines in which he attempted to predict natural disasters or other events, including the end of time, without much success.
He had almost disappeared from public attention when he announced his candidacy against Porfirio Díaz as the 'candidate of the people' for the 1892 presidential elections. Zúñiga claimed to have been victorious in the elections and protested against the alleged election fraud. Díaz had him arrested and he was sentenced to 25 days of solitary confinement. After being released Zúñiga made himself a presidential sash, declared himself to be the 'legitimate president' and called Díaz a usurper. In 1896, 1900, 1904, and 1910 he again participated in the presidential elections, every time with the same result: he received only a small number of votes, claimed fraud, and declared himself to be president. It was said that Zúñiga honestly believed he was elected by the people, and turned into a popular figure in Mexico City. He was often invited for parties, in restaurants or for other public events, in which the population treated him as if he really were the president. The Díaz government considered him to be a madman who was amusing rather than dangerous and decided not to take action against him any more, while for the Mexican population he served as a way to laugh about the lack of democracy in the country. Zúñiga always dressed as an English gentleman, wearing a cylinder hat, gloves, and a monocle, and smoking a pipe.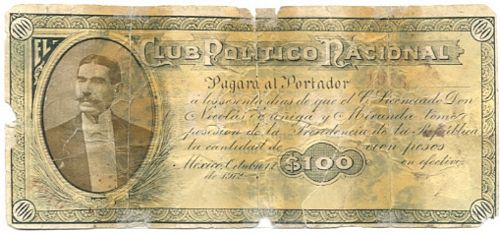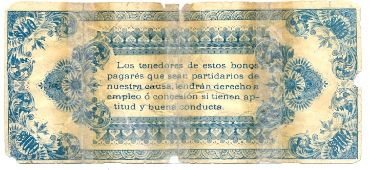 In the collection of the Banco de MéxicoCNBanxico #6634 is a bono pagarés (an acknowlegdement of a future debt) dated 12 October 1912 by which Zuñiga's party, the Club Politico Nacional, promises to pay the bearer $100 seventy days after Zuñiga assumes the presidency. On the reverse it states "los tenedores de estos bonos pagarés que sean partidarios de nuestra causa, tendrán derecho a empleo o concesión si tienen aptitud y buena conducta (holders who support our cause will have the right of employment or concession, if they have the aptitude and are of good conduct)".
After the revolution Zúñiga continued to participate in elections: in 1917 against Venustiano Carranza and in 1920 against Álvaro Obregón. Although he never got more than a few thousand votes he remained popular and reminded Mexicans of the fact that Mexico had not yet become a full democracy after the revolution. Zúñiga last participated in elections in 1924, during which he received death threats from supporters of the 'official' candidate Plutarco Elías Calles. He died a year later.
Zúñiga y Miranda has a prominent spot in Diego Rivera's painting Sueño de una tarde dominical en la Alameda (Dream on a Sunday Afternoon in the Alameda).