Private issues (mining companies)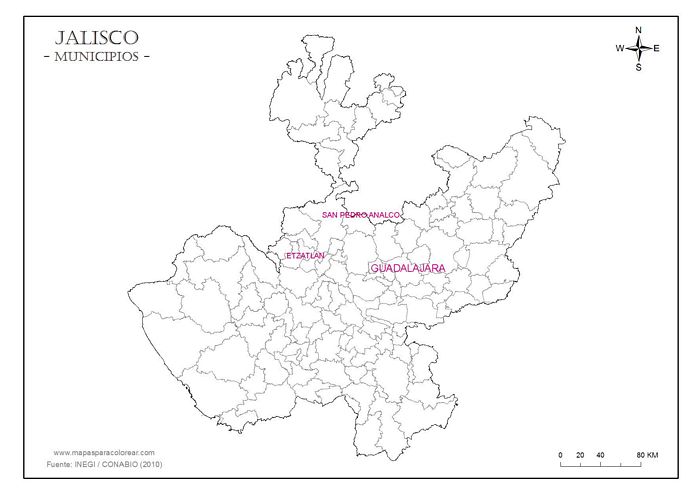 Etzatlán
Nueva Compañía Minera de "La Mazata y Anexas," S. A.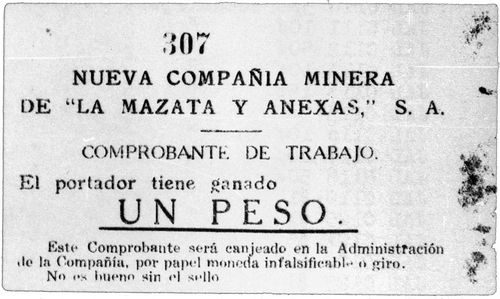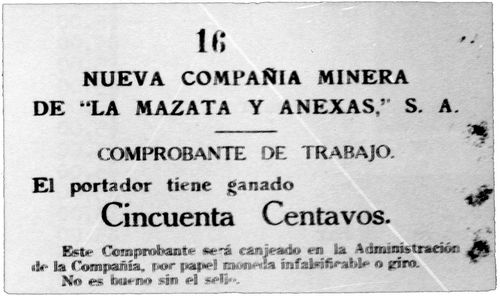 Amparo Mining Company
On 6 May 1914 it was reported that this mine had suspended operations. More than two thousand workers had been laid off by the Amparo Mining Company, who had been receiving a daily allowance(?) in vales of 50c (quienes han estado recibiendo en vales de 50 centavos un diario), while they stayed and looked for other workEl País, Año X, No. 4608, 6 May 1914.
By 1916 the company was managed by an Englishman, Santiago H. Howard. When the company closed its tienda de raya it established a shop at which it sold clothes and everything else its workers needed, including basics, at 1913 pricesBoletín Militar, Tomo III, Núm. 277, 26 September 1915.
The notes of the Amparo Mining Company, Etzatlán, were payable in carne (meat).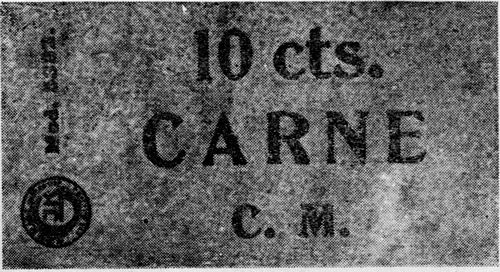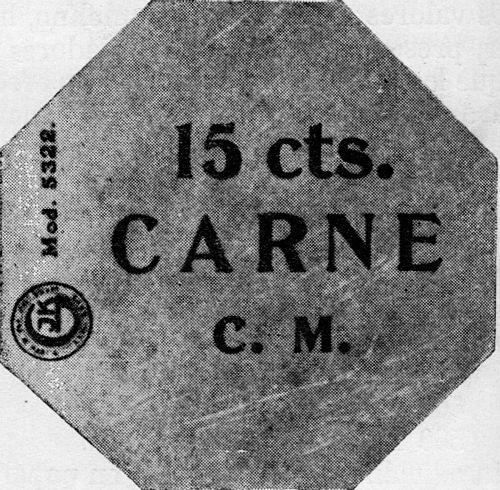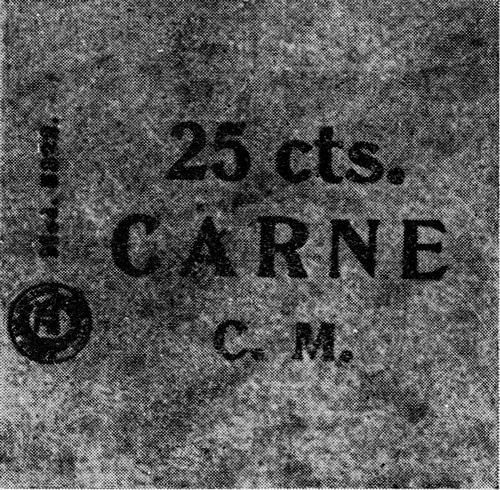 Date
modelo
Value
Series
Number
issued
Total
Comment
January 1916
10c
500
1,500
oblong brown cartón
15c
500
octagonal brown cartón
25c
500
square brown cartón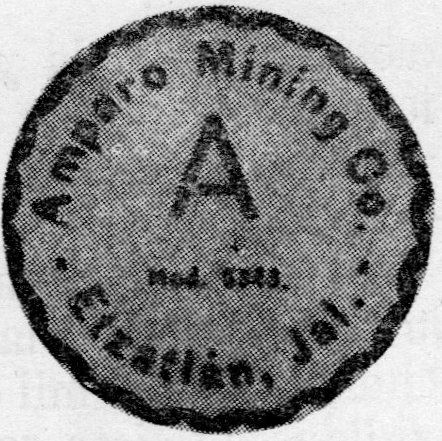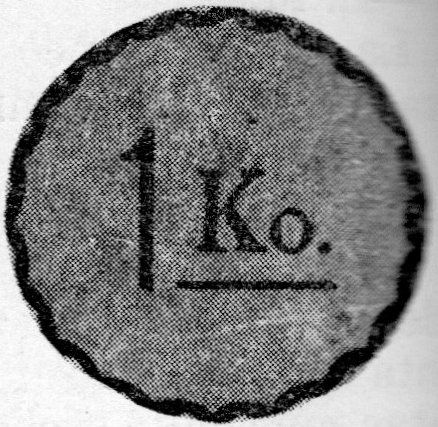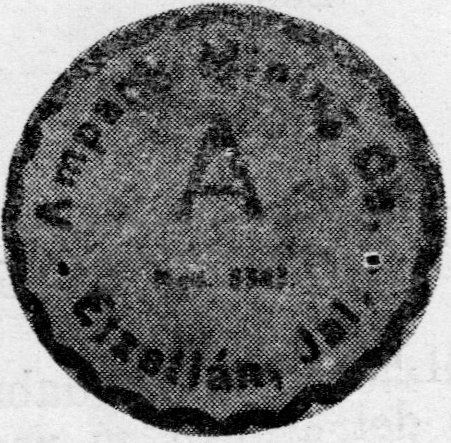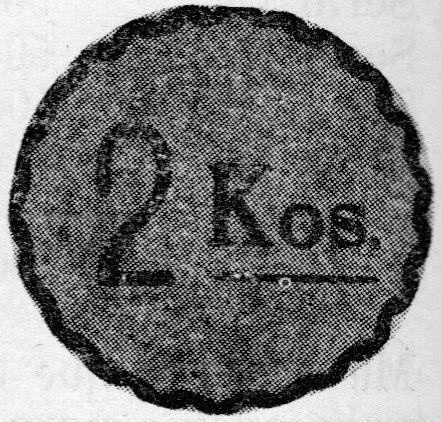 Date
modelo
Value
Series
Number
issued
Total
Comment
11 April 1916
5343
1 kilo
A
500
5,250
round brown cartón
B
500
C
500
D
500
E
500
F
500
G
500
2 kilos
A
250
round brown cartón
B
250
C
250
D
250
E
250
F
250
G
250
San Pedro Analco
Negociación Minera de San Rafael y Anexas
This company produced a series of 20c, 50c and $1 notes, dated 16 April 1914, for use with local businesses, which carried the notification that they could be exchanged for banknotes in multiples of five pesos. These were produced by the Guadalajara firm of J. M. Iguíniz.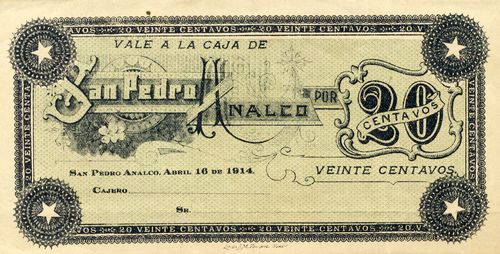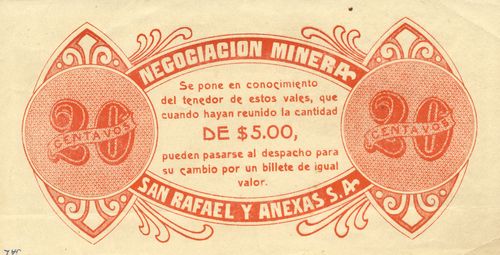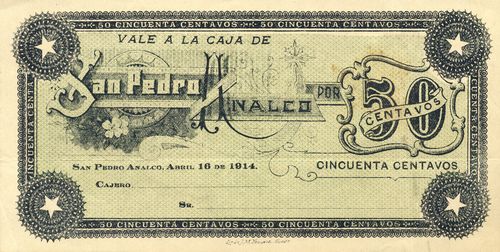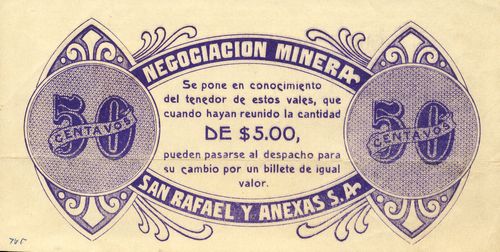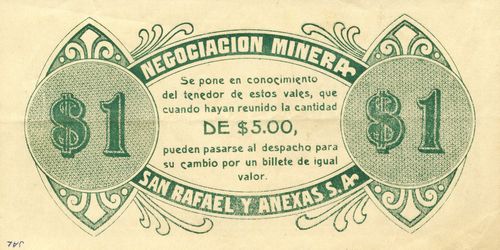 In 1916 Juan Kaiser produced a series of boletos - sheets of coupons - for the company.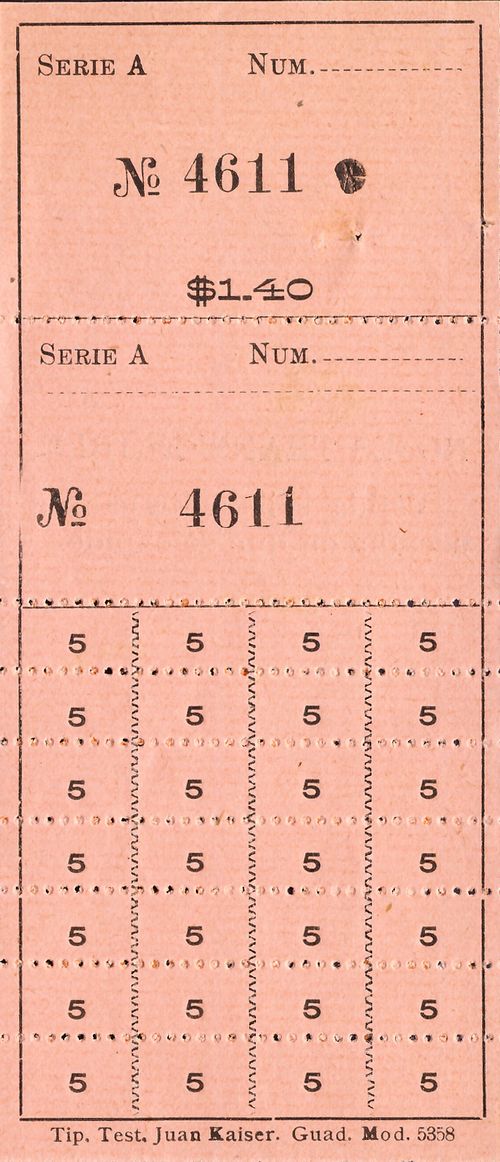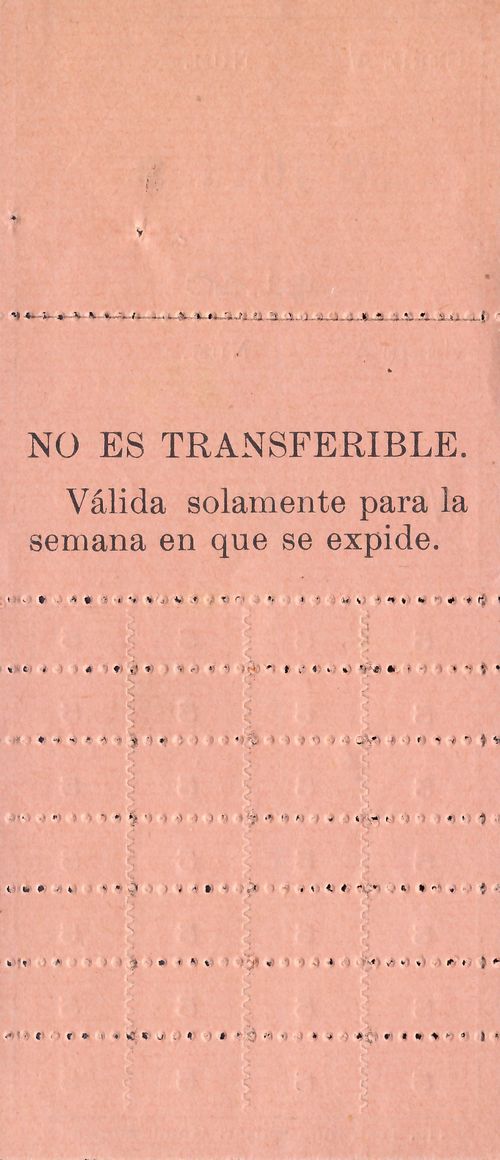 Date
modelo
Value
Series
from
to
Number
issued
Total
Comment
May 1916
5358
$1.40
A
1
7000
7,000
35,000
pink sheet of 28 x 5c
B
7001
14000
7,000
orange sheet of 28 x 5c
C
14001
21000
7,000
blue-grey sheet of 28 x 5c
D
21001
28000
7,000
cream sheet of 28 x 5c
E
28001
35000
7,000
sheet of 28 x 5c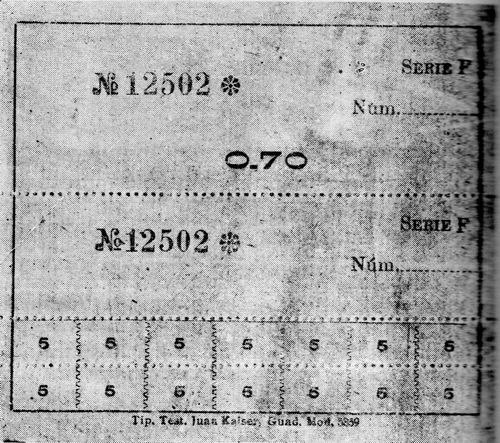 Date
modelo
Value
Series
from
to
Number
issued
Total
Comment
5359
70c
F
1
5000
5,000
15,000
sheets of 14 x 5c
G
5001
10000
5,000
H
10001
15000
5,000