Haciendas during the Revolution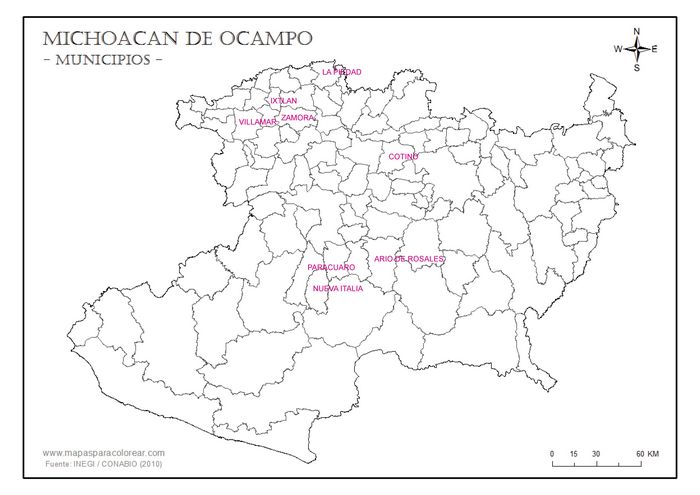 These low value notes will have been used to pay wages to the workers, most probably because of a lack of small change but paying in vales tied the workers even more tightly to the hacienda and its company store (tienda de raya).
La Piedad
Hacienda La Tepuza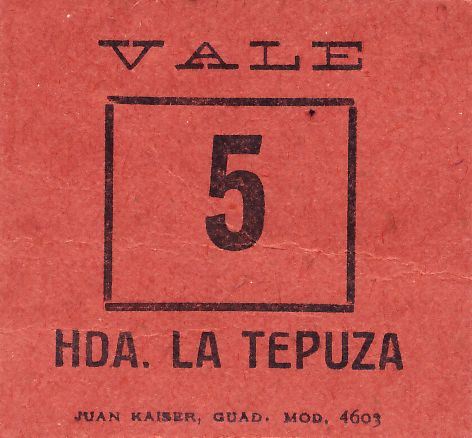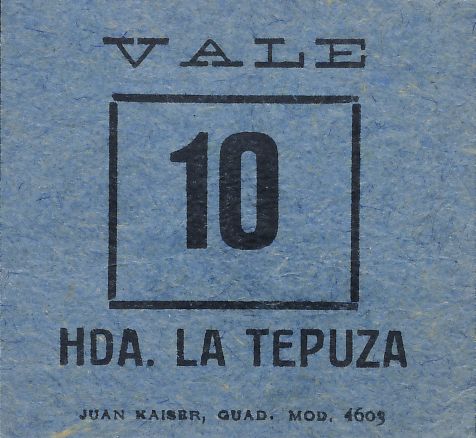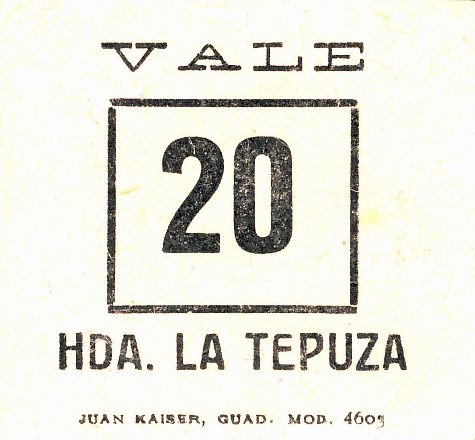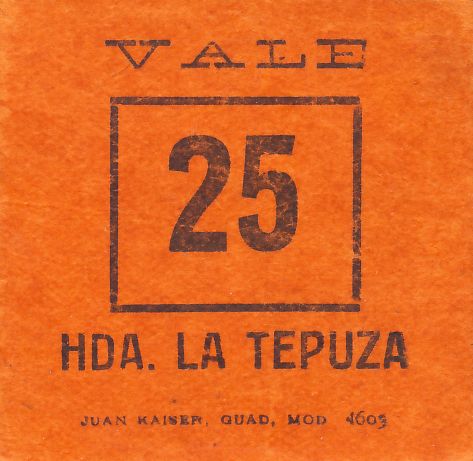 These were produced by Juan Kaiser of GuadalajaraJuan Kaiser Schwab was born in Leusigen, Switzerland in 1858, and in 1881, at the age of twenty-three, sought his fortune in South America, travelling from Chile to Bolivia and from Peru to Panama. In 1887 he settled in Mexico City, and was employed by the stationers "La Helvetía". At the end of that year, with his elder brother Arnoldo, he acquired a bookshop, "Al Libro Mayor", in San Luis Potosí. In 1899 he moved to Guadalajara and founded "Al Libro de Caja," dealing in printing, binding, office stationery and books in general. The Kaiser brothers were instrumental in introducing the picture postcard to San Luis Potosí and, probably, Guadalajara. Juan Kaiser died in 1916, and was succeeded by his son, Javier, who in time handed the business over to its employees and went to live in Switzerland, his ancestral home.. Kaiser printed tokens, mainly for haciendas in Jalisco. These notes are of thick paper or, more often, pressboard and there are a few common designs, most noticeably the round cartón with the denomination on the face and the same in Roman numerals (and often the hacienda's brand) on the reverse. They usually carried the imprint "J.K.G" (for Juan Kaiser Guadalajara) or some variation, and the number of the order (modelo) which allows the various issues to be dated. These are modelo 4605.
Ixtlán de los Hervores
Hacienda de San Simón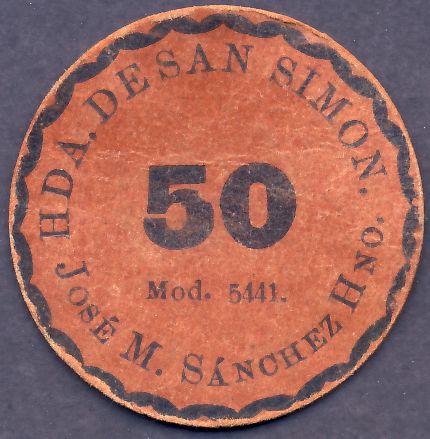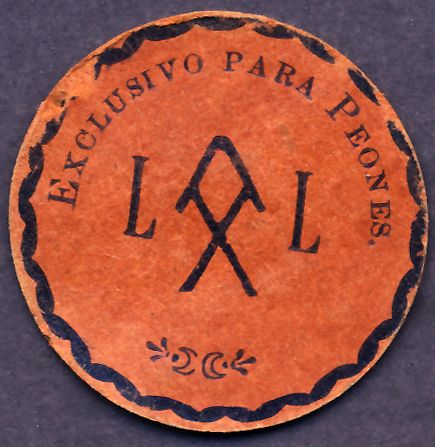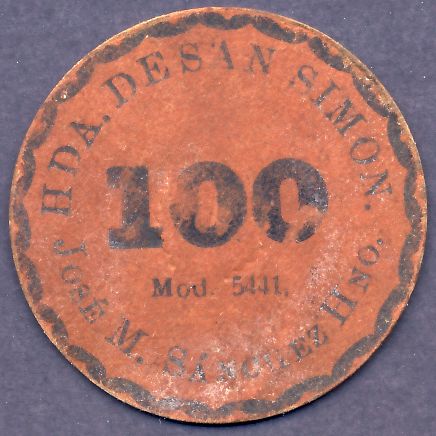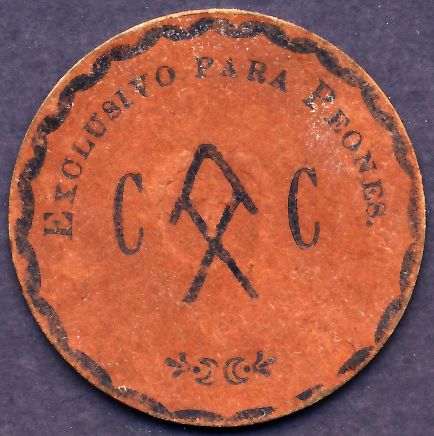 This hacienda, run by José M. Sánchez Hnos., had 50c and $1 notes printed by Juan Kaiser with modelo 5441.
Villamar
Hacienda de Guaracha
Test. de Diego Moreno. This colonial hacienda, in Villamar, was one of the principal sugar producer in the area. It produced a series of notes dated 16 September 1915.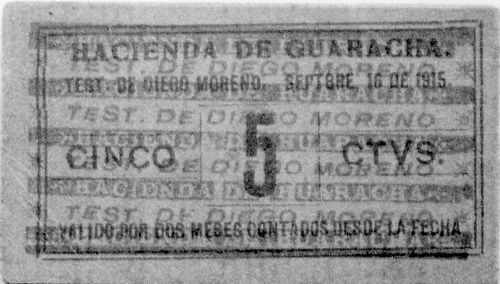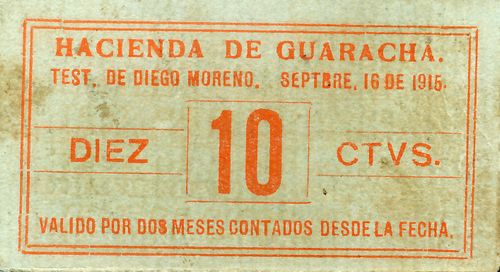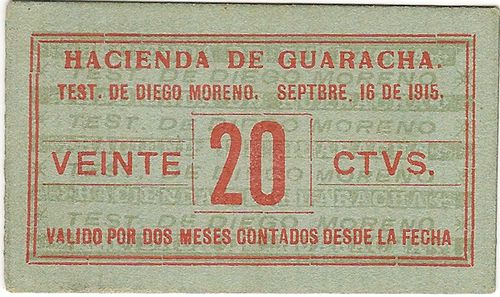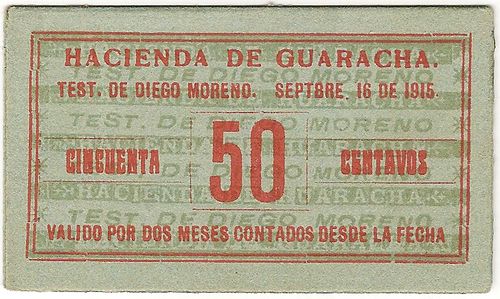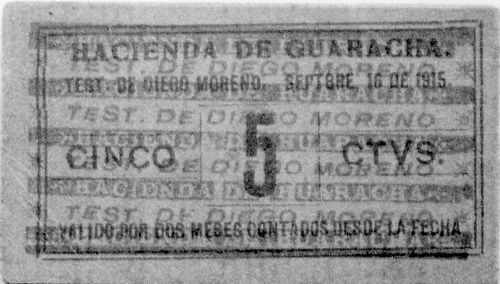 It also had coupons for the various units - botica (pharmacy), pasturas (pasture), huerta (orchard) and molino (mill). Known coupons are
| | | | | | | | |
| --- | --- | --- | --- | --- | --- | --- | --- |
| | 1c | 2c | 3c | 5c | 10c | 15c | 20c |
| Botica | | | | X | X | | X |
| Pasturas | | | | X | X | X | X |
| Huerta | | | | X | X | | X |
| Molino | X | X | X | X | | | |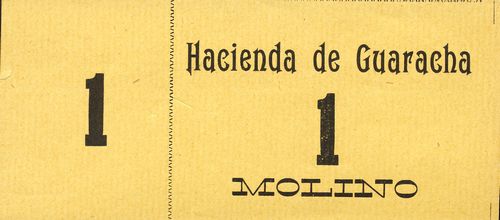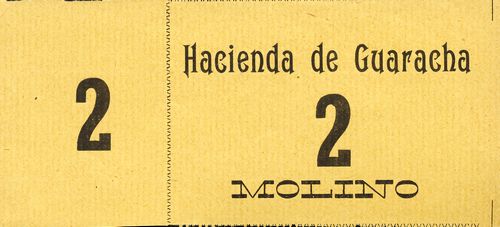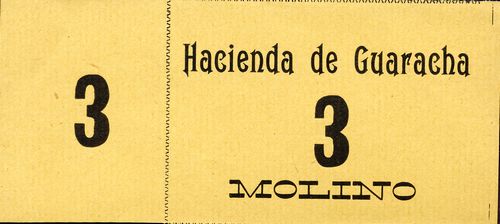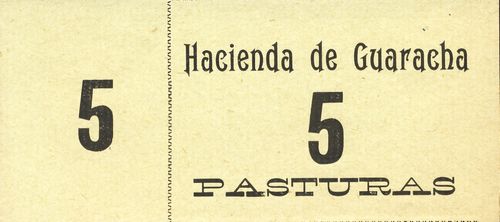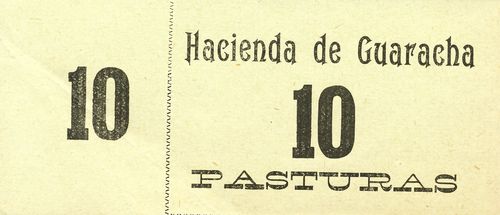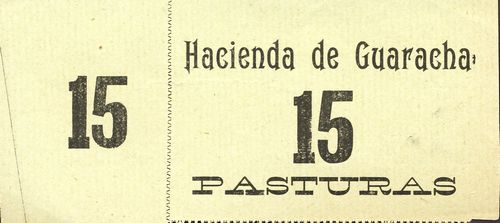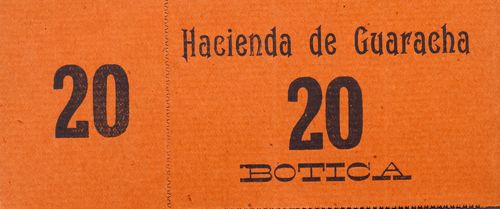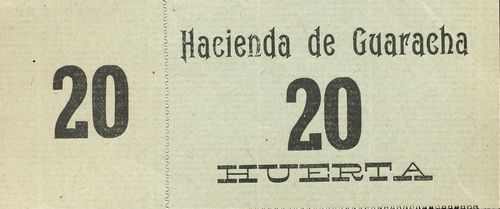 Zamora
Las Haciendas del Cerrito and La Rinconada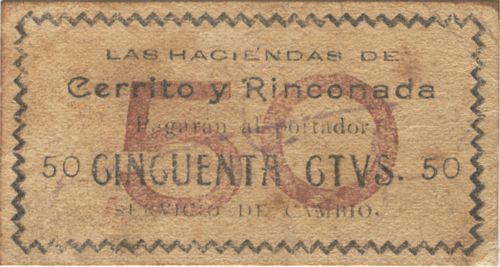 Hacienda El Llano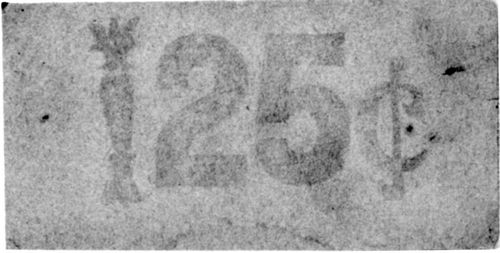 The hacienda El Llano in Zamora belonged to the Dávalos family. This note is dated 26 June 1915.
Around March 1915 the overseer of El Llano, Abundio Carriedo, issued some cartones with his signature. Afterwards they used a stamp of the hacienda and issued some more, until Señorita Maria Dolores Méndez Verduzco learnt of them and called them in. So they were in use for just a couple of months.
María G. Dávalos was in Mexico City at this time and disowned the issue as soon as she learnt of it. In July 1917 a couple of people tried to get the Presidencia Municipal to encash some fichas but the Presidencia acknowledged that Dávalos had no responsabilityAMZ, sección Secretaría, caja 58, Exp. 31.
Hacienda Los Espinos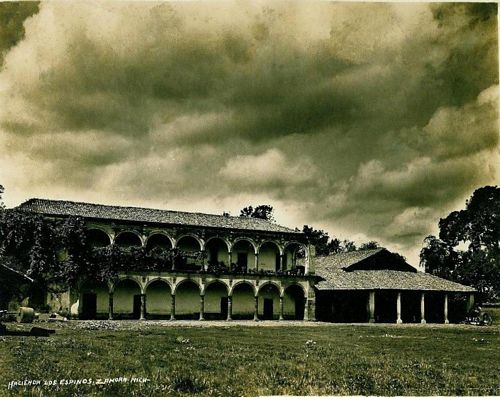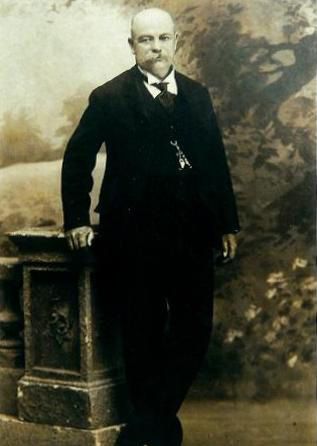 The main house at Los Espinos, according to experts, dates from the mid-eighteenth century, although it was built in different stages, concluding its construction in the late nineteenth century. Zamora's Municipal Archive and the directory The Haciendas of México (1886) place on record that at the end of the nineteenth century, the hacienda belonged to Marcelo Matos who sold the property to Benito Magaña Peña who came from the municipality of Tlazazalca to settle permanently in Zamora after buying the hacienda.
Apparently, in Los Espinos Benito Magaña did not produce special notes (at least we do not know about the existence of any) but, according to the evidence, used the notes issued by the municipality and counter stamped them in red ink. At least on the 50 centavos notes he also embossed his name. These two counterstamped municipal notes are the only ones reported and they both came from inside the hacienda.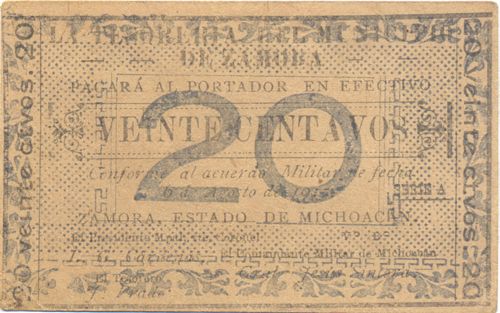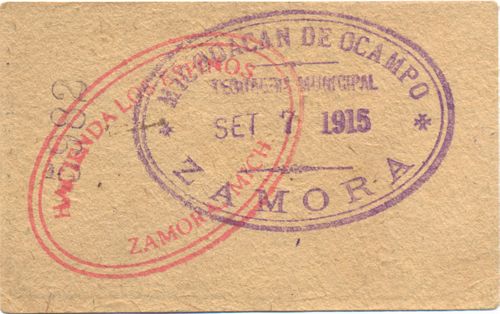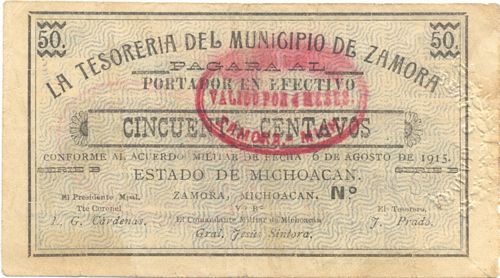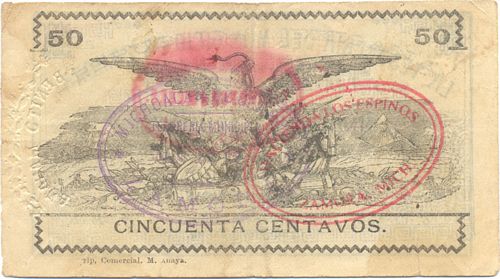 (based on "Report of Hacienda Los Espinos Paper Money" by Ricardo Vargas Verduzco in USMexNA journal December 1915)
La Negociación Agrícola de Cotiro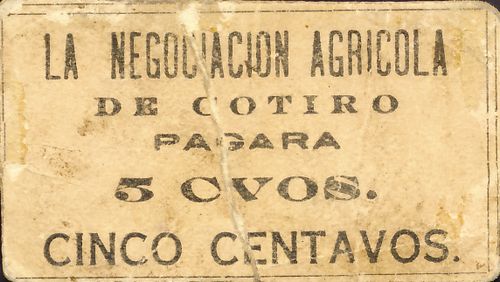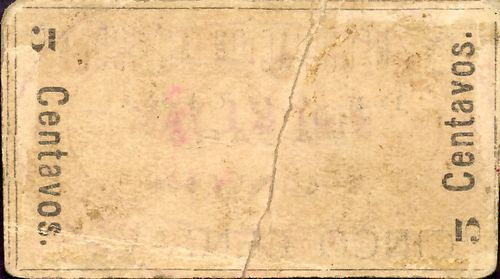 Ario de Rosales
Hacienda de Tepenahua y Anexas
This hacienda, owned by Fernandez y Castaño, produced notes of 5c, 10c, 20c, 50c, $1 and $2 for use in their tienda. These simple but colourful notes were printed locally by tipografia J. Buitron of Pátzcuaro.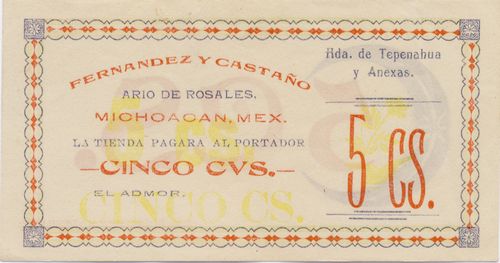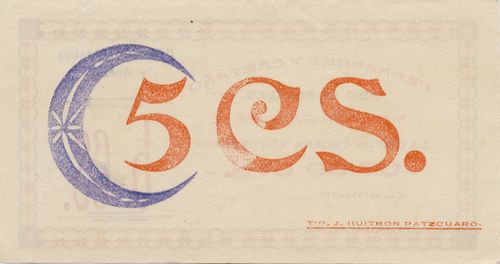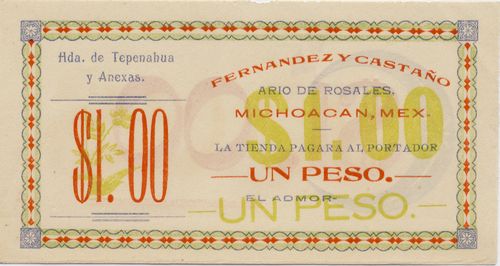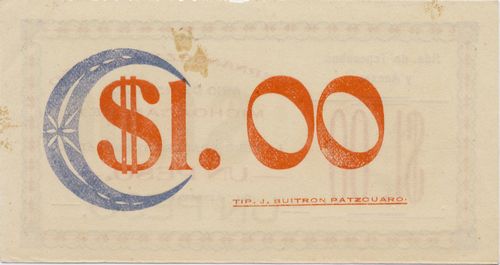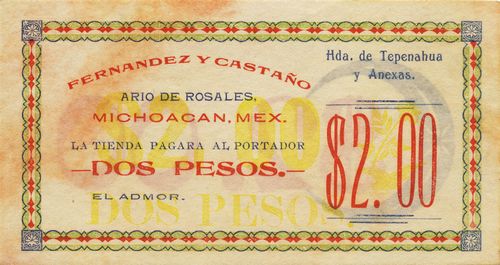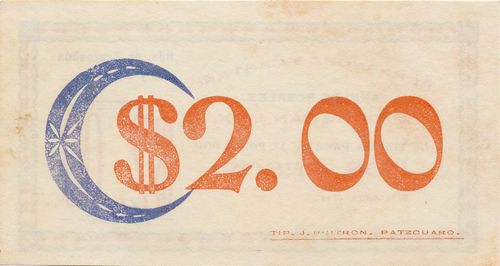 Paracuaro
Hacienda de Uspero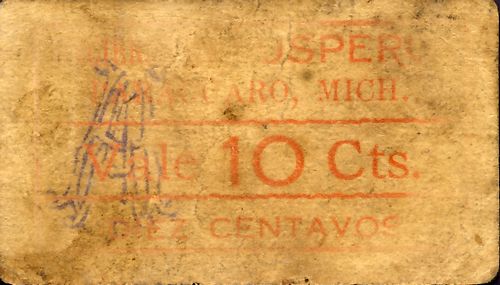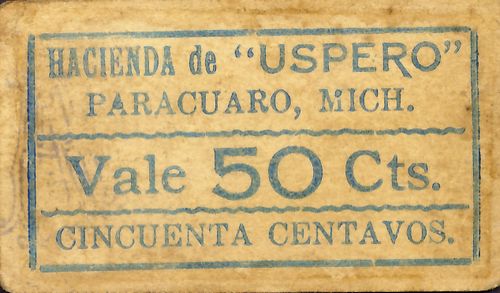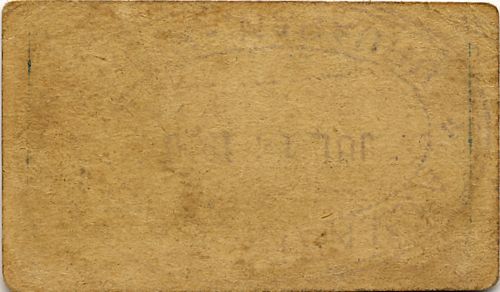 This hacienda was also owned by Dante Cusi, who owned the hacienda Nueva Italia (below).
Nueva Italia
Haciendas Nueva Italia and Lombardia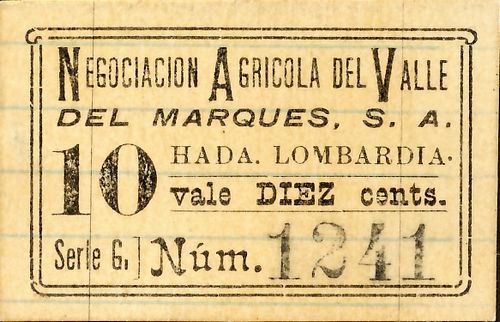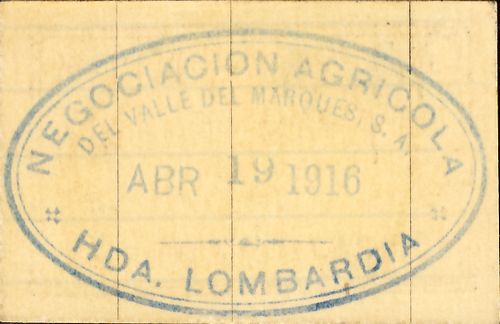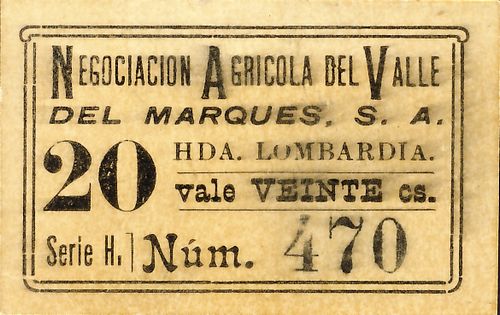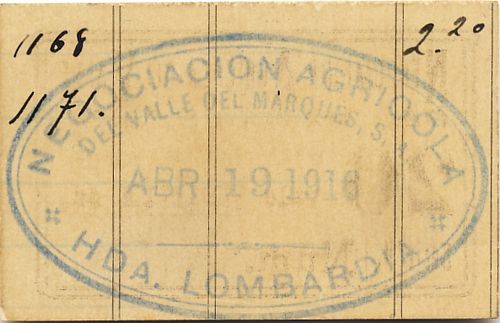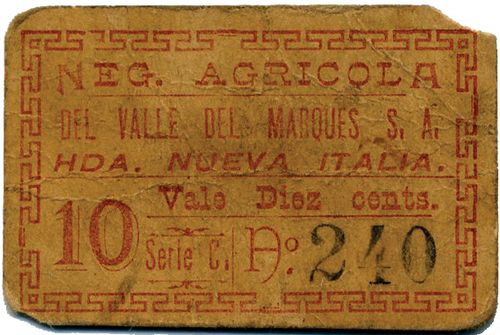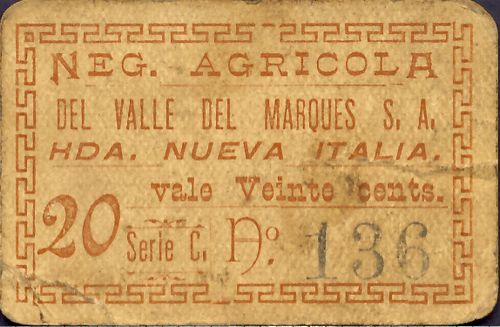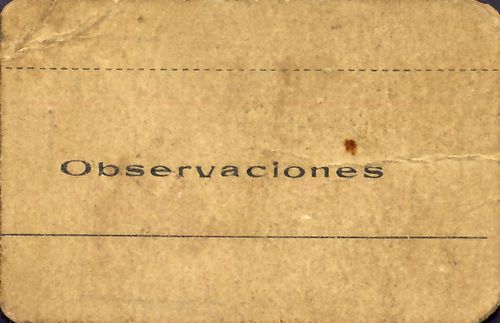 series
to
from
total
number
total
value
Hda. Lombardia
10c
G
includes number 1241
20c
H
includes number 470
I
includes number 289

CNBanxico #11573

Hda. Nueva Italia
10c
C
includes number 240

CNBanxico #11572

20c
C
includes number 136
These two haciendas were run by the Negociación Agrícola del Valle del Marquez.
Nueva Italia (now Múgica) was founded in 1909 by the Italian Dante Cusi, who introduced the most complex system of irrigation in Latin America for its time and produced cotton, rice, maize, melons and limes. Incidntally, when Cusi, after spending half a million pesos on irrigation works, wanted to us the water of his own estate, Minister of Fomento, Olegario Molina, said, "No," but "Yes," if he had the necessary papers drawn up by Joaquín Casasús, - fee, 30,000 pesos.
Tacámbaro
Haciendas de Pedernales y Chupio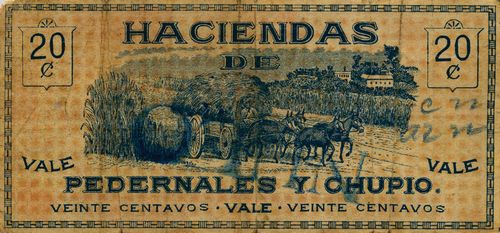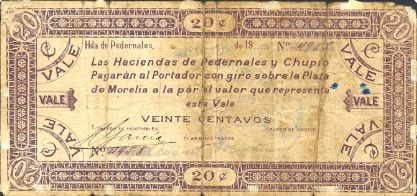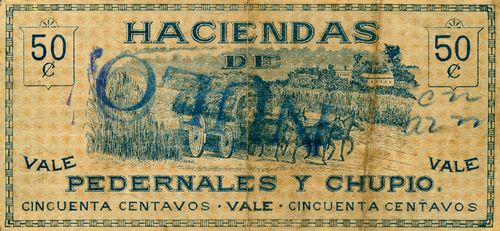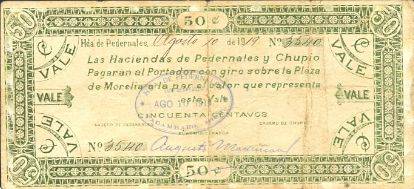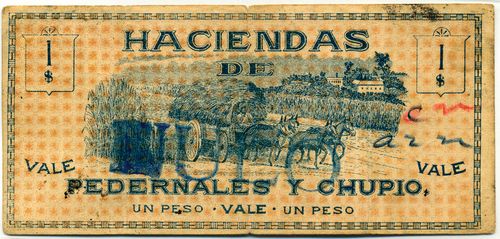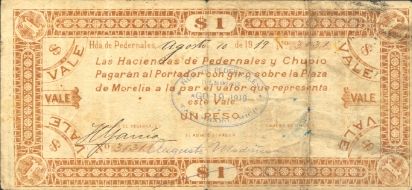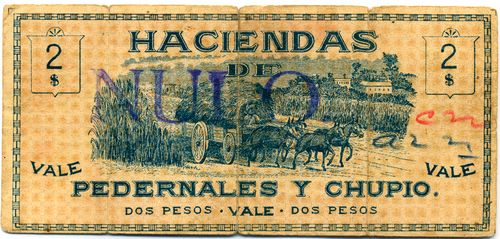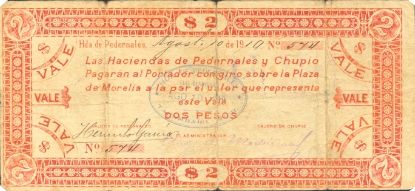 to
from
total
number
total
value
20c
includes number 4958

CNBanxico #11610

50c
includes number 3540

CNBanxico #11611

$1
includes number 3431

CNBanxico #11612

$2
includes number 574

CNBanxico #11613
The Compañía Agrícola Franco-Mexicana

Carlos Markassuza came to Mexico from the Basque region of Spain in around 1872 and became a wealthy landowner. On 1 January 1911 he acquired the Hacienda de Tupátaro in Guanajuato, very close to three others that he already owned in Purúandiro, Michoacán, and in April 1911 he created the Compañía Agrícola Franco-Mexicana, S. A. that grouped together the Tupátaro, Zurumuato and Santa Ana Mancera haciendas.
In 1910 Carlos brought his seventeen-year-old nephew, Charles Félix Markassuza, from Spain in to be the administrator of his hacienda at Zurumuato. In his letters Charles describes the system for paying the peones.
On Sundays, we go to Mass in the church that borders the hacienda. We put all the employees together on the side that is reserved for us. After Mass, we pay the workers, a process that takes from three to four hours. Every week we need more than 2,000 francs, that is 4,000 pesos.
…
When we need something, we look for it in the tienda; this tienda is on the hacienda itself and belongs to my godfather. The farm workers stock up there, which means that it recovers almost all the money from their pay. By this means, he earns about 30,000 francs per year in the tienda (letter of 6 November 1910)Beñat Çuburu-Ithorotz, "Testimonio fotográfico y epistolar de dos emigrantes vascofranceses" in Alquimia, Núm. 34, 2008.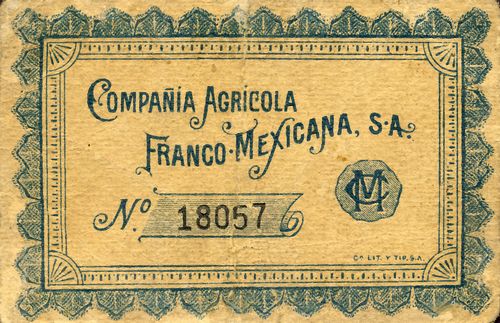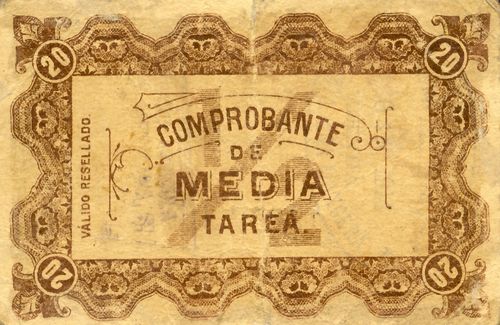 This note is proof of half a task, with the denomination '20', possibly a 50% advance on wages, and needed to be stamped to be valid.