La Pagaduría de la Brigada Agustín Cortes
Izúcar de Matamoros is a city located in the southwestern part of the state.
The Pagaduría issued a series of notes (50c, $1, $2 and $5) in Izucar de Matamoros, dated 14 July 1915, and carrying the names of the General Brigadier, Agustín Cortes, and the P(agador) H. de la División, Coronel J. S. Conde. The reverse carries the legend 'ESTE BILLETE ES DE CIRCULACION FORZOSA EN TODA LA REGION DOMINADA POR LA BRIGADA', a perfect statement that Might is Right.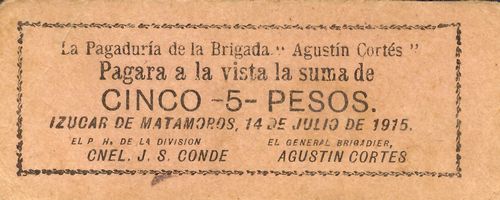 series
to
from
total
number
total
value
50c
$1
$2
$5
A
includes numbers 1050

CNBanxico #11883

to 9951
General Agustín Cortés Huitzila joined the forces of the Ejército Libertador del Sur on 5 March 1911 and was made a Coronel by Zapata. He fought under the command of General de División Francisco Mendoza in Puebla and Morelos, fighting against Porfirio Diaz, Madero and then Carranza. Izúcar de Matamoros was taken by the Zapatistas for a second time on 26 April 19[ ].
On 15 November 1915 Cortés was killed in Tepeojuma during a fight with the Carrancista 6a Brigada del Oeste, under General Fernando Dávila.