Felipe Riveros
Felipe Riveros was elected governor of Sinaloa for the four year term beginning 27 September 1912. In February 1913 he at first acknowledged Huerta's usurpation but Huerta had him arrested and taken to Mexico City. He was tried for treason but acquitted and fled back to Sinaloa, where the rebels established themselves at San Blas. On 5 July Carranza recognized Riveros as governor of Sinaloa (though it was not legally in his power to do so Carranza was trying to establish himself as Primer Jefe) and in September 1913 Carranza passed through the north of the state on his way to Hermosillo, Sonora.
Military operations, however, were in the hands of others, such as General Ramón F. Iturbe. General Alvaro Obregón crossed from Sonora to Sinaloa in November 1913 and captured Culiacán on 14 November and then besieged Mazatlán, where the federal forces held out until 9 August 1914.
Decree núm . 3
Riveros' first currency decree (núm. 3) from San Blas on 13 July 1913 was for an issue of $100,000 in five denominations, thus:
Series
Number
from
to
Value
25c
A
10,000
$2,500
B
10,000
2,500
C
10,000
2,500
D
10,000
2,500
E
10,000
2,500
50c
A
5,000
2,500
B
5,000
2,500
C
5,000
2,500
D
5,000
2,500
E
5,000
2,500
$1
A
5,000
5,000
B
5,000
5,000
C
5,000
5,000
D
5,000
5,000
E
5,000
5,000
$5
A
1,000
5,000
B
1,000
5,000
C
1,000
5,000
D
1,000
5,000
E
1,000
5,000
$10
A
500
5,000
B
500
5,000
C
500
5,000
D
500
5,000
E
500
5,000
$100,000
The decree detailed the size (191mm x 73mm), colour of ink and text to be used and stated that the notes were provisional, until a law on paper currency was passed.
The notes are quite primitive. They carried the printed names of Riveros as governor and Felipe Dussart as secretary (even though he had already stepped down) and the signature of José A. Meza as state treasurer (Tesorero General).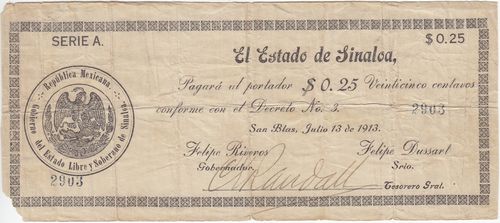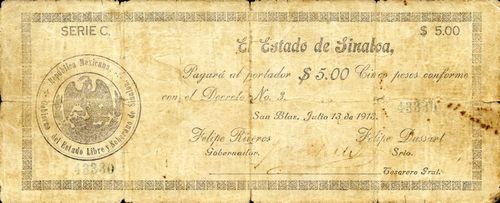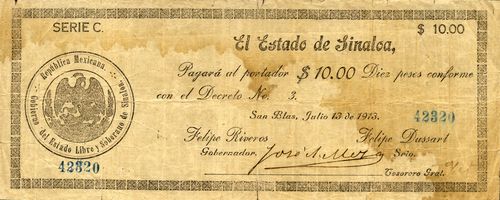 A month later, on 13 August, Riveros, still at San Blas, in his decree núm. 8 authorised another issue of $1,000,000 in five series (A – E). There were to be $200,000 in each of the series, made up of 400,000 of 5c, 400,000 of 10c, 160,000 of 25c, 80,000 of 50c, 20,000 of $1, 4,000 of $5 and 2,000 of $10. However, for some reason this money was never printed.
Decree núm. 11
Later, on 15 September of the same year another one hundred thousand pesos of these "bearer vouchers", was authorized by decree núm. 11 in San Blas. There were to be five series (F – J), each again made up of $20,000 as in the previous series, i.e. 10,000 25c, 5,000 50c, 5,000 $1, 1,000 $5 and 500 $10 notes. These were signed by governor Riveros, secretary Fidencio E. Smith and the state treasurer.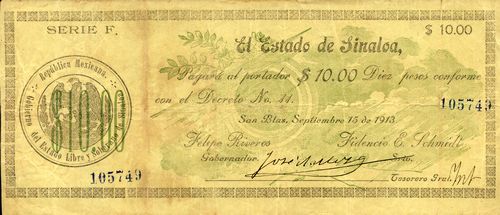 Decree núm. 14
Decree núm. 14 of 23 October authorised another $300,000 in Series K, L, M, N, O, P, Q, R, S, T, U, V, X, Y, Z.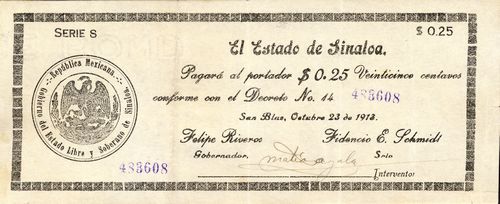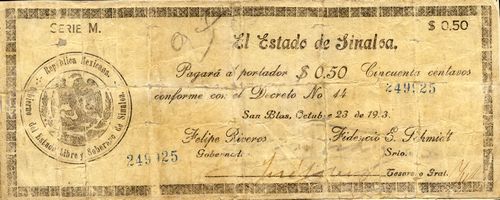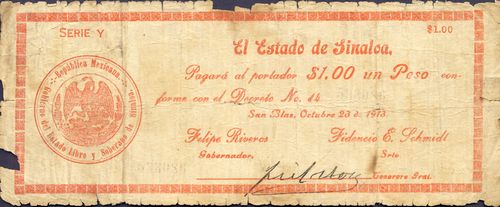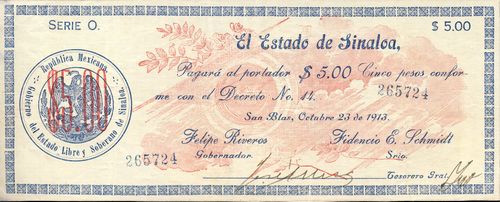 On some notes the handwritten signatory is Matías Ayala, as Interventor, rather than Meza as interim Tesorero General.
Another 50c note refers to this decree núm. 14, but is of cruder design, the seal is of the Regimiento Cosala of the Brigada Sinaloa rather than the state of Sinaloa, and the handwritten signatory is Teniente Coronel Nigromante(?). Cosala is a small town in Sinaloa, about 50 miles south east of Culiacán, whilst the Brigada Sinaloa, commanded by General Ramón F. Iturbe, was part of the Constitutionalist Cuerpo de Ejército del Noroeste. Presumably this was an extremely local issue, trying to piggyback on the acceptance of Riveros' issues.
Decree núm. 17
However, Riveros still wanted to issue up to $1m and was seeking Carranza's authority. On 28 October Carranza told Riveros that he had contacted a J. Webb, a printer in Los Angeles, and told him to come to Hermosillo, Sonora to discuss the proposition. Carranza wanted to avoid any notes being seized by the American authorities, which had happened with the Monclova issueAIF, RM/V, 1-015, Consecutivas cartas enviados por Venustiano Carranza .
On 14 November 1913 the rebels had taken the state capital, Culiacán. With Carranza's blessing, decree núm. 17, of 13 December, authorized another $500,000 in 25 series (Series A bis to T bis, W, U bis, V bis, X bis, Y bis) each composed of 2,500 $1, 2,500 $5 and 500 $10 notes.
These notes had the new location, Culiacán, and José G. Heredia, as secretary.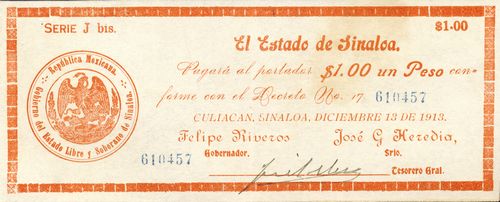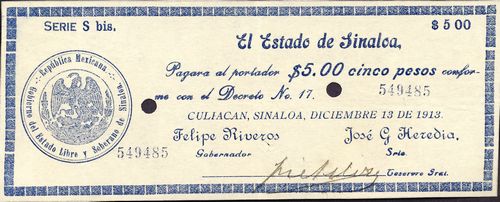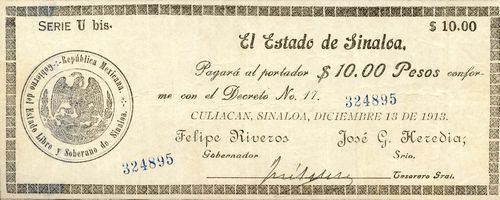 On 20 January 1914 the Correo de la Tarde in Huertista held Mazatlán reported that the revolutionaries in Tepic had ordered the supression of these notes, nicknamed 'yoyomos', in favour of pesos produced in El Rosario and the Monclova issueEl Correo de la Tarde, Año XXIX, Núm. 9370, 20 January 1914. However, on 28 February Carranza, from his headquarters at Nogales, Sonora, made the issues that had been issued, with his approval, by the Constitutionalist governments in Sonora, Chihuahua, Sinaloa, Durango, Nuevo León and Tamaulipas forced circulation throughout the territory dominated by the Constitutionalist government, and the Sinaloa notes were accepted, though with difficulty, in neighbouring states.
After the Carranza-Villa split, the Riveros' issues continued to be listed by the Villistas among the notes of forced circulation, but were disowned by the Carrancistas and Carranza never made any provision for any sort of retirement, despite the fact that he had given his blessing to the earlier issues.
On 5 December 1914 the Convencionist president, general Gutiérrez, confimed Riveros as governor. In late December Riveros visited Guitérrez and Villa in Mexico CityVida Nueva, 22 December 1914: El Monitor, 22 December 1914 to discuss the campaign. On 30 December Riveros was allotted $300,000 for the expenses of his brigade (para haberes de tropa y oficialidad de la Brigada Riveros)ASDN, Archivo de Cancelados ac, exp. Gral. Felipe Riveros, xi/111/3-1439, f. 3. On 2 January 1915 the Secretario de Guerra y Marina, General José Isabel Robles, notified Riveros that he had been named Comandante Militar with full powers, and that, if the circumstances demanded, he was authorised to issue paper currencyASDN, Archivo de Cancelados ac, exp. Gral. Felipe Riveros, xi/111/3-1439, f. 8.
At the end of December 1915 Manuel M. Díeguez, Jefe de Operaciones en el Noroeste, from Esperanza, Sonora, told the Jefe de Hacienda in Mazatlán, Alejandro Duhagón, that since the circulation of Durango and Riveros notes was contrary to Carranza's decree and another from his own Cuartel General he had decided to set a period of fifteen days from 1 January for holders to hand them in to the Jefatura and its dependencies in return for a certificate of deposit. Thereafter they would be considered null and voidPeriódico Oficial, Sinaloa, Tomo VII, Núm. 3, 6 January 1916.