Counterfeit $1 Estado de Sonora note Type 2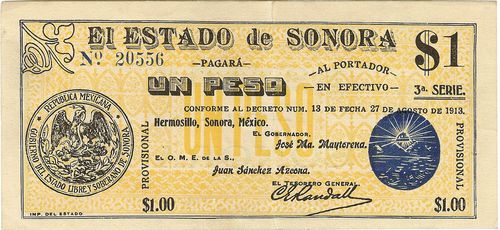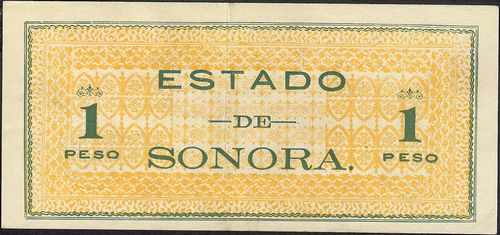 Type 2 has the same crude counterfeit mountain seal as Type 1, and overall is the same in most respects, with three exceptions.
GENUINE
COUNTERFEIT

The sweep of the printed Randall signature extends beyond the outer frame-line

The sweep does not extend beyond the outer frame-line

The dot below the 'o' in 'No' is circular rather than rectangular, and the serif on the top of the 'N' in 'No' is wider on the counterfeit.

The shading under the lettering at the top of the note is fine

The shading is coarse

The 'P' in the left 'PROVISIONAL' is no longer broken at its base as it is in Type 1

Eagle seal has colourless spot below the 'Y' after 'LIBRE' and broken 'C' in "MEXICANA'

counterfeit seal has neither, having cleaned up both 'flaws'

Mountain Seal has 18 major rays and diagonal shading in sky and water

Shore line slopes up to right

Mountain Seal is missing three major rays near 10, 11, and 12 o'clock and has no diagonal shading in sky or water

Shore line slopes slightly down to right

Watermarked
A.S. & S.
LINEN LEDGER
counterfeit may show the watermark
SUNRISE BOND
Background is clear of orange underprint in 17mm square behind Liberty Cap
Orange underprint continues behind entire coloured seal: creamy coating usually evident in 17mm. square behind Liberty Cap

Regular 'G' in 'PAGARÁ'

'G' in 'PAGARÁ' is flattened at upper left
There is a variety where the pattern in the area on left side of eagle's breast is partly missing.