Counterfeit $5 sábanas Types 1 and 2
Counterfeit $5 sábanas Types 1
The characteristics listed in the notice of 21 March 1914 are
| GENUINE | COUNTERFEIT |
| --- | --- |
| | letters are thicker (más gruesos) |
| | ink is blacker |
| edging frame is made up of plates so slight breaks in corners | edging is continuous in the corners |
| Chao's signature stroke ends in a thick flourish | Chao's signature ends in a lump (bola o nudo) |
| Tesorería seal is rubber and handstamped so details are blurred | seal is of metal, usually steel, so details are perfect |
Apart from the difference in Chao's signatures these could be the same as counterfeit Type 2 below.
In December 1914 some of these were still in circulation.
Counterfeit $5 sábanas Type 2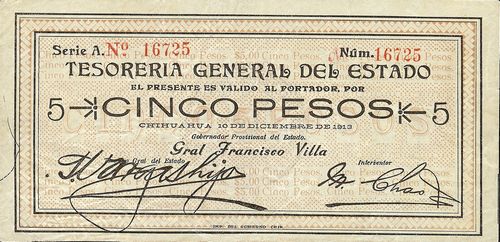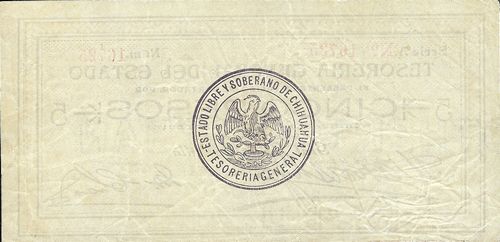 The characteristics listed in December 1914 are
GENUINE
COUNTERFEIT
paper noticeably thinner
'5's of '5 CINCO PESOS 5' are thicker and broader
the small dots that form the background are symmetrical: impression of small semi-circle in the lower centre
small dots are ill formed and not symmetrical : in the lower centre the suggestion/impression of a small semi-circle is missing
border of thick and thinner black lines made up of plates so various breaks, especially in the corners
border of thick and thinner lines lithographed as a single piece

seal is of rubber and hand-stamped, so details are blurred
eagle's feathers round off

seal is of metal, usually steel, so details are perfect
eagle's feathers end in points
whilst the notice of 24 March 1914 lists:
| GENUINE | COUNTERFEIT |
| --- | --- |
| Rubber seal, printed in black ink | Steel seal, printed in purple ink, without a bar after 'CHIHUAHUA' |
| Small joints at the corners and various parts of edging | Edging appears continuous |
| | Background is more vivid (más subido) |
| Red numbering differs in form and size | Red numbering is uniform |
| Comma after 'VALIDO' | No comma after 'VALIDO' |
| | Signatures thicker |
| | No comma after 'Tesorero General del Estado' or 'Interventor' |
| | Occasionally 'Gobernado' |
These are the notes in the Alvarado case, where the characteristics are given as:
GENUINE
COUNTERFEIT
Thicker lettering
Blacker ink
Exterior design is156½mm by 75¾mm
Exterior design is 156½mm by 74½mm
Interior thick line is 144mm by 73mm
Interior thick line is 143½mm by 72mm
At right red "No"
Black "Núm"
Background formed by small regular squares, in darker ink
Dots are irregular, and lighter
Vargas's signature thicker
Word "Interventor" is hardly legible

"Interventor" is very clear

Comma after "Estado"

Full stop after "Estado"
Comma after 'VALIDO'
No comma after 'VALIDO'
Occasional breaks in the eadging, particularly in the corners
Edging is blacker, thicker and formed by a single line
Seal is rubber and applied by hand, so details of the eagle and lettering are blurred
In seal 'TESORERIA GENERAL' is between two bars
Seal is metal and imprinted, so details are equal and distinct
No bar after 'GENERAL'
These notes with the metal seal and continuous frame also have no comma after 'Chihuahua' and no full stop after the date '1913': as these make fine examples they are quite common in collections.
As listed in the March notice, occasionally 'Gobernado' appears in place of 'Gobernador'.