Private issues
Real de Catorce
Ferrocarril Ogarrio
In 1891 the Ferrocarril de Vanegas, Cedral y Matehuala built a branch line (with switchback) from San Isidro halfway up the mountain to El Potrero, eight kilometres north of the magical town of Real de Catorce. Then, on 23 July 1897 construction began on an extension from El Potrero to Real de Catorce, tunneling through the mountain. The railway's owner, Pedro de la Maza, named it Ferrocarril Ogarrio, in homage to his birthplace in Ogarrio, near Santander, Spain.
Among the archives that were thrown into landfill by the new owners of the American Bank Note Company was correspondence from 1911 to 1914 for notes for the Ferrocarril OgarrioABNC, 40238. These will have referred to an issue contemplated (and possible effected) during the revolution.
Salinas
The Salinas of Mexico Limited
The salt springs of Salinas, about 90 kilometres northwest of the capital, were owned by the company "Salinas of Mexico (Ltd.)", an English company with a share capital of £325,000, that had a monopoly on the production of salt.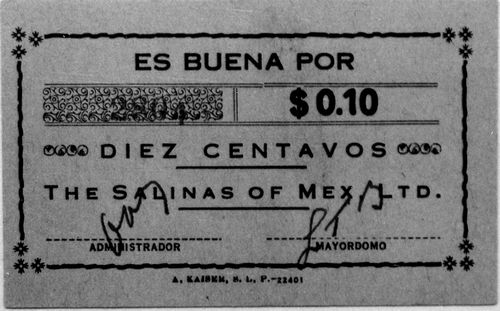 from
to
total
number
total
value
10c
includes number 2804
This note was initialed by [ ][identification needed], as Administrador and [ ][identification needed], as Mayordomo.
It was printed by Arnoldo Kaiser, of the Kaiser family. In 1887 Arnoldo, with his younger brother, Juan Kaiser Schwab, acquired a bookshop, "Al Libro Mayor", in San Luis Potosí. Juan moved to Guadalajara in 1899 and founded "Al Libro de Caja," dealing in printing, binding, office stationery and books in general. The Kaiser brothers were instrumental in introducing the picture postcard to San Luis Potosí and, probably, Guadalajara.
This company was mentioned in the British House of Commons on 19 June 1924. The Prime Minister, Ramsay MacDonald, read out a letter dated 31 December 1923 that included "The attention of His Majesty's Government has been called to losses that have recently been inflicted upon the Tiahualilo Company in the State of Durango, and the Salinas of Mexico Limited in the State of San Luis Potosi, British enterprises that have been obliged by Federal Army officers to deliver to them horses, saddles and fodder."Hansard, 19 June 1924.
Ahualulco
Hacienda de San Francisco
The Hacienda de San Francisco Javier de la Parrada dated from the 16th century.
These carry the name of Valentín Soberón y Castro. In 1895 Valentín Soberón y Castro joined others in a company, domiciled in San Luis Potosí, to exploit a mine in Veragrande, Zacatecas.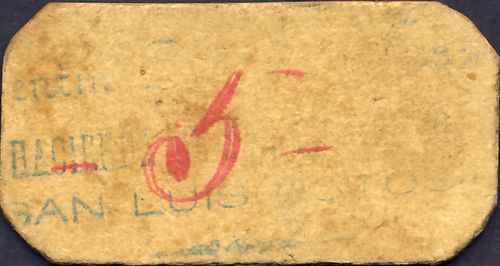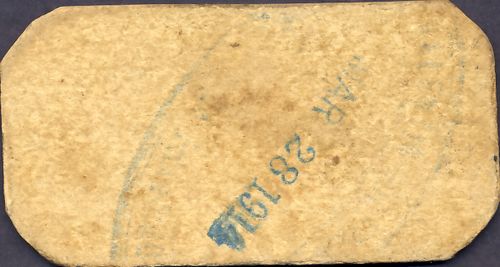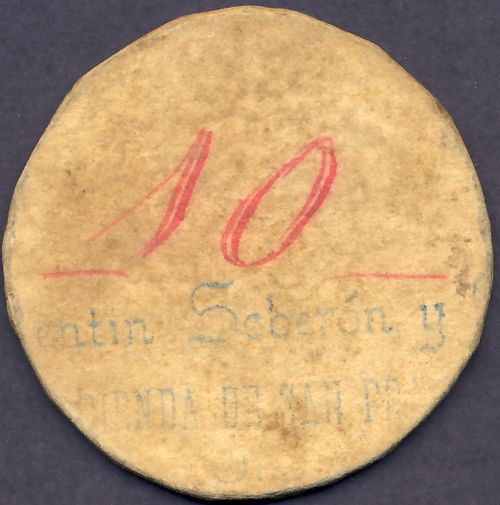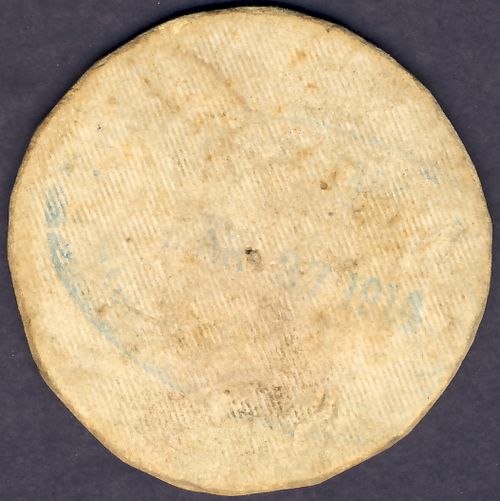 San Luis Potosí
Baños de San José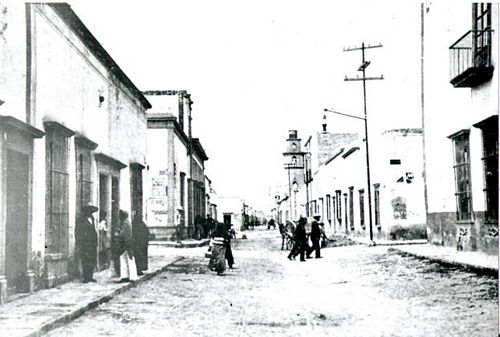 The Baños de San José are located in the calle de Ignacio López Rayón, 623 in the city's historic centre. They were founded after the Independence of Mexico with the name of Baños de las Animas; in 1830 they were enlarged and renamed the Banos de Quiñones; finally, in 1878 they were bought by Carlos Suárez Fiallo who restored them, and in 1881 they took the name of Baños de San José. In Fiallo's restoration they acquired certain neo-Arabic characteristics on the façade of the courtyard interior and a water tower that alludes to a minaret.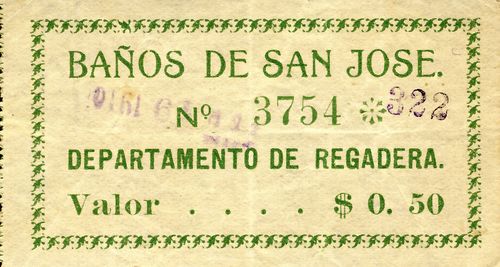 from
to
total
number
total
value
50c
includes number 3754
Billares de Gambrinus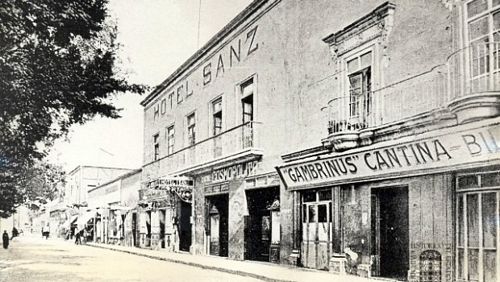 Gambrinus in the Plaza Principal and run by Jésus Ortiz was supposedly the finest cantina in the city. Its pool parlour issued the following note.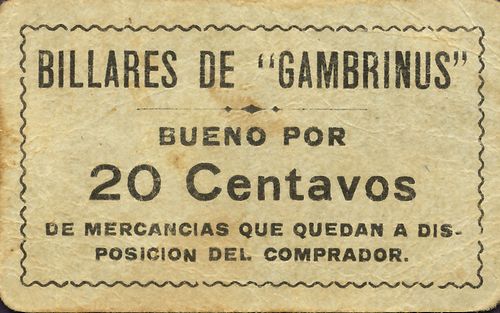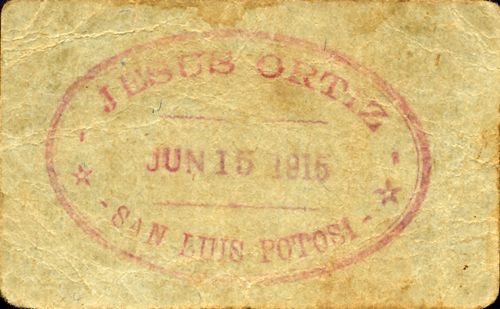 La Dulcería Americana
This was pastry shop located at 1a de Zaragoza 2 and run by Carlos Brueggerhoff. Carlos Brueggerhoff was the Director General and manager of the Compañía Manufacturera de Galletas y Dulces, established in San Luis Potosí in 1903 by various investors and entrepreneurs and with the manager of the Banco de San Luis Potosí, Antonio Fernández Noval, on the board. The company built a factory opposite the railway station, installed machinery imported from Europe, and employed 100 people making bread, biscuits, cakes and chocolatesEl Contemporaneo, San Luis Potosí, Tomo VIII, Núm. 1523, 29 August 1903; El Contemporaneo, Tomo IX, Núm. 1703, 15 April 1904.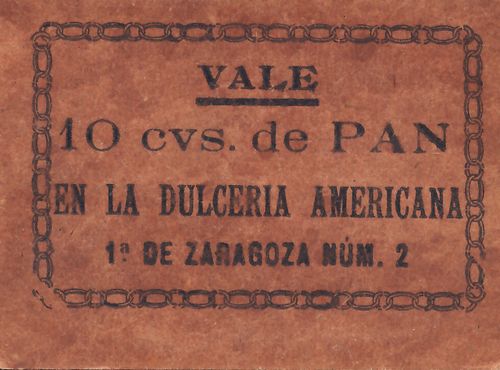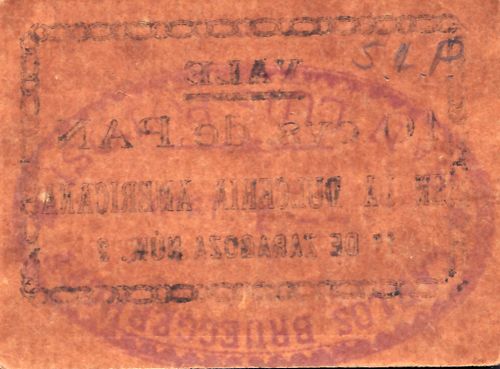 Sociedad Cooperativa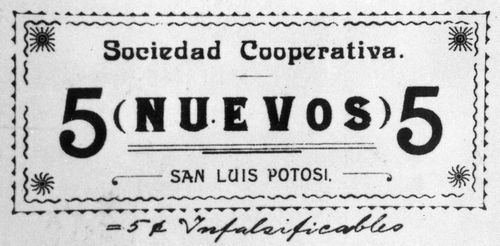 Neveria y Salon de Refrescos
An ice cream parlour run by Stefanie Herzog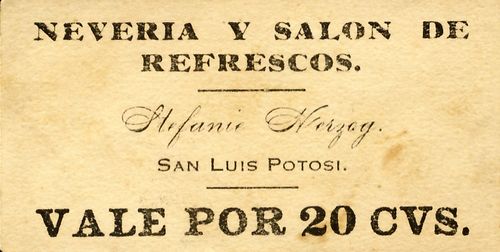 El Salto
T. Arias
A $2 blue cartón dated 28 June 1915[image needed].