Local chambers of commerce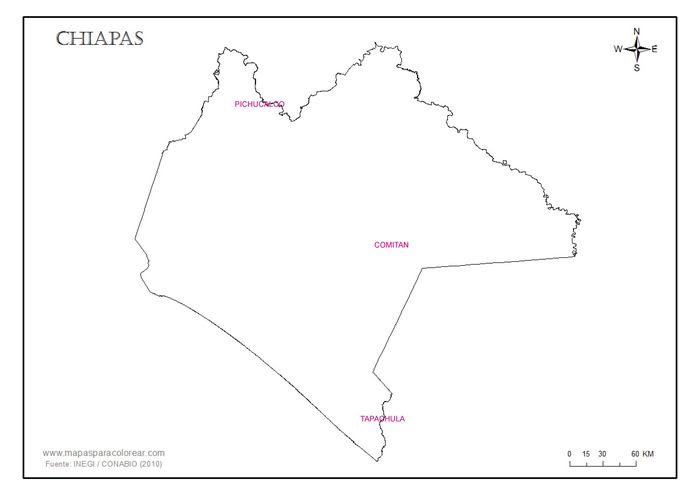 To overcome the shortage of small change and to ease commercial transactions local organisations in various towns issued low value notes. The earliest known is dated to July 1914, but in April 1915 Carranza authorised the Chiapas government to authorise, in turn, local businesses to issue up to $500,000 in these low values (5c, 10c, 20c and 50c), provided that they were backed up by deposits of an equal amount.
By early 1916 the need for these notes had obviously diminished and the government called for them to be recalled and incinerated.
Pichualco
Pichualco is a town in the northern part of the state. A local commission (La Comisión Local de Comercio) composed of Juan Villanueva, Juan Soriano Bustamante, and Lorenzo Pons, issued cheques backed by deposits they had made.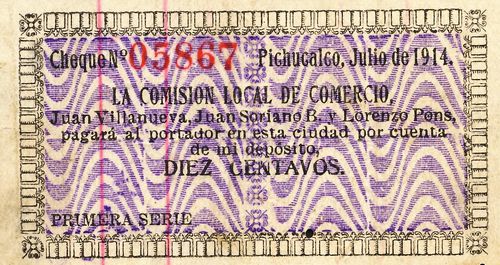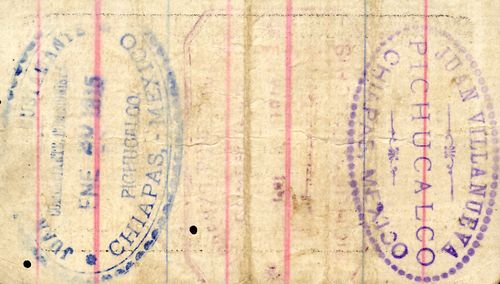 The 10c note has the printed date of July 1914 on the face, but one of the three rubber stamps on the reverse is dated 20 January 1915.
series
from
to
total
number
total
value
10c
PRIMERA
includes numbers 05867 to 09777

CNBanxico #5349
Comitán
The Junta Comercial, Agrícola e Industrial de Cambio issued notes.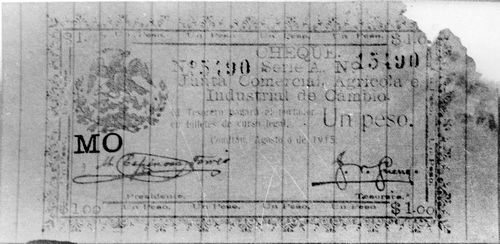 series
from
to
total
number
total
value
$1
A
includes number 15190
We know of a $1 note dated 6 August 1915 with the signatures of [ ] Espinosa Torres[identification needed] as Presidente and [ ][identification needed] as Tesorero.
| | |
| --- | --- |
| [ ] Espinosa Torres | |
| | |
On 14 March 1916 $12,000 in cheques del comercio were incinerated in Comitán, under the watchful eye of the Colector de RentasEl Regenerador, Tuxtla Gutiérrez, Tomo II, Núm. 97. 25 May 1916.
Tapachula
Tapachula is in the far south of the state. The Cámara Nacional de Comercio issued a series of four denominations (5c, 10c, 20c and 50c), dated 15 October 1914. These were printed by a well-established Mexico City firm, La Tipografía y Liografía "La Carpeta"Founded in 1888. In 1923 it was located at avenida 16 de septiembre núm. 53, with the design obviously based on an earlier issue made by the Cámara Nacional in Veracruz.







The 10c and 20c notes are known printed on cloth. Various control letters are known.
series
from
to
total
number
total
value
control
letters
5c
A
includes number 18404
10c
B
includes numbers 16763 and 19468
20c
C
FC PL
printed on cloth
includes number 0384
DS AO
includes number 1846
BL GL
includes number 7610

CNBanxico #5350

CH AB
includes number 14817
50c
D
LU PE
includes number 6028
These had the signatures of [ ][identification needed] as Tesorero and José Revuelto as Presidente and stated that they were redeemable in quantities of $5 or multiples.
José Revuelto was a prominent Spanish businessman who served as Spain's vice-consul in Tapachula. He was involved as a 'banquero', i. e. in lending to businesses, and later became agent for the Banco de ChiapasInforme, Banco de Chiapas, 1906.

In 1910 he was one of the owners of the Zacualpa plantationAPorfirioDiaz, 4128, telegram Pedro Chacón, Tapachula, to Porfirio Díaz, 27 October 1910.

He committed suicide in 1916.
The Cámara was instructed to withdraw these notes from circulation by February 1916, though it was then granted an extension of a monthEl Regenerador, Tomo II, Núm. 71. 20 February 1916. Then in May it was granted a further month in which to withdraw and incinerate their notesEl Regenerador, Tomo II, Núm. 97. 25 May 1916.
In late February 1916 the Camara incinerated $4,041.40 in notes that it had withdrawnEl Regenerador, Tomo II, Núm. 71. 20 February 1916.