Luis Gutiérrez nullifies bank-on-bank notes and list those of forced circulation, Saltillo, 30 November 1914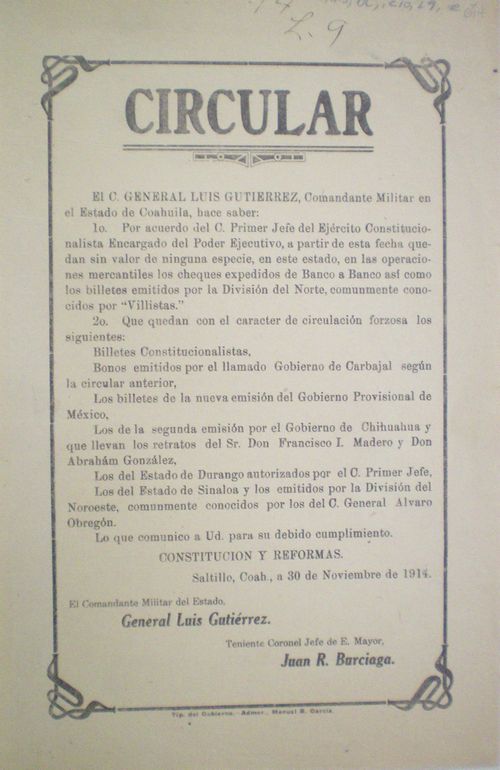 CIRCULAR
El C. GENERAL LUIS GUTIERREZ, Comandante Militar en el Estado de Coahuila, hace saber:
1o. Por acuerdo del C. Primer Jefe del Ejército Constitucionalista Encargado del Poder Ejecutivo, a partir de esta fecha quedan sin valor de ninguna especie, en este estado, en las operaciones mercantiles los cheques expedidos de Banco a Banco así como los billetes emitidos por la División del Norte, comúnmente conocidos por "Villistas."
2o. Que quedan con el carácter de circulación forzosa los siguientes:
Billetes Constitucionalistas,
Bonos emitidos por el llamado Gobierno de Carbajal según la circular anterior,
Los billetes de la nueva emisión del Gobierno Provisional de México,
Los de la segunda emisión por el Gobierno de Chihuahua y que llevan los retratos del Don Francisco I. Madero y Don Abrahám González,
Los del Estado de Durango autorizados por el C. Primer Jefe,
Los del Estado de Sinaloa y los emitidos por la División del Noroeste, comúnmente conocidos por los del C. General Alvaro Obregón.
Lo que comunico a Ud. para su debido cumplimiento.
CONSTITUCION Y REFORMAS.
Saltillo, Coah., a 30 de Noviembre de 1914.
El Comandante Militar del Estado.
General Luis Gutiérrez.
Teniente Coronel Jefe de E. Mayor,
Juan R. Barciaga.