Resellos on dos caritas - Chihuahua
There are fewer validations on the dos caritas than on the sábanas and some of these, e.g. the Banco del Estado de Chihuahua in Durango and the customs at Guaymas, were applied by machine to bundles of pristine notes before they were put into circulation. Validations exist on the odd $1 note but mainly on the $5, $10, $20 and $50 notes. Normally only one validation appears on each note though a few are known with two or more. Initialled signatures over or next to the control letters on the back are quite common on notes bearing a back validation.
Chihuahua – Brigada Morelos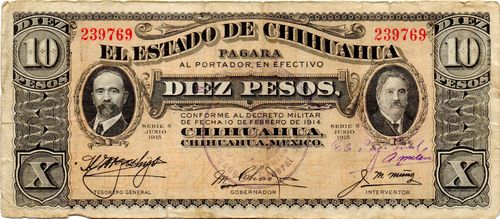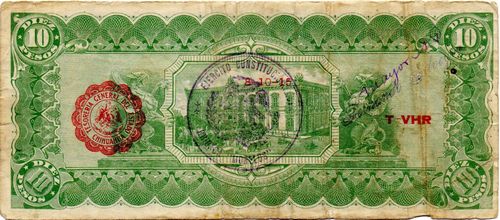 two resellos on the same note: round 40mm seal with 'EJERCITO CONSTITUCIONALISTA - BRIGADA MORELOS - PAGADURIA GENERAL' around eagle with scroll above and signature of the Pagador General A. M[ ]
and round 41mm seal with 'EJERCITO CONSTITUCIONALISTA' around eagle with 'Brigada "Morelos"' below and stamped signature of Fernando Silveyra
This appears to be the only resello from the home state of Chihuahua.
In November 1915 the Constitutionalist General Luis Herrera, whilst operating in isolation in the district of Parral, was obliged to permit the circulation of various classes of notes. These included notes of Chihuahua, provided that they had the resello of the Secretaría de Hacienda del Ejército Constitucionalista, or the Recaudacion de Rentas, or the Pagaduría de la Brigada MorelosAGN, Fondo Gobernación Periodo Revolucionario, caja 6, exp. 19.
Herrara was one of the few Chihuahuan commanders who chose to follow Carranza and incurred Villa's undying hatred. When he was killed during Villa's capture of Torreón in December 1916 his body was hung at the railway station for two days with a paper peso in one of his hands and a photo of Carranza in the other.
El Paso
In February 1915 the Villistas established an office in room 730 of the First National Bank Building in El PasoThe First National Bank building at 111 E. San Antonio Street held the offices of Villa's consulate from 1914 to 1915. In room 418, the bank housed the offices of many Villista revolutionaries. Hector Ramos, the chief of Villa's secret service agency, and former detective Fred Delgado worked out of the offices of the bank. When the United States recognized the presidency of Carranza in 1915, Villa shut the Consulate down, where a special agent would examine paper money to see if it was good or bad. There is no indication what (if any) revalidation was applied to the legitimate notes or what happened to the counterfeits (it would be difficult to confiscate them, as the office was in the United States)Vida Nueva, 6 February 1915.