Other issues during the revolution
In 1913 with the resumption of hostilities, the interruption to traffic and the increase in value of silver coins, many areas experienced a shortage of small change and various concerns issued fractional paper currency. Besides the vales issued around Parral we know of the following:
Quong Wah Chong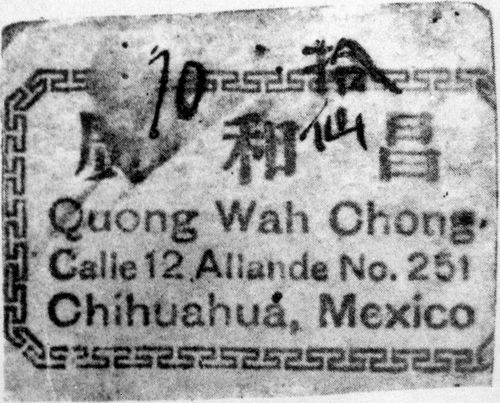 We have an example of a note issued by Quong Wah Chong of Calle 12, Allende No. 251, Chihuahua
American Smelting and Refining Company
Another possible issuer was the American Smelting and Refining Company (ASARCO). ASARCO was owned by the Guggenheims and began its activities in the state in 1880 with the purchase of the Tecolotes mine. In 1905 it received a twenty year concession to establish a planta beneficiadora de metales and set up an 'Anglo-American island' at Avalos, just outside Chihuahua, on land donated by Luis Terrazas. The tienda de raya was run by Juan Terrazas, Luis' son.
Once the revolution broke out this company found it necessary, in order to continue operating in certain areas, to provide food and clothing for its workers and even to issue its own scrip when the faction in control failed to provide a currency or when the money it printed lost its valueIsaac F. Marcossan, Metal Magic : The Story of the American Smelting and Refining Company, New York, 1949. ASARCO produced a $1 note in Aguascalientes in January 1914 and might have produced notes for its plant at AvalosIn June 1913 the smelter had been closed for some time but was hoping to re-open (Mexican Herald, 29 June 1913). The Mexican Herald reported, on 9 February 1914, that ASARCO had been obliged to issue vales where it had smelters in operation but in June 1914 Avalos was paying its employees in pesos fuertes del cuño mexicano (Almada, 4298).
Compañía Ferrocarril Mexicano del Norte
The Compañía Ferrocarril Mexicano del Norte was established on 26 June 1890 in New York by Robert S. Towne, George Foster Peabody and Associates, based on a concession granted on 20 March 1890. The line was built by the Ferrocarril Central to connect the station of Escalón, Chihuahua, with that of Sierra Mojada, Coahuila, with a 133-kilometre line that was opened in 1891. The line was seriously affected during the Revolution.
Among the archives that were thrown into landfill by the new owners of the American Bank Note Company was correspondence from 1908-1916 on notes for the Compañía Ferrocarril Mexicano del NorteABNC, 40241.00. This might have been for a proposed (and possibly effected) issue of notes, to be used to pay workers and suppliers, during the Revolution.
Once the Chihuahuan rebels issued their own currency, they quickly moved to stamp out other issues. On 23 December 1913 Villa ordered that the vales issued by certain Mexican and foreign-owned businesses (casas comerciales mexicanas y extranjeras) since the beginning of the revolution should be exchanged for revolutionary paper currency. On 31 January 1914 the government set a new deadline of 5 February for exchange within the city of Chihuahua and 10 February outsidePeriódico Oficial, 1 February 1914. The notice refers specifically to mining scrip (vales de compañías mineras). Thereafter anyone in possession of such notes would be deemed a counterfeiter.