Counterfeit $5 sábanas Types 3 and 4
Counterfeit $5 sábanas Type 3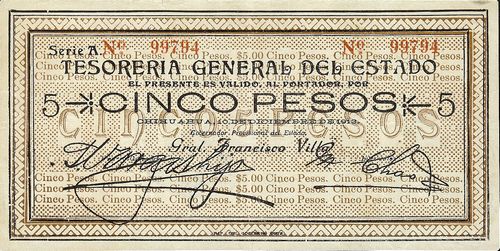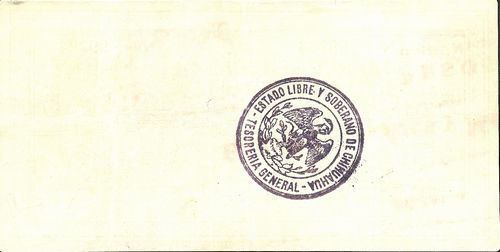 Another listed in the December 1914 notice was a Series A note. This is probably the same as Type 4 though it is strange that the writer missed the most obvious feature - the two strokes in the peso sign.
| GENUINE | COUNTERFEIT |
| --- | --- |
| Chao's signature lower | the 'a' of Villa is inside the loop of the 'M' of Chao's signature |
| | background colour is reddisher and darker (más rojizo y oscuro) |
Counterfeit $5 sábanas Type 4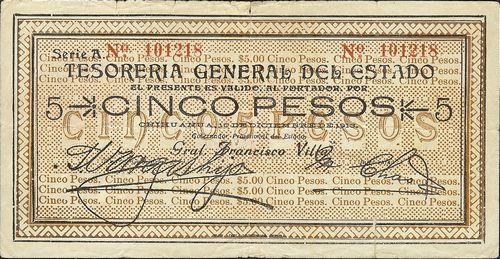 This counterfeit was mentioned by Lazaro de la Garza in June 1914LG papers, 1-F-28, telegram from de la Garza, Ciudad Juárez, to Villa, Torreón and Fidel Avila, Chihuahua, 9 June 1914. De la Garza wrote that, in view of this and other counterfeits, it might be advisable, if the others agreed, to set a period of one month to exchange legitimate notes for the new dos caritas.
| GENUINE | COUNTERFEIT |
| --- | --- |
| One stroke in peso sign ($) | Two strokes in peso sign ($) |
| | flatter, larger serif on 'A' |
In keeping with the requirements of the times these notes were also given counterfeit REVALIDADO overprints.