Guanajuato Reduction and Mines Company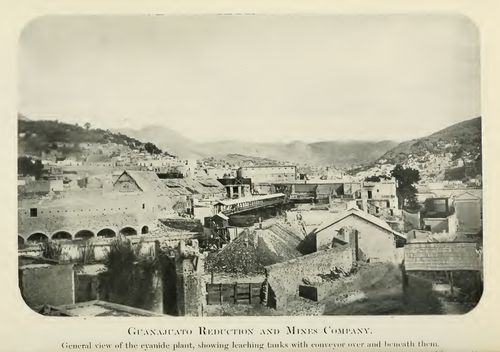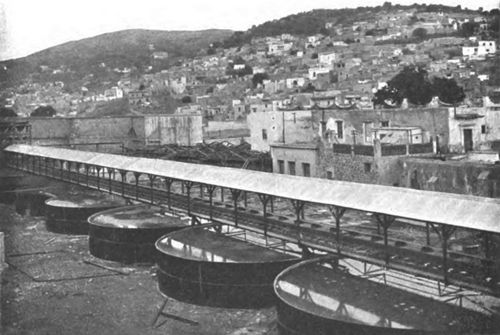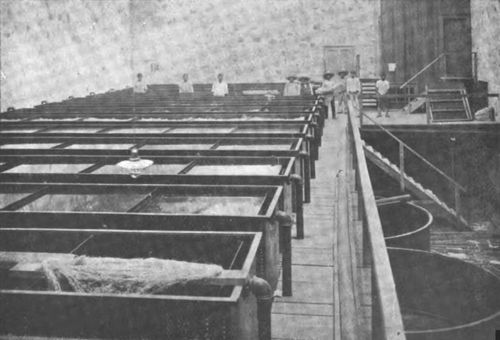 The Guanajuato Reduction and Mines Company was a United States corporation organized in 1904 under a Colorado charter. Four of its directors were likewise directors of the Guanajuato Electric Power company, which had its plant at Zamora. The chief, if not the sole, inducement for the establishment of the power plant was to provide power for the Guanajuato Reduction and Mines Company to exploit some of the old abandoned mines around Guanajuato and treat the colossal dumps, which were the accumulation of almost 360 years of fairly constant workingThe Mexican Herald, 2 September 1904; The Mexican Herald, 5 September 1904.
These were issued in accordance with the authorization of 8 August 1914. Known notes are 50c, $1, and $2.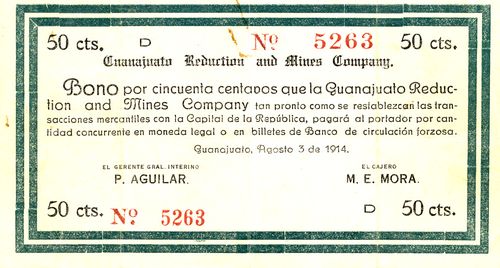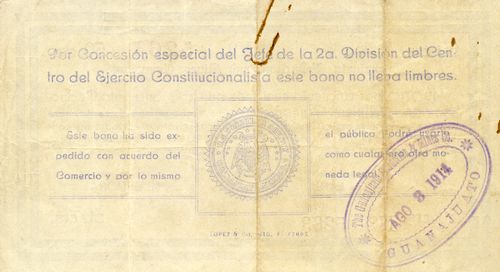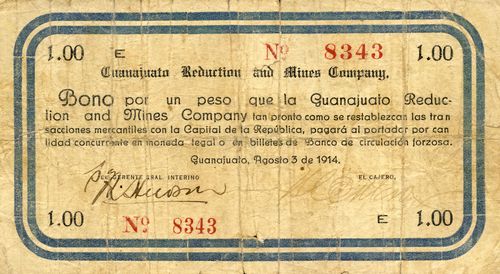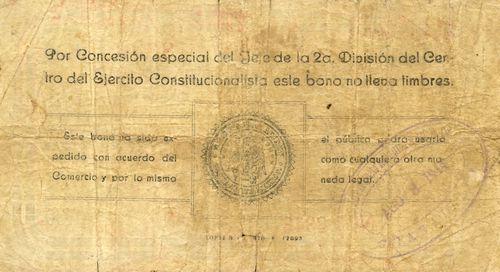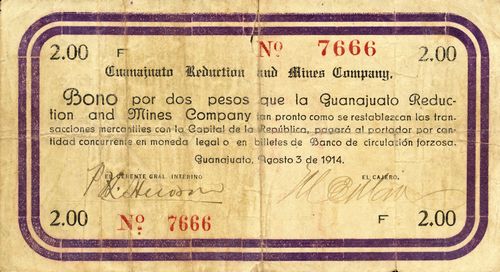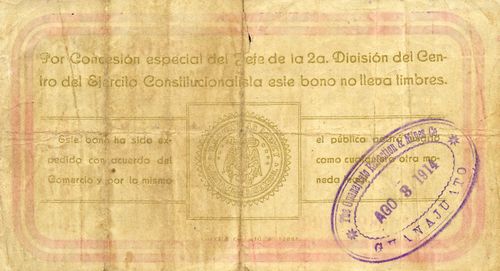 Series
from
to
total
number
total
value
5c
A
10c
B
25c
C
50c
D
includes number 5263
$1
E
includes numbers 04065 to 8343
$2
F
00001
includes numbers 00460

CNBanxico #4136

to 7669

CNBanxico #11056

$5
G
$10
H
$65,000

The notes have the following printed or handsigned signatures.
Ponciano Aguilar Frías was born in 1853, the son of a tailor. He studied Mining Engineering at the Colegio del Estado de Guanajuato, graduating in 1876; and worked for the Negociación Minera la Luz y Anexas. During his first job, he began collecting specimens.

In 1879 he married Micaela Zavaleta Pérez-Galvez, a member of a rich and prestigious mining family. His marriage introduced him to the centre of Guanajuato aristocracy, and his Catholic education made him the ideal candidate for teaching positions at the Colegio and contracts in mining and public jobs. Aguilar's position in the city was important enough that in 1914, eight days after revolutionary forces took over the city, he was imprisoned along with seven other prominent figures. He was imprisoned for 97 days

In addition to his mining experience, Aguilar had training as a Civil Engineer, and worked on dams, tunnels, railroad tracks, and trams in the city and state of Guanajuato. Between 1887 and 1896 he presided over the construction of a new reservoir for the city, the Presa de la Esperanza, and other projects included the road from Guanajuato to Santa Rosa de Lima, 15 kilometres away, and the construction in 1908 of the El Coajín tunnel, which reduced periodic flooding in the state.

Aguilar worked periodically as a mining engineer in different companies in Guanajuato, generally as a mine superintendent. He had the facility to collect mineral specimens freely and formed an impressive collection. Developing, classifying and maintaining this collection became one of the central aspects of his scientific work. He spent several years developing a new method for identifying minerals by means of the electric arc (called a voltaic arc), although he did not live to see the perfection and diffusion of his method. Finally, he taught courses in mining engineering and mineralogy at the University of Guanajuato for 57 years, from 1877 to 1934.

Aguilar worked on forming his own mineral collection for most of his life, and this served not only as a source of scientific research, but was a representative collection of Guanajuato, and to a lesser degree, of Mexican minerals. His collection, of approximately 9,000 specimens, is probably the best known in Mexico and one of the best in Latin America. It is now an important part of the "Eduardo Villaseñor Söhle" Museum of Mineralogy of the Department of Mining Engineering, Metallurgy and Geology of the University of Guanajuato.

[identification needed]

seems to have signed

per pro the Gerente General Interino.

M. E. Mora
The notes were a temporary measure and on 28 October 1914 the companies issued a notice that they were to be redeemed in their respective offices, giving people five days in which to hand in any notesCrispín Espinosa, Efemérides Guanajuatenses.
Counterfeits
This must have brought to light some counterfeiting as on 29 October the local paper, El Observador, reported false Guanajuato Reduction & Mines Company notes. These could be identified by the following differencesLos bonos falsificados tienen una impresión burda, mal impresa, como de letra gastada, en papel áspero; les falta abajo, junto a las firmas, la letra repetida de la serie, que tienen los buenos; los números rojos están como expensados: y en el renglón superior del sello, en los de "The Guanajuato Reduction & Mines Co," las minúsculas tienen casi igual tamaño que las mayúsculas iniciales de cada palabra, y el signo de etcétera es de forma tosca y casi atravesado al renglón (El Observador, Guanajuato, Año XI, Núm. 894, 29 October 1914 and Núm. 895, 1 November 1914).
| | |
| --- | --- |
| GENUINE | COUNTERFEIT |
| | on coarse paper |
| | poorly printed as if with worn lettering |
| | the second serial letter next to the signature missing |
| | the red serial numbers appear (expensados) |
| | in the datestamp the letters 'The Guanajuato Reduction & Mines Co' are almost the same size as the initial capitals and the '&' sign is rough and almost crosses the edge |
The example in the Banco de México collection has the second serial letter but appears poorly printed, has a different coloured border and the serial number, also in a different colour, has an italic 'No.'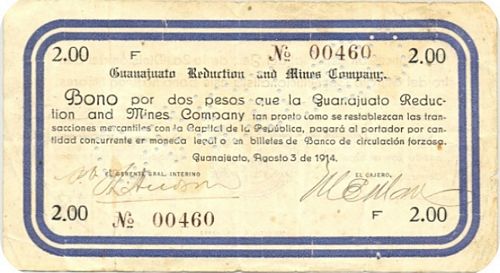 On 5 November it was reported that the presidente municipal of Mineral de la Luz, Capitán 2o Tranquilino Martínez, had sent an individual called Francisco Tinoco to the state capital, accused of having counterfeited mining notes (bonos mineros)El Observador, Guanajuato, Año XI, Núm. 896, 5 November 1914.