1888 issue of El Banco Mexicano
On 22 May 1888 the Banco Mexicano, represented by Miguel Salas, and the Banco Minero, represented by Enrique Creel, agreed a new federal contract with the Secretaría de Hacienda. As with other banks, the new concession was limited to fifteen years; the banks lost their right to issue notes in legal tender payable in silver at an 8% discount, and all the notes in circulation were to be withdrawn and destroyed before 30 June 1889; the banks were authorised to issue notes payable in silver in denominations of 25c, 50c, $1, $2, $5, $10, $20, $50, $100 and $500; and the silver pesos notes already in circulation had to be changed for a new issue, with different designs, within a year. This contract was approved by the Mexican Congress on 1 June 1888.
The bank thereupon issued a new series of notes (comprised of the eight denominations 25c, 50c, $1, $2, $5, $10, $20 and $50) with its name spelt 'Banco Mexicano'. Most of the former notes were withdrawn before the June deadline and by December 1893 only $5,661.94 were outstanding.
ABNC Print details
The American Bank Note Company records the following printing of this 1888 seriesThe following plates were made on an order F – 9550 of 12 October 1888
4 25c face plates (18 note on each) Nos. 1,2,3 and 4; 4 25c back plates (18 note on each) Nos. 1,2,3 and 4, and 1 25c tint plate.
1 50c face plate (10 notes); 1 50c back plate (10 notes) and 1 50c tint plate
1 $1 face plate (12 notes); 1 $1 back plate (12 notes) and two $1 tint plates, Nos. 1 and 2.
1 $2 face plate (4 notes); 1 $2 back plate (4 notes) and two $2 tint plates, Nos. 1 and 2.
1 $5 face plate (3 notes); 1 $5 back plate (3 notes) and two $5 tint plates, Nos. 1 and 2.
1 $10 face plate (2 notes); 1 $10 back plate (2 notes) and two $10 tint plates, Nos. 1 and 2.
1 $20 face plate (1 note); 1 $20 back plate (1 note) and two $20 tint plates, Nos. 1 and 2.
1 $50 face plate (1 note); 1 $50 back plate (1 note) and two $50 tint plates, Nos. 1 and 2.
1 $100 face plate (1 note); 1 $100 back plate (1 note) and two $100 tint plates, Nos. 1 and 2.
These were cancelled by the American Bank Note Company on 14 March 1932..
The ABNC engraved a view of the Cathedral (C 336).
Date
Value
Number
Series
from
to
October 1888
25c
600,000
A
1
600000
50c
150,000
A
0001
150000
$1
200,000
A
1
200000
$2
5,000
A
1
5000
$5
10,000
A
1
10000
$10
7,500
A
1
7500
$20
4,000
A
0001
4000
$50
1,600
A
1
1600
$100
800
A
1
800
The 25c note has a control number on the lower left corner, above the 'R' of Luján's signature.




Signatories
The signatories are Ramón Luján as Cashier (Cajero), Miguel Salas or Antonio Asúnsolo as Manager (Gerente) and Manuel García Granados as Interventor. The signatures of the cashier and manager are engraved on the 25c to $20 notes and hand signed on the higher values. The signature of the Interventor is hand signed (or stamped) on all the denominations.
Ramón Remigio Luján appears as contador on the Banco Mejicano notes and later as cashier (cajero) of the Banco Mexicano from September 1888 until December 1890 and again between May 1893 and December 1895.

Born in 1833, Luján was the owner of the Corralitos mines, a state deputy, and jefe político of Galeana. He died in 1899.

Miguel Salas appears as manager by September 1888 and presumably held the office until December 1895. He also served as president, a position he held in March 1896San Francisco Chronicle, 17 March 1896.

Antonio Asúnsolo, a native of Durango, became one of the biggest landowners in Chihuahua and organiser of one of the companies that for a sizeable commission surveyed the vast public lands in the state, the Compañía Deslindadora Antonio Asúnsolo y Compañía. He was one of the bank's original concessionaires.

He died in Chihuahua on 20 November 1899.

Manuel García Granados appears on the balance sheets as Interventor between September 1888 and November 1889.
Other people connected with the bank included:
Urbano V. Balderrama was cajero in January 1893.
Mauro Candano was born in 1855 and had both a military and political career. He married Aurelia González from Guerrero and was a member of the Carrillo faction, serving as Interim Governor for Lauro Carrillo in 1889. From 1891 until 1895 he was contador of the Banco de Chihuahua and then in 1896 was contador of this bankFrancisco Almada, Gobernadores de Chihuahua, Chihuahua, 1980 but is he confusing this with the Banco de Chihuahua? but went to Mexico City in 1897. He later returned to Chihuahua, took part in the Ciudadela coup in 1913 and thereafter supported Huerta (though he interceded on behalf of some of the regime's victims). He died in 1938.
Ramón Cuellar was appointed Interventor in December 1890 and held the post until 1895. Later he was manager of the Banco Mexicano until 1897 when, on approving the merger with the Banco Minero, the Secretaría de Hacienda named him Interventor de Bancos en el Estado, a post he held until his death in Chihuahua in 1917.
Luis Faudoa was one of the principal shareholders in 1879.
Julio Faudoa was the son of Luis Faudoa. He was appointed cajero in January 1891 and held the post until April 1893. He also deputised for his successor, Luján, in October and November 1893.
José Maria Luján was on the board.
Alberto Terrazas Cuilty was on the board.
Luis Terrazas was on the board.
25 semillas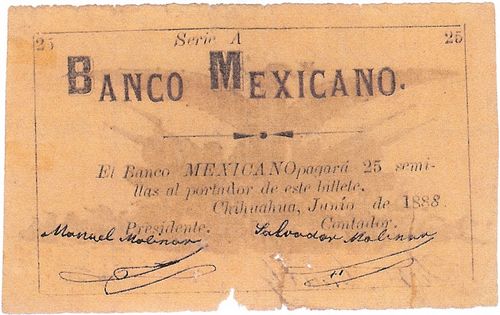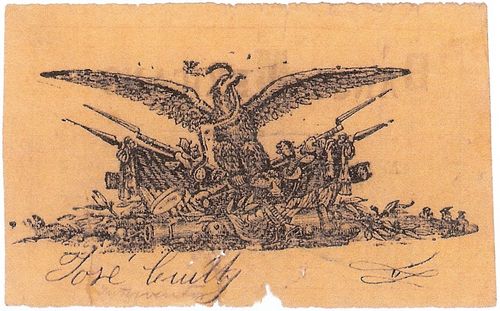 The '25 seeds' (veinticinco semillas) note, dated 1 June 1888 and listed in some catalogues, is a curiosity. The supposed signatories (Manuel Molinor as Presidente, Salvador Molinez as Contador, and José Cuilty on the reverse) are obviously not real, but though the typeface is primitive and the military design not particularly appropriate, that vignette was commonly used on legal coversheets and so could have come from a printer's stock. It would still be interesting to know why seeds were considered as a unit of value.
Merger with the Banco Minero
By the end of 1895 the controlling interests of the Banco Mexicano were the same as those of the Banco Minero. On 17 December the Secretaría de Hacienda authorised a merger on the first day of the next year and the bank went into liquidation on 4 July 1896. After the merger the bank's notes were gradually withdrawn. When the directors of the Banco Minero left Chihuahua in November 1913 only $23,749 in Banco Mexicano notes, mostly in lower denominations, were still outstanding: a further $1,299 was decommissioned after the revolution up to 1929.