El Banco Revolucionario de Guerrero
Whilst Generals Villa and Carranza issued large amounts of revolutionary paper money, General Emiliano Zapata resorted to paper money only in a few instances. The Zapatista revolutionaries preferred to use coins and particularly silver coins.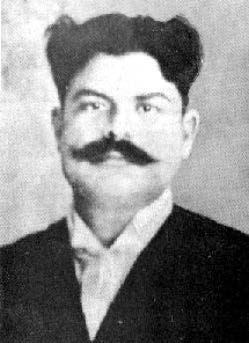 The revolutionaries took the state capital, Chilpancingo, on 24 March 1914, after which a meeting of the Zapatista commanders, at their head-quarters in Tixtla, named General Jesús H. Salgado as provisional governor, though Salgado modestly assumed the title of Director Provisional del Estado.
On 5 October 1914 the chiefs and officials of the Guerrero Revolutionary Army (Ejército Revolucionario de Guerrero) met in the Palacio de Gobierno in Chilpancingo, where Salgado presented a plan to establish a Revolutionary Bank of Guerrero. The meeting issued a decree for a total of ten million pesos in paper money, to be backed by the mineral, agricultural, and industrial resources of the state. The money was to be used for the costs of the revolutionary forces, with a million going to victims of the revolution, another to support agriculture and a third as compensation for land appropriations. Further issues could be made, if necessary. They then appointed a board for the bank, consisting of a President, Vice-President, Treasurer and Secretary.
At another meeting three days later Salgado proposed distributing the ten million by means of giving the various commanders current accounts with the bank on which they could draw for their troops' expenses. They agreed to the following distributions: $55,000 each to Generals Encarnación Díaz, Jesús H. Salgado, Heliodoro C. Castillo and Julián Blanco; $15,000 each to Generals Julio Gómez and Abraham García, and $10,000 each to Generals Baltasar Ocampo, Francisco Mota, Custodio Hernández and Epigmenio Jiménez.
On 15 October Salgado issued his circular núm. 1, which stated that the bank's first issue would be $10,000,000 in notes (papel fiducario) and, in addition, a certain amount of fractional currency in the form of cardboard chits (boletos). As it was backed by $10,000,000 in bullion, businesses would have to accept the currency without a discount. On the same day he decreed (decree núm. 2) the establishment of branches of the bank in the principal towns of the state, with the managers chosen by the local municipal presidents and jefes del plaza.
The notes were printed in Chilpancingo and signed by the provisional director Rodolfo Catalán and provisional treasurer Rafael Castañón (or B. A. Guillén on the $2 note). Some early $5 notes were handsigned but later the signatures were stamped or included in the design.
| | |
| --- | --- |
| Rodolfo Catalán was a local functionary. He had been a judge in the neighbouring state of Morelos and by 1908 was a judge in IgualaEl Diario de Hogar, 21 April 1908. | |
| Rafael Castañón | |
| B. A. Guillén | |
The first $1 note, Serie A, have the legend 'Ejército Libertador de Guerrero', though the note refers to the decree of 6 October and the Banco Revoluncionario and its $10m reserve.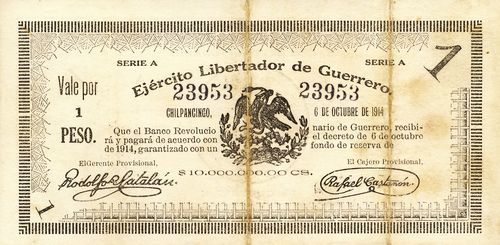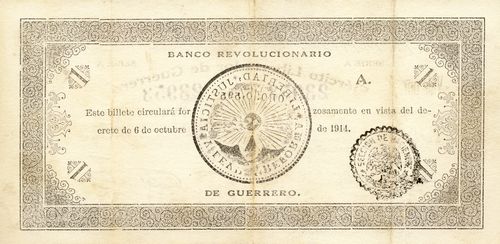 Series
from
to
total
number

total

value

$1
A
handsigned
includes number 1731

CNBanxico #4170

printed signatures
includes numbers 6396 to 23953
An actual Estado de Guerrero gold coin was used to produce the reverse plate and so the design, on inspection, is revealed to be a mirror image. Perversely, it was a 1914 $2, rather than a $1, coin that was used.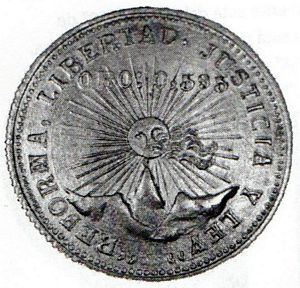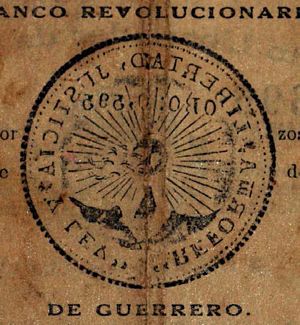 The sequence of issue, according to the dates printed on the notes themselves, are the $5 and $10 notes, also on 6 October; then the $20 note on 20 October, a Series B $1 note on 1 November and the $2 note on 1 December. The coin on the reverse of the $1 note is now an idealized, correctly orientated image. This sequence may demonstrate a gradual improvement in the designs, admittedly from a technically low base, although the general appearance is quite melodious.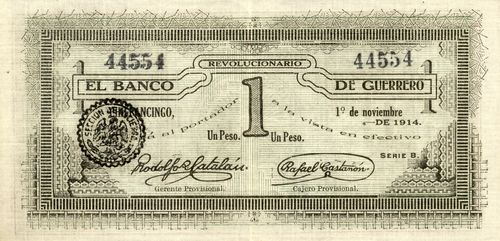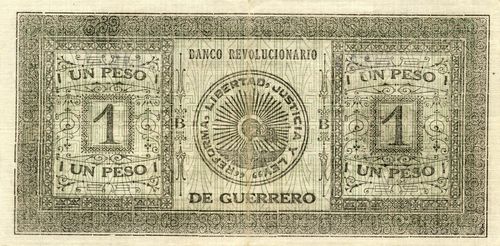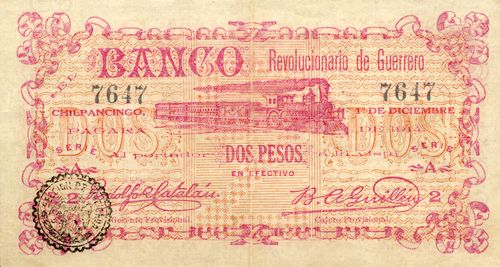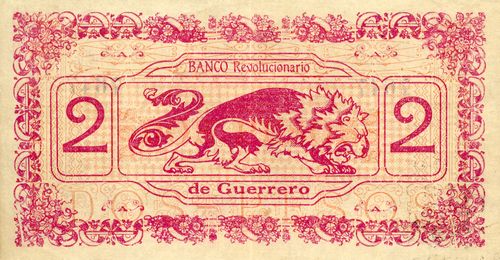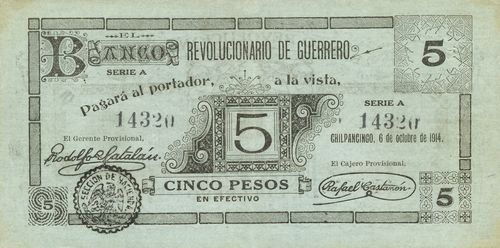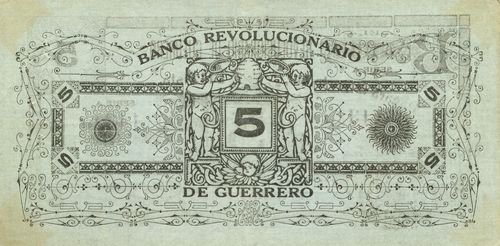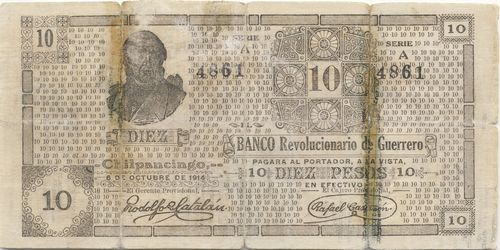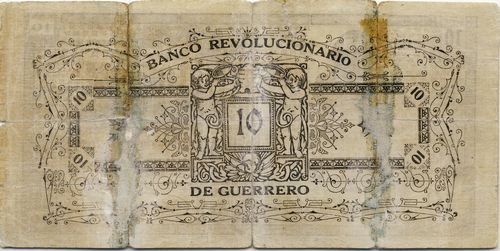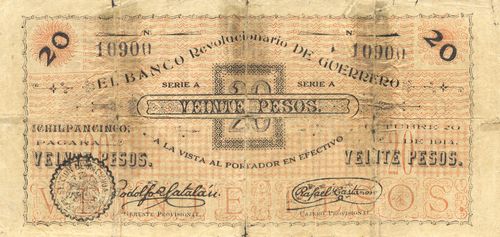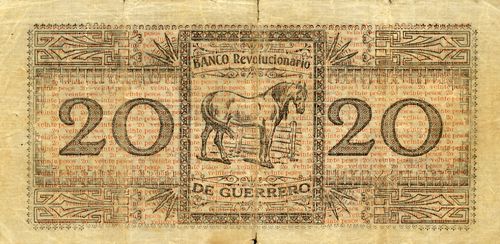 date on note
Series
from
to
total
number

total

value

$1
1 November 1914
B
1
includes numbers 13 to 44554
$2
1 December 1914
A
includes numbers 7416 to 8777

CNBanxico #11098

$5
6 October 1914
A
includes numbers 3789 to 18173

CNBanxico #11100

$10
6 October 1914
A
includes number 4861
$20
20 October 1914
A
includes numbers 42 to 10900
The fractional notes have the same validating seal as the two later notes, which might help date their issue, though their legend is "Ejército Revolucionario de Guerrero".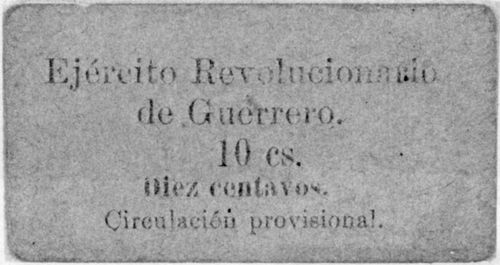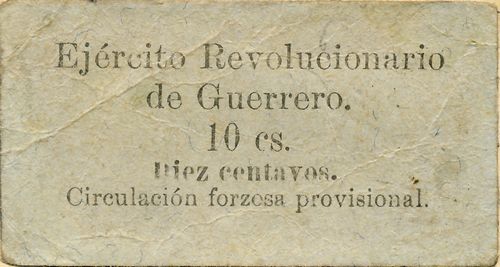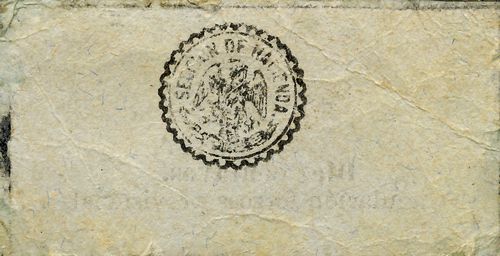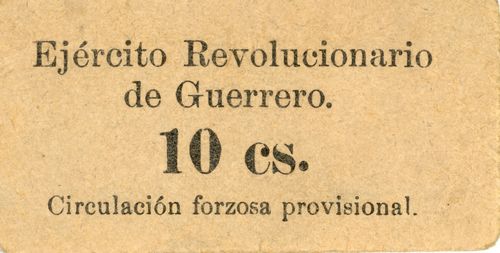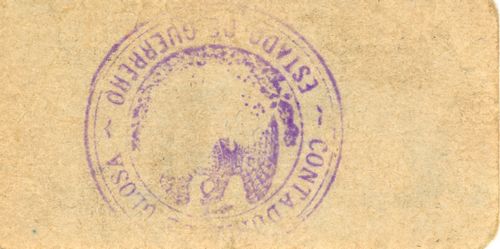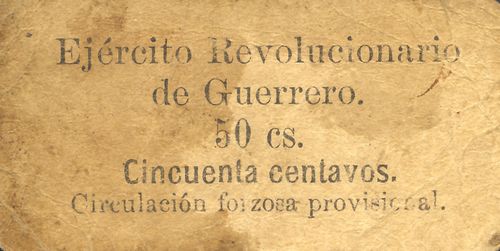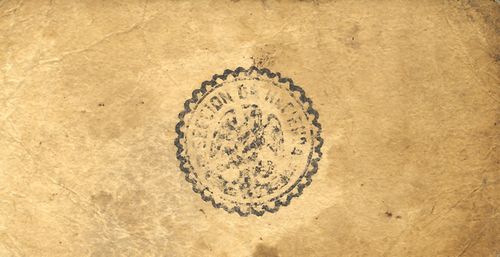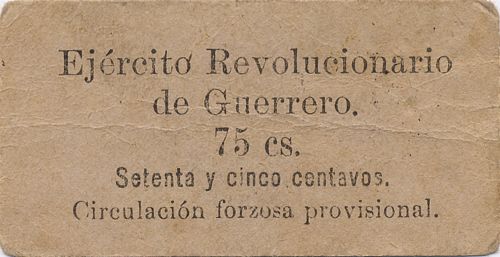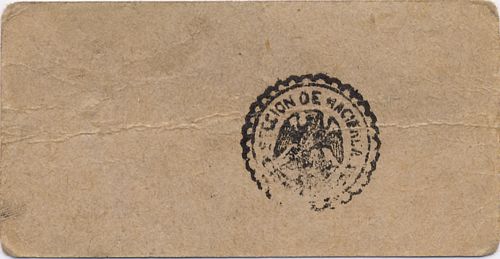 The public reception of the notes was surprisingly negative.
On 5 November the Secretario General de Gobierno, Brigido Barrera, told the Ministro de Hacienda y Crédito Público in Cuernavaca that the larger value notes ($10 to $100) of the Gobierno Provisional de México were ruining commercial transactions with Banco Revolucionario notes and vales. He asked for $1 and $5 notes to be sent with the Pagador of the División Salgado (is this correct translation?)Telegrama recibido en TLALTIZAPAN MOR.
NRO. 6 TELOLOAPAN GRO. 5 NOVIEMBRE 1915.
GRAL. D. EMILIANO ZAPATA.
EN TELEFONEMA DE HOY DIGO Á MINISTRO DE HACIENDA Y CREDITO PUBLICO EN CUERNAVACA MOR LO QUE SIGUE. "MINISTRO DE HACIENDA Y CREDITO PUBLICO BILLETES VALOR 10,20,50 Y 100 PESOS HAN ARRUINADO TRANSACIONES ENTRANTES Y PEQUEÑAS ESTA ZONA MISION BILLETES Y VALES BANCO REVOLUCIONARIO NO OBSTANTE QUE PROCURASE CANJEARLOS COMO PUEDESE CON PLATA, AZUCAR, AGUARDIENTE Y BILLETES GOBIERNO PROVISIONAL INJUSTAMENTE PUBLICO OPUSOSE Á SU CIRCULACIÓN DISPUESTO SEGUIR CUBRIENDO HABERES FUERZAS CON TALES BILLETES SERE AGRAVARIO LA REPULSIÓN QUE TIENESE Á ELLOS POR LAS GRANDES DIFICULTADES QUE TENEMOS PARA LLENAR Á UN CON ALIMENTOS EN HUMILDES NECESIDADES NUESTROS SOLDADOS. RUEGOLE POR SU AFAN DE ACREDITAR ANTE PUBLICO HUMILDE QUE DEFENDEMOS SUS ACCIONES QUE REMITANNOS PRIMERA REMESA CON PAGADOR DIVISIÓN SALGADO MUCHOS BILLETES DE UNO Y CINCO PESOS, MEDIO MILLON DE VALES FEDERALES PARA ASEGURAR CREDITO GOBIERNO QUE INTEGRA DIGNAMENTE NUESTRAS NECESIDADES PUEBLO LLENANSE PERDONE UD. SEGUIRÉ IMPORTUNANDOLE. YA DIRIJO ME Á GRAL. ZAPATA. AYUDEME EN ESTE SENTIDO PARA SANEAR NECESIDADES PUEBLO POR QUIEN MUCHOS NO YO HAN LUCHADO HASTA EL HEROISMO MIS RESPETOS Y SALUDOS. SRIO DE GOBIERNO PROVISIONAL DEL ESTADO DE GUERRERO.
BRIGIDO BARRERA A UD. COMO GRAL EN NOMBRE DE LOS PRINCIPALES JEFES DE ESTA ZONA SUPLICOLE MUY ATENTAMENTE SE SIRVA PRESTARME ESTE SENTIDO SU VALIOSA INFLUENCIA QUE DE LO CONTRARIO CON PENA SEGUIRÉ MOLESTANDO. MIS RSPETOS. SALUDOS Y ATENCIONES. EL SRIO GRAL P DE GOBIERNO.
BRIGIDO BARRERA.
(AGN, Fondo Emiliano Zapata, caja 16, exp. 3, f 8 telegram Brigido Barrera, Teloloapan to Emiliano Zapata, Tlaltizapan).
On 11 December the government issued a circular núm. 26[text needed] ordering the circulation of the revolutionary banknotes and fractional currencyAHMTla, Presidencia 1914, caja. 33, exp. 3. As a consequence, on 12 December the presidente municipal of Tlapa, Emeterio A. Bazán, informed the public that the bank's notes circulated freely in Mexico City and most of the state[text needed]AHMMal, caja 3, Presidencia 1913-1914, s/p. aviso al público of presidente municipal Emeterio A. Bazán, Tlapa, 12 December 1914. However, contrary to this, the merchants of the Montaña region resisted the notes as they were not accepted in Puebla from where they got their suppliesAGN, Fondo Emiliano Zapata, caja 4, exp. 1, 165 letter general Perfecto Iriate, Huamuauxtitlán to Zapata, 19 January 1915.
On 16 December General Julio A. Gómez, of the Ejército Libertador del Sur y Centro, complained to Zapata that governor Salgado had order an issue of cartones and notes in distinct types and value, of forced acceptance, but no guarantee that it would hold its value, to the detriment of the poor, suffering publicAGN, Fondo Emiliano Zapata: Documentos Históricos de la Revolutión Mexicana (Archivo Isidro Fabela) Tomo I, vol 3.
On 21 December Salgado's delegates to the ConventionGeneral Heliodoro Castillo, Florencio Obrajon, Uriel Roman, Anatasio Miranda, Epigmenio Salinas and Manuel Ramirez arrived in the capital and spent time persuading Secretario de Hacienda Felícitos Villarreal to have the Banco Revolucionario de Guerrero notes recognized and declared legal tender by the central administration. They argued that the notes were fully backed by silver bars to the value of $10,000,000 held at Campo Morado and that Guerrero Atlixtac silver pesos were so plentiful that anyone wishing to redeem a note could do so at any time by presenting it at the bank and receiving silver in exchangeThe Mexican Herald, 20th Year, No. 7046, 22 December 1914; La Opinión, Año I, Tomo I, Núm. 17, 22 December 1914.
In late December certain businessmen who had been speculating in Banco Revolucionario notes were publically executed in the plaza de armas of Chilpancingo on the orders of Salgado. Those punished had refused to accept the notes, alleging that it had not be sanctioned by the Tesorería de la Federación and demanded payment in the silver coins that had recently been produced in Chilpancingo. However, they had accepted the notes at a large discount, preying on the ignorance of the poor, and once that had accumulated a large amount, exchanged them at the bank, predominantly for coinageLa Opinión, Año I, Tomo I, Núm. 26, 31 December 1914.
Withdrawal
So, as the paper money was poorly received by the public and the military troops refused it in their salary payments, General Zapata ordered the notes to be withdrawn from circulation and to be exchanged for silver coins at full value.
Zapata wrung an agreement from González Garza to provide him with eight hundred thousand pesos from the Convention's fast dwindling store to take the Guerrero notes out of circulation. On 9 February Zapata wrote to González Garza from Iguala complaining that, though a commission had arrived from Cuernavaca with the money, more than five hundred thousand pesos were unstamped. The people of Guerrero, said Zapata, would no more accept these sábanas blancas than their own Banco Revolucionario notes.
By May 1915 the Convention government had decided, because of the numerous counterfeits and general unacceptability, to withdraw the early Monclova and Villista issues. Occasionally the incinerations held in the patio of the National Palace in Mexico City included some of these Guerrero issues. Details are incomplete, but on 15 June $17,786.00 in Banco Revolucionario notes and cartonesEl Combate, Tomo 1, Núm. 1, 15 June 1915; La Convención, Tomo I, Núm. 118, 15 June 1915; The Mexican Herald, Año XX, No. 7,221, 16 June 1915; on 18 June $114,754 in Banco Revolucionario notes and $49,757.05 in Ejército Revolucionario cartonesEl Combate, Tomo 1, Núm. 4, 18 June 1915, and on 4 July $126,120 in Guerrero notes were burntEl Renovador, Tomo I, Num. 19, 4 July 1915; The Mexican Herald, Año XX, No. 7240, 5 July 1915. More notes were burnt on 7 JulyThe Mexican Herald, 8 July 1915.