La Negociación San Rafael y Anexas
The Negociación de San Rafael y Anexas operated three mines called La Soledad, San Rafael and La Sorpresa, to the north of Pachuca.
1914 issue
On Saturday, 24 January 1914, some of the principal merchants of Pachuca called upon the mining companies and asked them to issue script as had been done elsewhere. They explained that their sales had been cut very heavily through lack of change and that they would not only welcome mining companies' paper but would help in any way. The eight principal mining companies, with the approval of the Governor of the state, agreed to issues vales in a common format with the name of the issuing company printed on its notes. San Rafael subscribed to $10,000 of this first issue, an amount based upon its requirements for four weeksAHMM, Fondo Norteamericano, vol. 41, exp. 15, Dirección General, Correspondencia, Mar 1913 – Nov 1914, Weekly Gossip letter.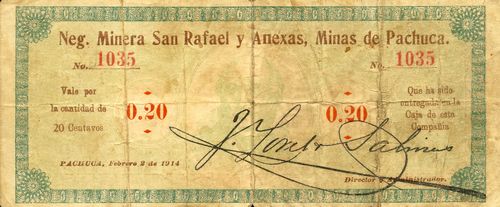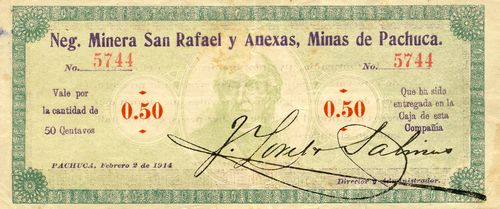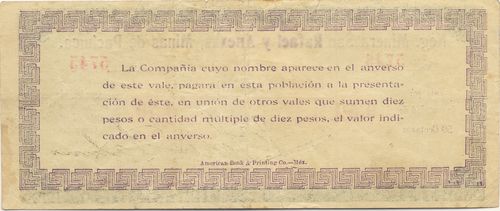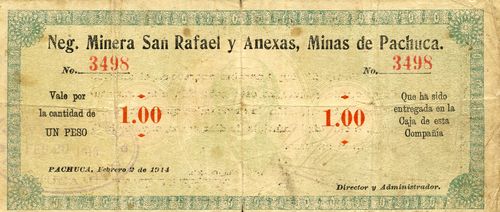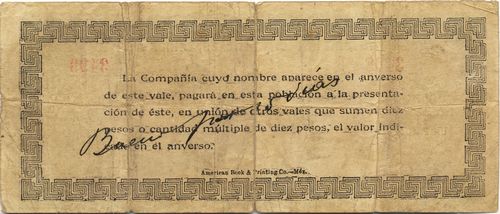 The notes were printed by the American Book & Printing Company of Mexico City and the San Rafael notes are known in four values (20c, 50c, $1 and $2) dated 2 February 1914.
Date of issue
Date on note
from
to
total
number
total
value
20c
after 21 February 1914
2 February 1914
includes number 1035
50c
includes number 5744
$1
includes numbers 3054 to 3498
$2
They are signed by José Loreto Salinas as Director y Administrador.
José Loreto Salinas Cabrera had worked with Eduardo Girault at the San Rafael mine and took over the management from him in August 1903El Popular, 11 August 1903.

He was a prominent supporter of Madero (indeed, the San Rafael mine appears to have been a hotbed of anti-re-election agitation) and after Aquiles Serdan's uprising in Puebla, he and some othersfellow engineer Eligio Ramírez, the barreteros (miners who drills holes (barrenos) that are then filled with gunpowder and exploded, releasing the minerals from the rock) Mateo Angeles and Manuel Valdés, and Francisco Noble, Director of the Club Antireeleccionista were arrested by Mayor Acosta, of the Inspección General de Policía of the Federal District. Compromising papers were found and the prisoners were sent to Mexico CityEl Tiempo, 21 November 1910 and accused of sedition and conspiracyEl Tiempo, Año XXVIII, Núm. 9020, 28 November 1910. A month later they were released on bond as it was decided that their culpability was minimal or nonexistantThe Mexican Herald, 22 December 1910; El Imparcial, 22 December 1910.

Loreto Salinas died in the ex Hacienda de La Luz on 31 August 1937 and was buried in Pachuca.
1915 issue
In his August 1915 report on local issues to the Secretaría de Gobernación in Veracruz, Arturo Lazo de la Vega records that on 20 February 1915 governor Fortunato Maycotte agreed to a request from the Negociación Minera San Rafael y Anexas to issue $2,650.00 in 50c and $1 valesAGN, Fondo Gobernación Periodo Revolucionario, caja 93, exp. 36, folletos 8 Secretario general L. de la Vega to [ ], Pachuca, 20 August 1915.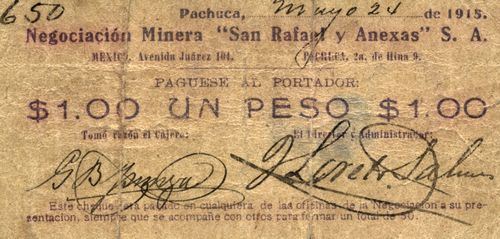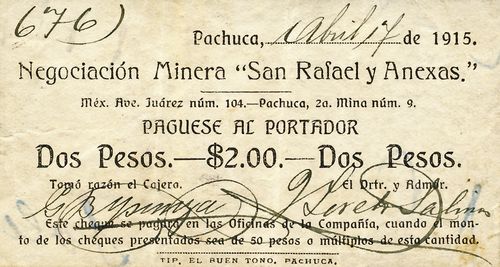 Date on note
from
to
total
number
total
value
$1
22 May 1915
includes number 467
24 May 1915
includes number 650
31 May 1915
includes number 1634
$2
17 April 1915
includes number 676
15 May 1915
includes number 1376

CNBanxico #11238
We know of cheques in two values ($1 and $2) dated from April and May 1915, signed by G.B. [ ]ya[identification needed] as cashier (Cajero) and J. Loreto Salinas as Director and Administrator.
G.B. [ ]ya

[identification needed]

José Loreto Salinas
These were printed by a local printer, the Tipografía El Buen Tono of Pachuca. They could be redeemed in the company's offices at calle Mina 4, Pachuca or Avenida Juárez 104, Mexico City in multiples of fifty pesos.
In response to de la Vega's report, on 9 September the Secretaría de Gobernación replied that since these notes had not been authorized by the Primera Jefatura the government should grant the company a prudent length of time to withdraw themAGN, Fondo Gobernación Periodo Revolucionario, caja 93, exp. 36, folletos 8.