Miscellaneous markings on dos caritas
Commercial marks
Dos caritas are known with various personal or commercial markings including initials and a small red rose.
In August 1914 it was reported that to protect their customers the banks in El Paso were initialling the money that had been inspected and was known to be good and no other was accepted by them when offered at the exchange windowsEl Paso Herald, 4 August 1914.
Embellishments for the souvenir trade
The [ ] is known with the GCM monogram that was applied to postage stamps from 1914 at the post offices at Hermosillo and Ciudad JuárezNicholas Follansbee, Cosme Hinojosa and his stamps, Mexican Revolution Reporter, 29, November 1982 whilst the $5 is known with the GP D E M monogramGuillermo Gelis Cano, Sellos Postales de Mexico, Mexico, 1968 found on Constitutionalist postage stamps.
Some dos caritas have a circular overprint similar to a post office cancellation consisting of a 31mm circle with 'HQ FORT BLISS' in the top portion, 'TEXAS' in the lower portion and a solid black bar across the centre where one would expect the dateMexican Revolution Reporter, 3, November 1976.
In addition to the dubious San Blas resello, a similar but more obviously bogus red overprint has 'MILITAR 1914 - F. VILLA - CHIHUAHUA') in a circle.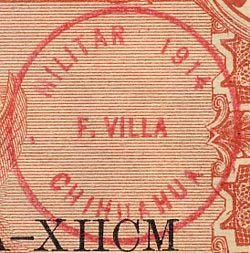 Finally brief mention should made of pristine dos caritas with a large red overprint 'MUERA HUERTA' and others overprinted with the name of a town or state twice vertically on the face and the name of a military unit on the reverse.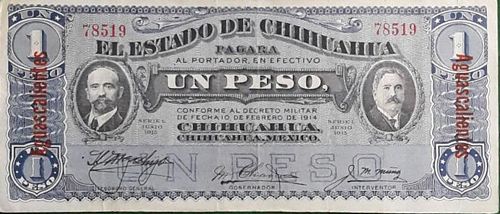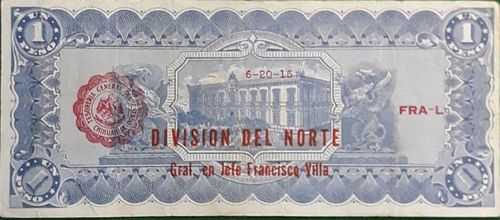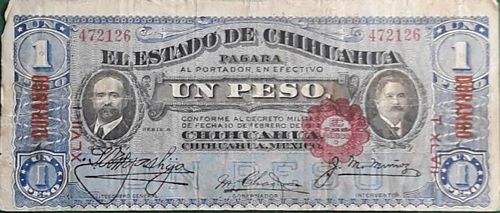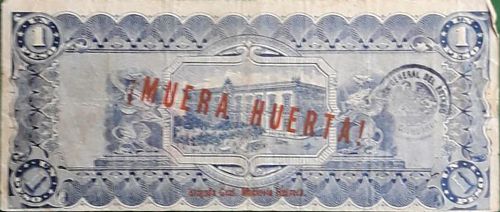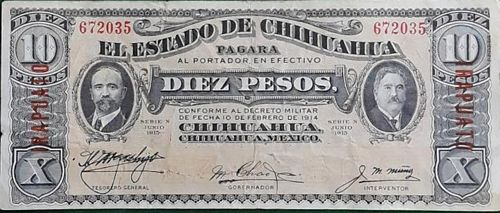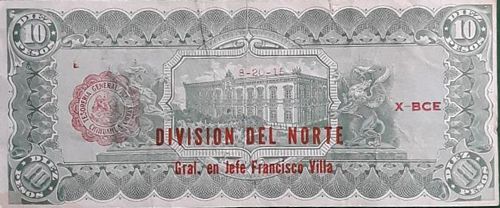 Known combinations are:
Aguascalientes
DIVISION DEL NORTE
Gral. en Jefe Francisco Villa
DURANGO
¡MUERA HUERTA!
Brigada Gral. Maclovio Herrera
Ebano, S. L. P.
Rgto. de Cab. Gral. José Cavazos
IRAPUATO
DIVISION DEL NORTE
Gral. en Jefe Francisco Villa
LEON, GTO.
DIVISION DEL NORTE
Gral. en Jefe Francisco Villa
PARRAL
¡MUERA HUERTA!
Brigada Gral. Tomas Urbina
TORREON
DIVISION DEL NORTE
Gral. en Jefe Francisco Villa
VERACRUZ
Brigada: Gral. Candido Aguilar
Obviously these were produced for the tourist trade. By the time the dos caritas were produced, Huerta had ceased to be a player in the Mexican revolution.