$10 dos caritas - Maverick-Clarke
These were 150,000 notes printed by Maverick-Clarke and dispatched on 8 May 1914. These were Series D, numbered 1 to 150000.
These notes were used for several different issues.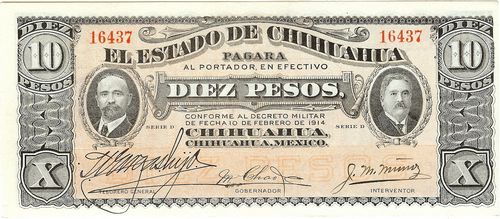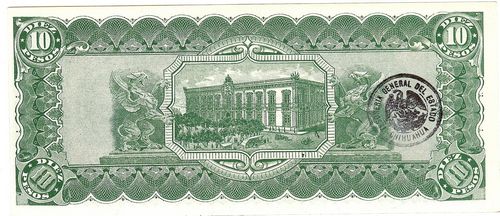 (a) The earliest had hand signatures for Treasurer Vargas and Interventor Muñoz and a circular black Tesorería seal on the back. Some notes must have been issued between 8 May and 22 May, when the Ejército Constitucionalista stamp began to be applied, but others might have been issued alongside the notes (below) with the Ejército Constitucionalista stamp. One group is known with serial numbers between 0233 and 3879 and another with higher numbers between 22550 and 26517.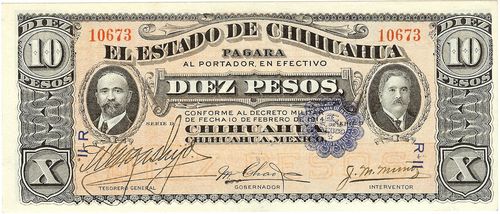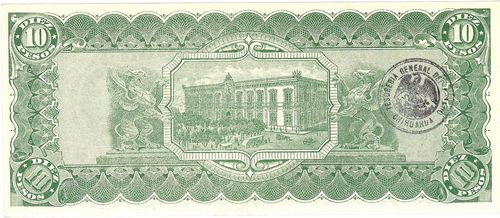 (b) The next had a scalloped blue Ejército Constitucionalista seal and Type 1 vertical control letters on face and circular black Tesorería seal on back. The Ejército Constitucionalista seal will have been applied in Ciudad Juárez between 22 May and 10 June 1914. Only I-P P-I and II-R R-II are known. These were also hand signed and the known numbers ranges are I-P P-I 6360 to 8390 and II-R R-II 10635 to 18914.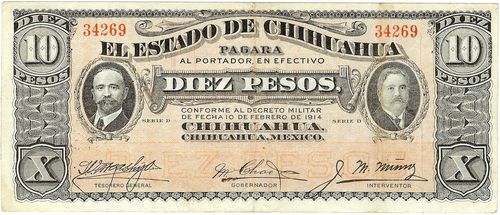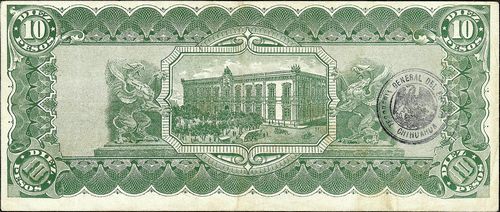 (c) circular black Tesorería seal on back. Because these have printed signatures, it is assumed that they are later than the hand signed issues. Muñoz' signature is larger than his hand signature and the printed signature on later issues.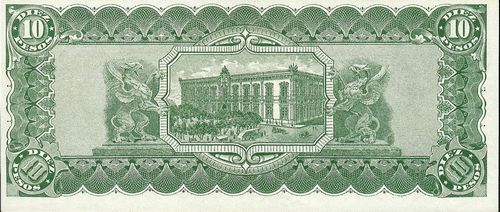 (d) circular rubber blue/black Tesorería seal on face. It appears that there was more than one stamp used, though the severity of the strike could also explain differences in appearance. Again these have small printed signatures, with Muñoz' signature larger than other examples. The numbers range from 35743 (example perforated) to 131929.
Although there is an obvious progression, these frequent changes cannot have inspired confidence amongst holders.
By May 1915 people in Zacatecas were refusing to accept $1, $5 and $10 dos caritas with a black rubber seal, claiming they were counterfeit , and on 24 May the government printed a thousand circulars ordering their acceptance AMZ, caja 14, exp 17, folio 24.