Private issues

Yautepec
San Antonio Sebastopol

Dick Long, as far back as 1974, was warning that this might be a fantasy. However, if they are legitimate, they come from the Sebastopol sugar mill of Daniel Reyes, one of the most important industries in Yautepec in the first decade of the century.
Cuautla
El Lazo Mercantil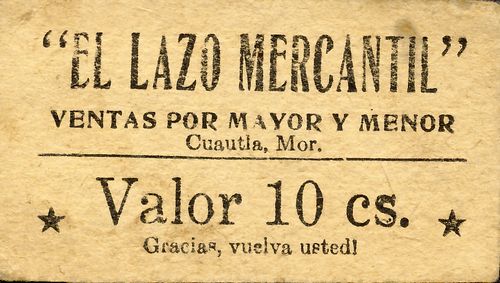 A 10c note.
Casa Argote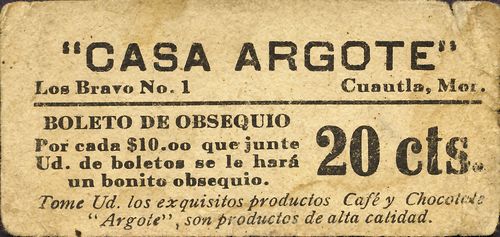 The "Casa Argote" produced coffee and chocolate of, according to this note, high quality. This is described as a gift ticket (boleto de obsequio) and states that every fifty tickets collected the holder would receive a nice gift (por cada $10.00 que junta Ud. de boletos se le hará un bonito obsequio). However, it might have been used as a substitute for cash.
San José Vista Hermosa
Hacienda de San José Vista Hermosa
The Hacienda de San José Vista Hermosa dates all the way back to the conquistador Hernán Cortés. In 1820 it was bought by Manuel Vicente Vidal, whose family owned it until 1910, when they were driven out by General Emiliano Zapata. By the end of the revolution it was in ruins, but was bought and restored in 1945 as a hotel.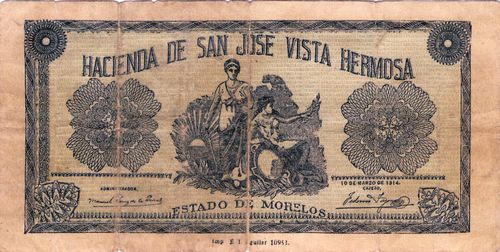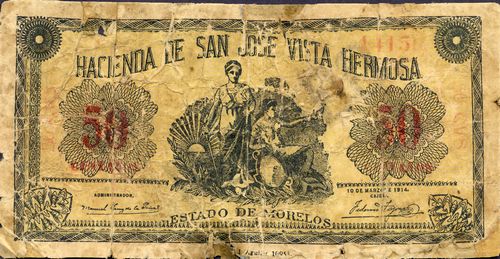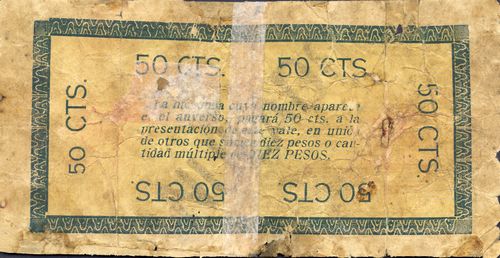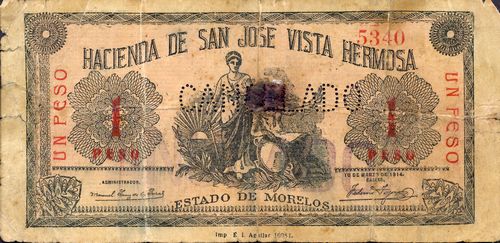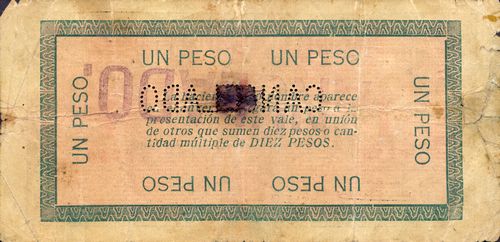 from
to
total
number
total
value
5c
10c
50c
includes number 14156
$1
includes number 5340
Four values printed by the Mexico City firm of Eduardo I. Aguilar. They are dated 10 March 1914 and carry the printed signatures of Manuel [ ] de la Peñas[identification needed] as Administrator and Feder[ ][identification needed] as Cajero.
| | |
| --- | --- |
| Manuel [ ] de la Peñas | |
| Feder[ ] | |
The legend on the reverse states that they were exchangeable for cash in multiples of ten pesos. It also refers to "the hacienda whose name appears on the front" which suggests that Aguilar produced similar notes for other haciendas.
Tenango
Hacienda de Tenango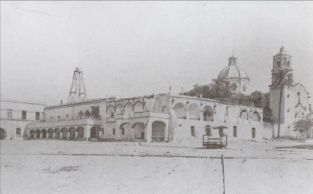 Luis García Pimentel (1855-1930) was an acknowledged representative of the Porfirian regional elite of Morelos and the owner of two sugar haciendas located in the east of the state, Santa Ana Tenango and Santa Clara Montefalco. Luís took over the reins of the family business when his father, Joaquín García Icazbalceta died, modernizing the machinery, building a 57 kilometre canal to bring irrigation water from Cuautla, introducing tracks for the platforms that took the cane from the field to the mill and sugar to the railway station. He installed a dynamo that provided electricity to his mills, grinding the cane with electric machines and illuminating the main buildings of the haciendas with electric light before this service existed in Mexico City.
The García Pimentel family owned the mill at the beginning of the Mexican Revolution. Although the factory was burned down in 1910, they managed to continue sugar production, thanks to the payment of an insurance policy from Lloyd's of London for £14,000. They defended their heritage as much as they could, to the point of organizing a battalion of Japanese "Samurai". Unfortunately, in 1914, the factory and the main house were attacked by revolutionaries and destroyed by fire and dynamite. It is said that the Hacienda burned for eight days. The remains of the magnificent construction were completely abandoned and all economic activity ceased completely.
We know of handwritten vales from early 1914.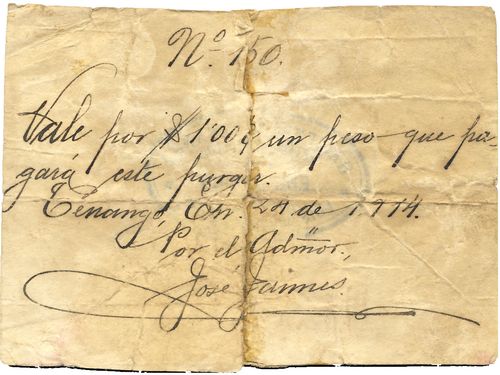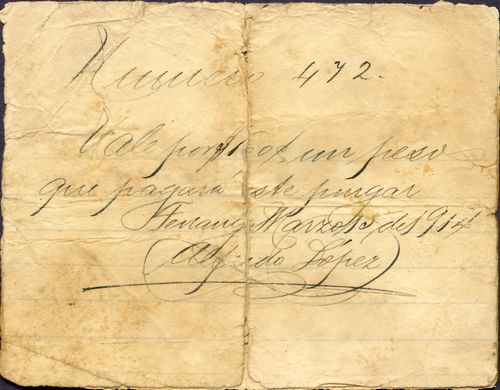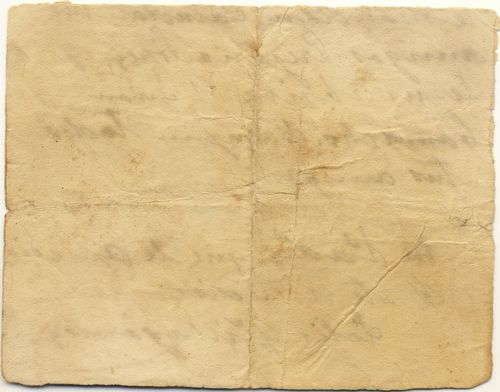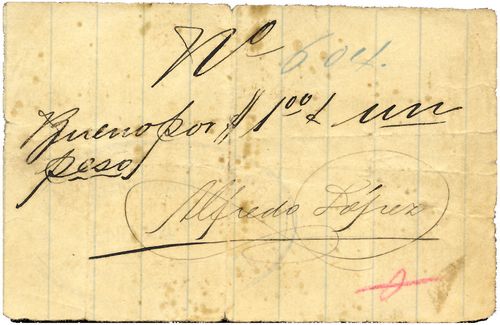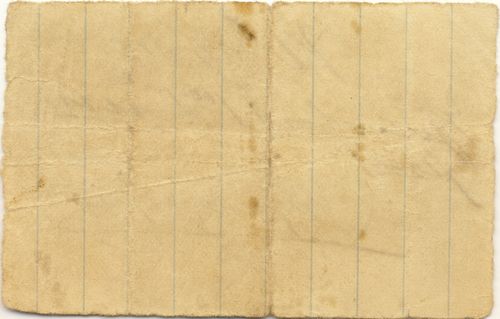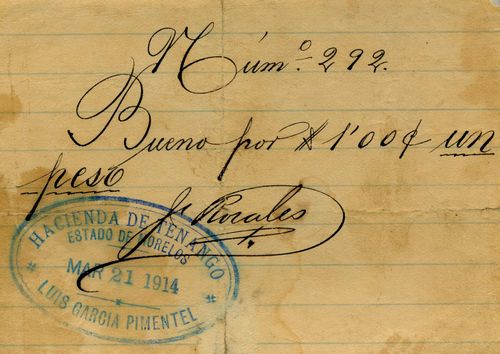 date on note
from
to
total
number
total
value
signed by
$1
20 January 1914
José Jaimes
includes number 6
24 January 1914
includes numbers 64

CNBanxico #5418

to 169

CNBanxico #11672

14 March 1914
Alfredo López
includes number 493
15 March 1914
includes numbers 424

CNBanxico #5420

to 492

CNBanxico #5419

21 March 1914
J. Rosales
includes numbers 237 to 292

CNBanxico #11674
The signatories were
| | |
| --- | --- |
| José Jaimes signed for the Administrador | |
| Alfredo López | |
| J. Rosales | |
Before the revolution, García Pimentel had been a prosperous businessmen, who was familiar with his surroundings, which he leveraged to increase his profits. After the armed struggle however, he was unable to recover his previous economic successMaría Carolina Moguel Pasquel, "Un empresario agrícola porfirista en Morelos. El caso de Luis García Pimentel" in Secuencia, 97, January-April 2017, pp. 170-199.