Mining companies in Tlalpujahua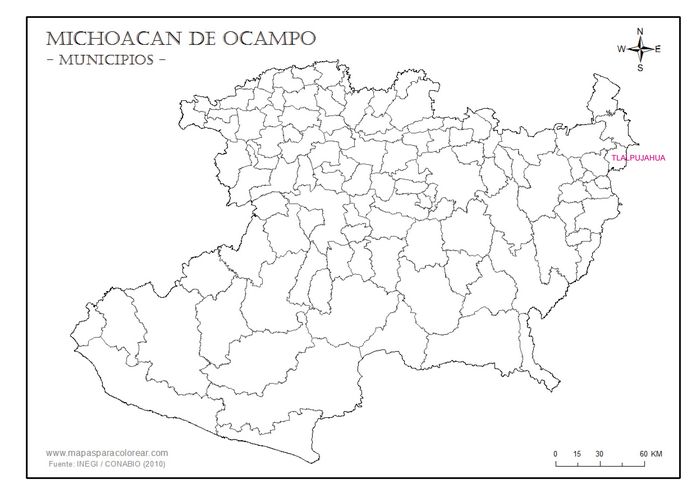 Tlalpujahua is located in the far northeast of the state. It is one of a group of mining communities in this area, along with Angangueo and El Oro, in Estado de México. Tlalpujahua is the home of the Dos Estrellas mine, which was the leading producer of gold in the early 20th century. A major landslide of mud and mining debris damaged this mine and buried about one-third of the town in 1937, effectively ending mining.
During the revolution only El Oro Mining and Railway Co.; Esperanza Ltd.; Mexican Mines of El Oro Ltd. and the Compañía Minera Las Dos Estrellas in El Oro and Tlalpujahua managed to continue operating, though intermittently, and the armed movements and insurrections of various factions interrupted communications with the centre and north of the country.
Compañía Minera "las Dos Estrellas"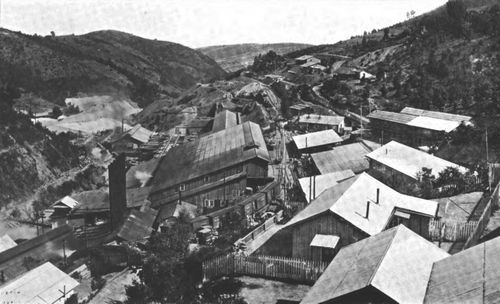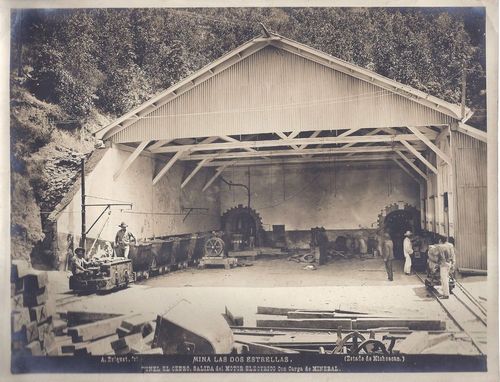 This company was formed on 19 September 1898 with French capital (the Banque Franco-egyptienne and Crédit Lyonnais). It participated in the mining boom that lasted until just before the revolution, then operated on a smaller scale until 1937 when it was effectively nationalized, passing into the hands of a workers co-operative, the Cooperativa Minera "Las Dos Estrellas". It went into liquidation in 1959.
On 4 March 1914 it was reported that the company was paying its workers with vales, which has increased the lack of trust between some stores and the workersEl Diario, 4 March 1914. Another Mexico City newspaper reported in April 1914 that the company had issued vales for one peso and less to counter the lack of tostones and fractional money. They used it to pay their workers who in turn spent it with local busineses. The businesses, once they had accumulated a certain amount, redeemed the vales with the companyEl País, 16 April 1914; The Mexican Herald, 17 April 1914.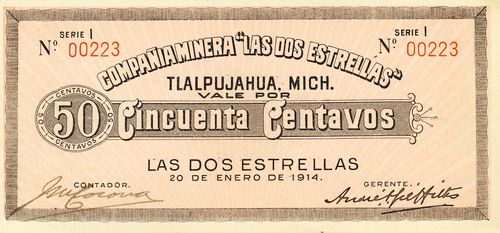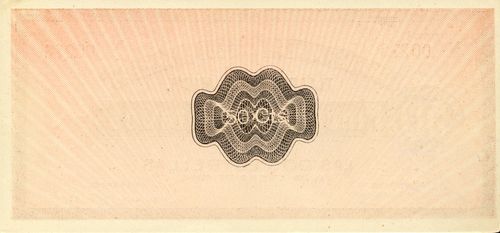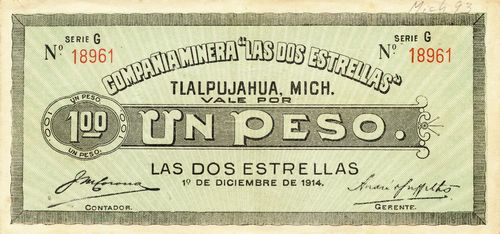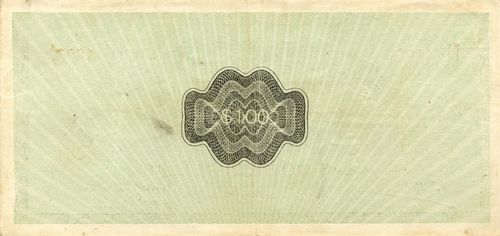 Known series are:
Date
Series
from
to
Contador
Gerente
50c
20 January 1914
I
00001
J M Corona
Andre Griffiths
large facsimile sigs
includes numbers 00223 to 00227

CNBanxico #5238

/

20 January 191

4
J
small facsimile sigs
/

20 January 191

4
K
/

20 January 191

4
L
/

20 January 191

4
M
8 August 1914/

20 January 191

4
N
20 January 1914
O

20000

includes numbers 02128

CNBanxico #5239

to 19868

CNBanxico #5240

P

20001

includes number 20091
$1
20 January 1914
A
00001
J M Corona


large facsimile sig
includes number 00407
8 August 1914/

20 January 191

4



Andre Griffiths
small facsimile sigs
B
C
includes number 19751

CNBanxico #5245

D
1 December 1914
E
F
G
includes numbers 04987

CNBanxico #5243

to 18961
H
includes numbers 06486

CNBanxico #5242

to 15780

CNBanxico #11596

1 February 1915


Q
includes number 03738

CNBanxico #5244

R






unsigned remainders


S
includes number 08024

CNBanxico #11597

T
includes number 02718
The facsimile signatures are of J. M. Corona as Cajero and Andre Griffiths as Gerente.
J. M. Corona

André P. Griffiths was the American manager.

The Dos Estrellas mine had been directed by both foreign and Mexican engineers, with both groups equally treated, but when the company decided to reduce overhead expenses by 25% the Mexican manager resigned and the American, Griffiths, appointed in his place. Griffiths, believing that only gringos were of any use, removed employees with 10 to 12 years of meritorious services, to give their jobs to Americans, who had less knowledge and skill, but were more willing to carry out his plans. Griffiths proceeded to implement the measures aimed at achieving the desired savings, such as suspending the payment of doctors and medicines for the workers, despite the fact that this was the amount of the fines imposed on the workers, and charging rent for houses, lighting and water, which had previously been provided at no cost. However, each gringo who replaced a Mexican, earned double or triple what the Mexican employee earned. Griffiths also changed the chief of the mine police to an American, and the miners feared that this was so that the police would fire on them if the company's economies led them to strike.

The miners complained to Adalberto A. Esteva, head of the Departamento de Trabajo, who persuaded Griffiths to suspend the medical charges (it is not whether the order to charge for house, electricity and water was also suspended)AGN, Secretaría de Fomento, Departamento de Trabajo, caja 34, exp. 2, 19 September 1913.
Withdrawal
The company ultimately issued $320,000. It began to redeem them once communications were reestablished but only in part. By May 1917 a large amount was still outstanding so the governor, General José Rentería Luviano, ordered the company to set up an office to redeem its notes, in oro nacional, at a rate of 25% of their face value. The office should publish notices[text needed] in the local and national press to hand in their vales by 30 June, and the collected notes should be incinerated during the first days of July. As the company had issued the notes without official authorisation he also imposed a fine of $32,000 (10% of the total issued)AMMor, caja 39 A, exp. 35.
The workers at the mine were upset by this ruling and at the end of June sent a deputation to Mexico City to petition their representative, Enrique Parra. Parra talked to the Oficial Mayor at the Secretaria de Hacienda, which paused the redemptions, and to Carranza himselfEl Pueblo, 2 July 1917. The Secretaría decided that the company should redeem its notes at a rate of 54 centavos, oro nacional, for each peso, giving the Comisión Monetaria responsibility for overseeing the exchangeEl Demócrata, 5 August 1917: El Pueblo, Año III, Núm. 998, 8 August 1917.
Compañía Minera "La Lucha y Anexas", S. A.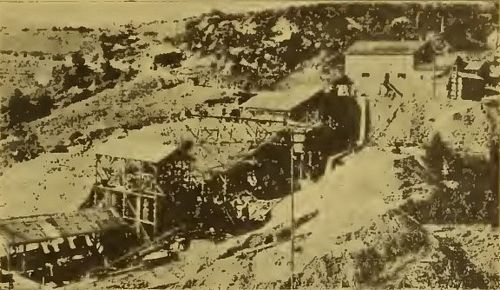 This company was registered on 22 April 1904, with a capital of $360,000. One of its founders and first vicepresident was Hubert Andragnez, a "barcelonette" who had come to Mexico in 1891 and established himself as a financier and director of several banks and mining companies (he was also a founding shareholder in the Banco del Estado de México). Andragnez was president of the company in 1913.
During the revolution the company issued two series of notes with various dates from 3 October 1914. One set was printed by the local printers, Talleres de El Fenix, in neighbouring El Oro, thus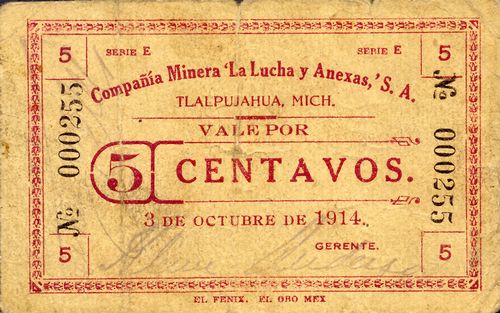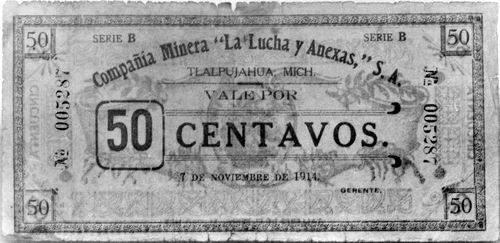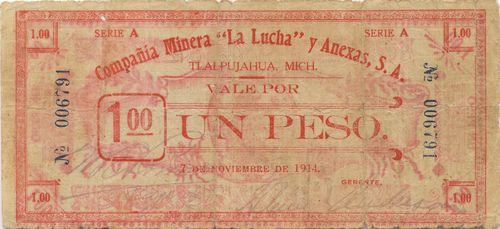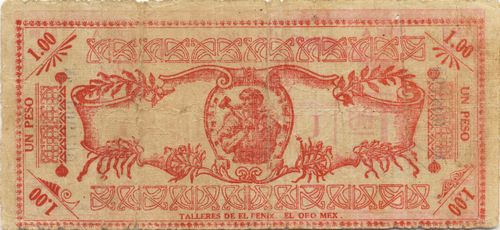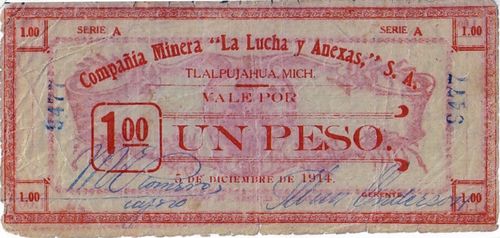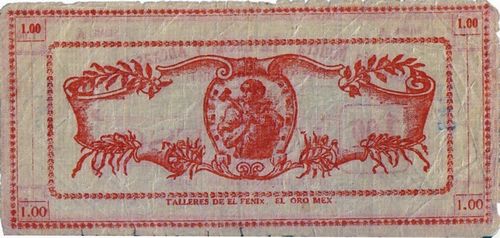 series
date on note
from
to
total
number
total
value
5c
E
3 October 1914
includes number 000255

10c

D

20c

C

includes number 0149
50c
B
7 November 1914
includes number 005287
$1
A
7 November 1914
includes numbers 006741 to 007426

CNBanxico #11588

A
5 December 1914
includes number 9477
These were signed by M. Romero as Cajero and Glenn Anderson as Gerente.
M. Romero

A Glenn Anderson was manager of the King Edward Silver mines in Cobalt, Ontario, Canada in 1911The Engineering & Mining Journal, 4 March 1911.

Anderson was appointed general manager in the first half of 1913 and started work on a mill and cyanide plantThe Engineering & Mining Journal, vol. 95, num. 26, 28 June 1913. "The stamp- mill and cyanide plant of La Compañía Minera La Lucha y Anexas, at Tlalpujahua. Michoacan, is not a large plant, but it was built and put into operation under circumstances so difficult and discouraging as to mark this as one of the most interesting enterprises of recent years. The contract for the construction of the plant was signed in August, 1913, at a time when most of the mining interests considered continuing operations almost hopeless and new construction impossible. Repeated interruptions of railway traffic caused unending delays in securing machinery and materials of construction, and prevented entirely the importation of certain materials usually considered essential. Yet within eleven months of the time of placing the contracts for the machinery, the mill was up and in successful operation. It was necessary to float a considerable loan to complete the construction.The stamps began to drop on July 5, 1914, and by the end of that same year the loan had been fully paid up, during a period when the "tuning" up process was so far from complete that not more than fifty per cent of the capacity planned could be obtained"The Mexican Mining Journal, vol. XIX, no. 5, May 1915.

A Glenn Anderson was general manager of the Butte Copper & Zinc Company of Polaris, Montana in December 1919.
Another series was produced slightly more professionally by Tipografia La Carpeta, of Mexico City. These were also dated 3 October 1914, had the same signatures and were redeemable in multiples of five pesos. On decreasing values the series letter on the left is A to E, whilst the series letter on the right spells LUCHA, so 5c E-A, 10c D-H, 20c C-C, 50c B-U, $1 A-L.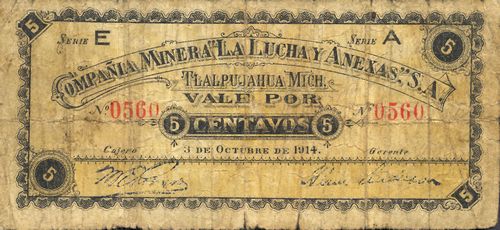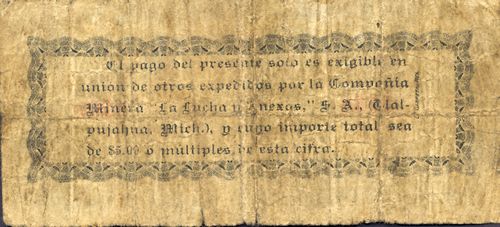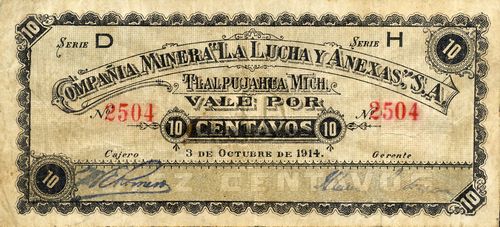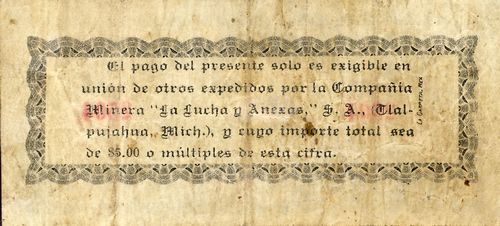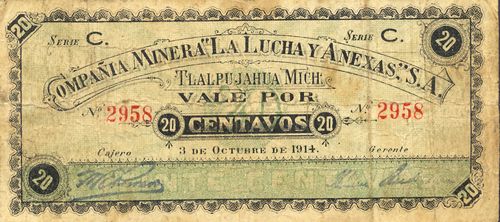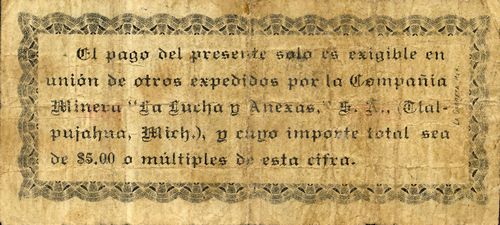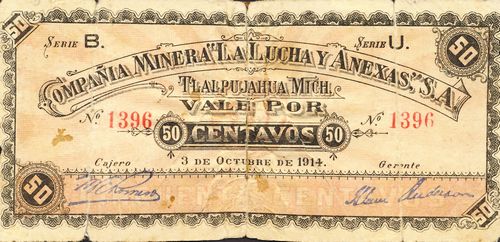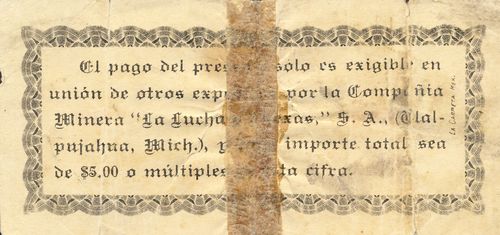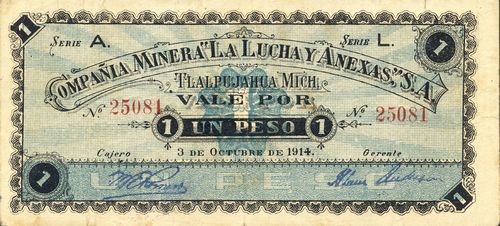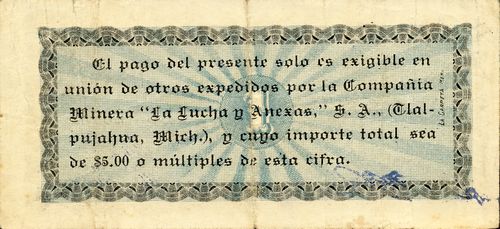 series
date on note
from
to
total
number
total
value
5c
E A
3 October 1914
0001
includes numbers 0082 to 4954

CNBanxico #5235

10c
D H
includes numbers 0659 to 2504
20c
C C
0001
includes numbers 0092

CNBanxico #5237

to 2958
50c
B U
0001
includes numbers 0036

CNBanxico #11592

to 1396
$1
A L
includes numbers 5559

CNBanxico #5233

to 25195

CNBanxico #5234

unsigned remainders
includes number 31210

CNBanxico #11594
Withdrawal
We have no information about the withdrawal of these notes.