25c Banco Minero note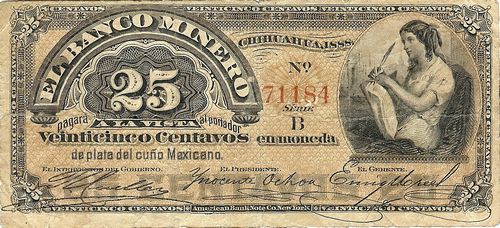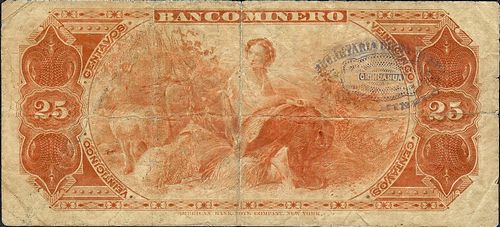 Date of issue
Date on note
Series
from
to
Interventor
Presidente
Gerente
26 February 1889
1888
A
00001
40000
Granados
Ochoa
E.C.Creel
2 March 1889
40001
80000
9 March 1889
80001
100000
4 June 1889
100001
200000
26 December 1889
B
000001
012000
Cuellar
Ochoa
E.C.Creel
Cuellar's facsimile signature was added on 12 August 1891

AGN, Antiguos Bancos de Emisión,

Actas de Banco Minero, libro 1, 28 February 1888 to 5 January 1899.
012001
024000
Cuellar's facsimile signature was added on 13 August 1891
024001
036000
Cuellar's facsimile signature was added on 14 August 1891
036001
048000
Cuellar's facsimile signature was added on 15 August 1891
048001
060000
Cuellar's facsimile signature was added on 16 August 1891
060001
072000
Cuellar's facsimile signature was added on 17 August 1891
072001
084000
Cuellar's facsimile signature was added on 18 August 1891
084001
100000
Cuellar's facsimile signature was added on 19 August 1891
The 25c face, back and tint plates were engraved on 24 July 1888ABNC. They were cancelled on 13 April 1932 .
By 1895 Limantour, the Secretario de Hacienda, wanted to reduce the amount of low denomination ($1 and less) banknotes in circulation to restore the position of (and give a use to) silver. On 8 March Enrique Creel wrote to him agreeing with his objectives and pointing out that the Banco Minero had been withdrawing 25c and 50c notes for some time, but asking to be able to replace damaged $1 notes with new ones, and to issue $5 and $10 notes in place of $1 onesCEHM, Colección José Y. Limantour, carpeta 16, legajo 4229.
The Ley General de Instituciones de Crédito of 1897 prohibited the circulation of notes of values less than $4 and so all these 25c notes will have been withdrawn. However, 14,005 notes were still recorded as outstanding in November 1913.