La Caja de Ahorros notes
After the north refused to recognise Huerta's presidency the rebels in Chihuahua quickly established themselves throughout the state and by May 1913 federals held only the state capital, where General Salvador R. Mercado was besieged, and Ojinaga.
In August 1913 $350,000 in banknotes were escorted from the Banco Minero in Ciudad Juárez to Chihuahua by federal troops, at the risk of the federal governmentThe notes were not necessarily of the Banco Minero. The consignment was made up of:
24,560 $5 $122,800
4,969 $10 49,690
6,138 $20 122,760
213 $50 10,650
271 $100 27,100
17 $1000 17,000
$350,000. Juan A. Creel went up to El Paso to transport the funds, accompanied by his sons Juan and Jesús. The convoy was attacked on 5 August by Villa and Ortega's troops in Estación Renchería but the federals fought them offST papers, Part II, box 6 letter Juan A. Creel to Enrique C. Creel, 9 September 1913. On 11 August $100,000 was entrusted to the Jefe de Hacienda, José G. Rochín, for military expensesST papers, Part II, box 2.
Nonetheless, because of hoarding a dire shortage of coins developed and by November the branches of the Banco de Sonora and the Banco Nacional de México were refusing to give out change. The Banco Minero itself set a limit of five pesos for each customer and in four days issued 19,000 pesos in change, since the two other banks were giving their customers Banco Minero notes and directing them thereST Papers, letter of Juan Creel to Enrique Creel, 22 October 1913.
On 4 November the Secretario de Guerra y Marina, Aureliano Blanquet, in reply to a message from the General en Jefe de la División del Norte in Chihuahua, sent a telegram authorising him to take the funds that he needed from the Banco Nacional de México and, if these were insufficient, to demand them from businessesAGN, colección Manuel González Ramírez 67/124.
Vales of La Caja de Ahorros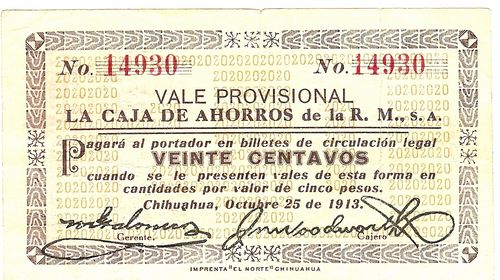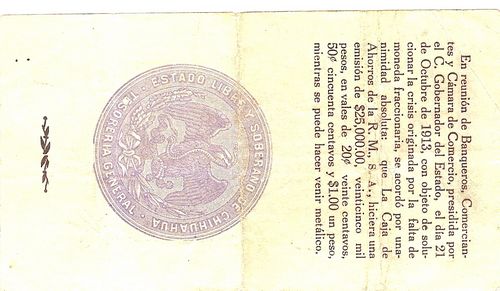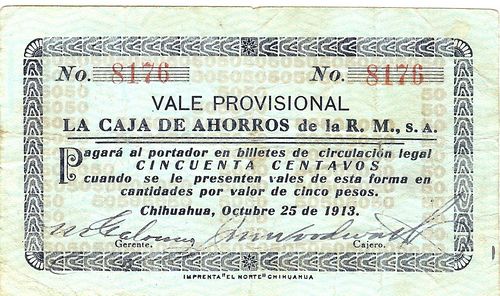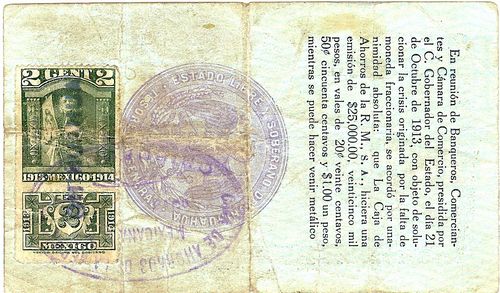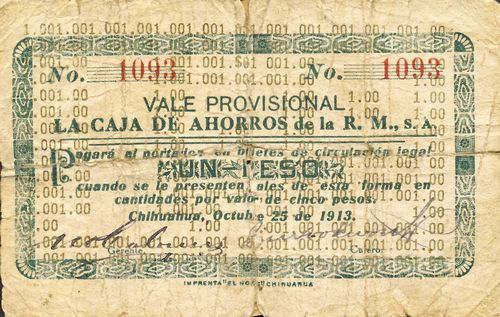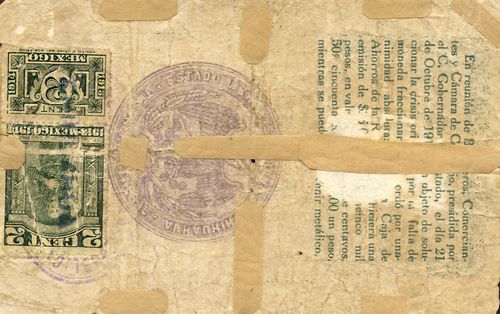 To overcome this problem on 21 October 1913 Mercado agreed with the Chamber of Commerce that the Caja de Ahorros de la República Mexicana should issue up to 25,000 pesos in notes (vales provisionales) for twenty centavos, fifty centavos and one peso. These notes were to be readily accepted and exchangeable for banknotes in multiples of five pesos. They were dated 25 October 1913. The first issue was signed by Martín Falomir as Manager (Gerente) and Juan Woodworth as Cashier (Cajero).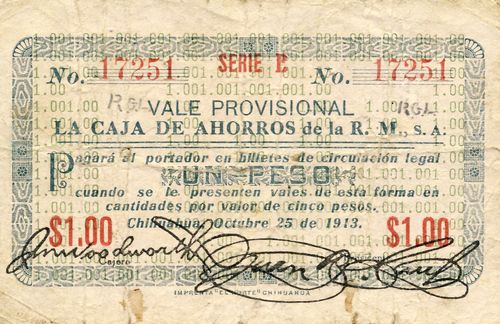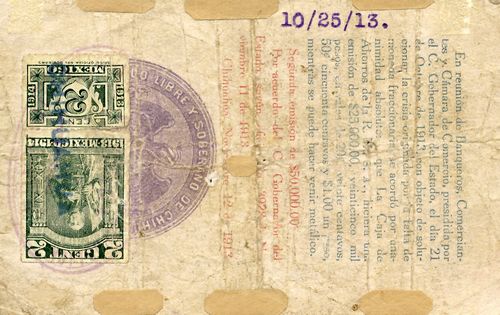 A second issue, of 50,000 pesos, authorized by the Governor on 11 November 1913, was signed by Woodworth as Cajero and Juan A. Creel as Presidente. They had an additional SERIE B (poorly inked) and $1.00 twice in red on the front and the annotation 'Segunda emision de $50,000.00 / Por acuerdo del C. Gobernador del / Estado según oficio 3982 del No / viembre 11 de 1913 / Chihuahua, Noviembre 12 de 1913' on the reverse.
J. Martín Falomir was born in 1868. He was Jefe Político of Iturbide (i.e. Chihuahua), a Deputy, and a partner with Luis Terrazas in the Compañía Minera La Virgen, a gas-works and a meat-packing plant.

He fled Chihuahua when Villa reached the capital, and retired to Tucson. After the revolution he worked in the banking and exchange department of the International Exchange and Commission Company of El Paso.

He died in Chihuahua in 1954.

Juan M. Woodworth was an enthusiastic smoker of "Flor Grande" cigarsLa Iberia, Año II, Núm 454, 10 November 1907 and a sharpshooter, winning the Copa Creel at the local Club de Tiradores three times footnote}La Iberia, Año II, Núm 454, 10 November 1907; El Tiempo, 13 February 1908


He was cashier (cajero) in 1912 and remained in finance after the RevolutionPeriódico Oficial, Chihuahua, 17 September 1921.

Juan Andrew Creel was born in Chihuahua on 29 November 1865, the brother of Enrique Creel. He was manager of the Banco Minero from March 1905 until the bank went into liquidation in the early 1930s.

He died in Mexico City on 11 August 1952.
To summarise:
date of issue
date on note
series
from
to
total
number
total
value
20c
25 October 1913
includes numbers 4794

CNBanxico #10107

to 14930
50c
25 October 1913
includes numbers 3057

CNBanxico #10106

to 8176
$1
25 October 1913
includes number 1093
12 November 1913
B
includes numbers 15202

CNBanxico #10107

to 17251
The holders of these notes lost out as they were never redeemed.