Private issues (bars, restaurants and cafes - Cognac)
As stated in the article in the Mexican Herald in September 1914The Mexican Herald, 20th. Year, No. 6941, 8 September 1914 saloons issued a large amount of their own vales.
One set of vales had the name of the establishment, the denomination (without a 'c'), a number and the motto 'Drink Gautier Cognac' and so were probably supplied by the drinks company's agents. The cellars of Maison Gautier, more commonly known as Cognac Gautier, were established in an old water mill in Aigre on the Osme river, in Charente, France, when the family obtained a royal warrant to produce cognac and a founding charter signed by King Louis XV. The present company was founded in 1755.
These include
Salón Bach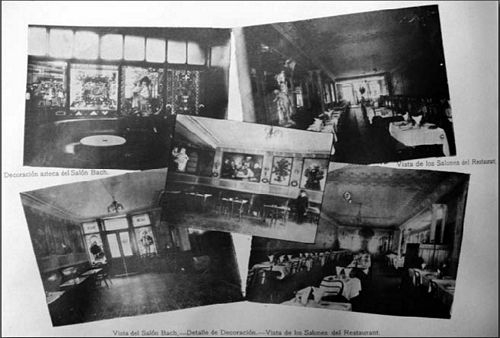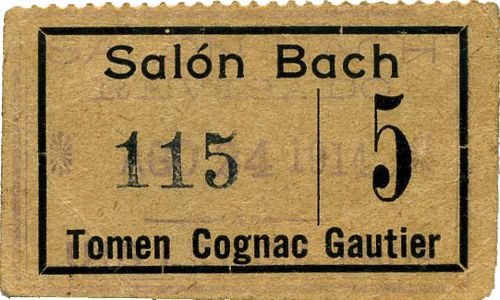 A 5c note dated 24 August 1914.
Ironically, the Mexican Herald reported in September 1914 that saloons issued a large amount of their vales during the days immediately preceding their enforced closure, and that as these vales were good only at the particular saloon issuing them, patrons could not use them in any other establishments and consequently would lose their amounts if the saloons remain closed indefinitelyThe Mexican Herald, 20th Year, No. 6941, 8 September 1914.
Cantina Colón
This cantina was situated at 4a calle de Bolivar 85. This particular note, dated 6 August 1915, was included in Casasola's expositionhttps://mediateca.inah.gob.mx/repositorio/islandora/object/fotografia%3A191512.
La Universal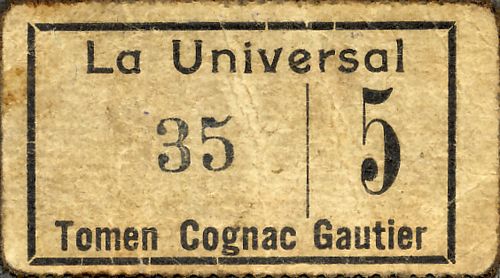 The gran salon cantina and grocery "La Universal", run by the Spaniard Modesto Abrisqueta, was situated on the corner of 16 de Septiembre and Isabel la Católica. It was reopened, after renovations, on 2 November 1914: "The restored premises, for luxury and comforts, correspond to the demands of one of the most accredited and best located establishments in the capital"El Correo Español, Año XXVI, Núm. 7275, 2 November 1914.
Centro Mercantil
The department store El Centro Mercantil was built between 1897 and 1899 on the corner of calle de Tlaperos and Plaza de la Constitución and inaugurated on 2 September 1899 by General Porfirio Díaz. The building was intended to house twenty-three stores and a hundred offices on 3,600 square metres. It was renovated between 1911 and 1913.
A 5c note with the exhortation 'Tomen Cognac Gautier' so possibly a bar within the Centro Mercantil. This 5c note was included in Casasola's expositionhttps://mediateca.inah.gob.mx/repositorio/islandora/object/fotografia%3A191511.
El Lazo Mercantil
This cantina (and store?) was situated on the groundfloor of a colonial building on the corner of calle 5 de Febrero and calle República de Uruguay. In the 1920s the building was remodelled by the architect Luis Robles Gil and converted into the Hotel Ontario, possibly by Manuel Suárez y Suárez who acquired the building (as a grocery store) in 1922 - it's a small world. Today it is the Hampton Inn & Suites.
The cantina issued notes in two series. The first was probably one of three values (5c[image needed], 10c[image needed] and 20c)[image needed]) that had the advertising slogan "Tomen Cognac Gautier".
The other (5c, 10c and 20c), with dates from May 1915, has a datestamp with the name Palomo y González and address 31, 5 de Febrero and San Agustín.
The following three issues were slightly different, with the restauant of the Teatro Principal promoting Fino Gaditano and the cantina Monaco advertising Otard-Dupoy cognac. Fino Gadatino was a good quality but younger sherry, from Gonzalez Byass, in Andalucia, Spain, that is no longer produced, while the Cognac producer, Otard, Dupuy et Cie, was founded by Jean Dupuy in 1795.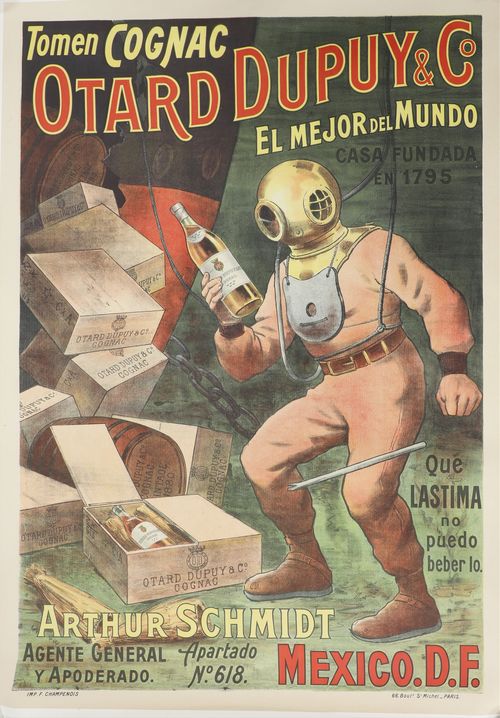 Restaurant Teatro Principal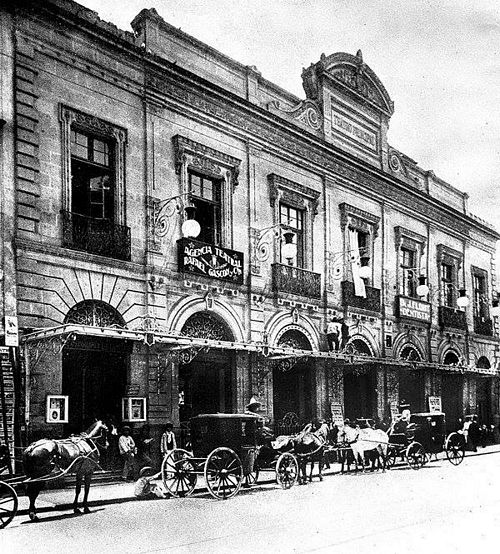 The Teatro Principal, the oldest in Mexico, was located on the corner of calle de Bolivar and calle 16 de Septiembre. It burnt down in 1931.
The propietors were the señores Melero y Unzueta.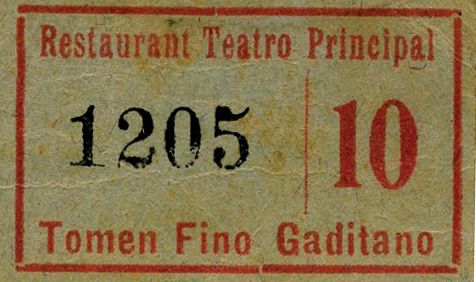 Cantina Monaco
The Cantina Monaco was situated in 4a calle de la Palma, between Capuchinas and 16 de SeptiembreAcción mundial, 2 May 1916. In 1911 it was run by Emilio DervezDiario Oficial, 16 January 1911.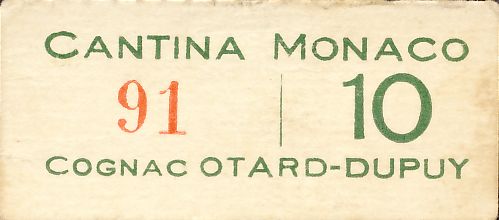 We know of 5c[image needed] and 10c notes.