Military issues

Some military commanders issued their own currency.
Pagaduría del General Juan Cervantes
General Brigadier Cervantes joined the revolution on 10 December 1911 in Santa María, Morelos, and was always a Zapatista. He took part in the attack on Ocuilán, Estado de México,on 9 April 1914. He died on 19 March 1918, on campaign, during a fight at Temixco.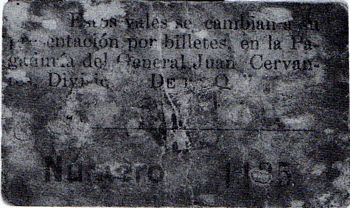 from
to
total
number
total
value
$2
includes number 1125
We know of a $2 note from his paymaster.
Hacienda de San Vicente
General Modesto Rangel was born in San Francisco Zacualpan (now Emiliano Zapata), Morelos. He joined the revolutionary troops in April 1911. He took part in many action but on 3 April 1916 was surprised by contingents that were attacking Cuernavaca at Tepoztlán near to San Andrés de la Cal (now La Calera), and lost his life in the ensuing firefight.
The hacienda and ingenio known as San Vicente was located in the district of Cuernavaca, two hundred metres from the San Vicente stop on the Mexico, Cuernavaca and Pacific Railroad, and was one of the major sugar producers in Morelos. During the revolution it was abandoned but in 1915 Zapata entrusted it to Rangel, who reopened it to produce supplies for the armed struggle.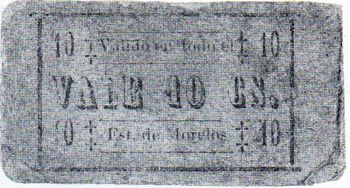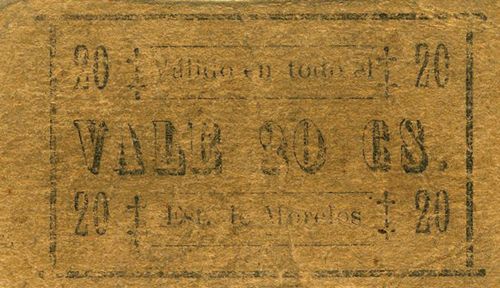 We know of 10c and 20c notes, claiming to be valid throughout the state. The 20c is dated 21 May 1915.
La Jefatura de Armas, Yautepec
The Jefatura de Armas in Yautepec issued a series of 5c (Serie A), 10c (Serie B) and 20c (Serie C), dated January 1915. On the reverse it is stated that they are valid in the whole of the state by order of General Amador Salazar.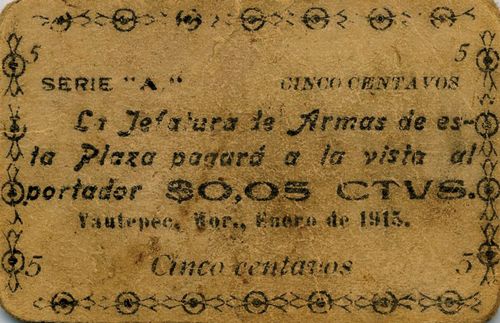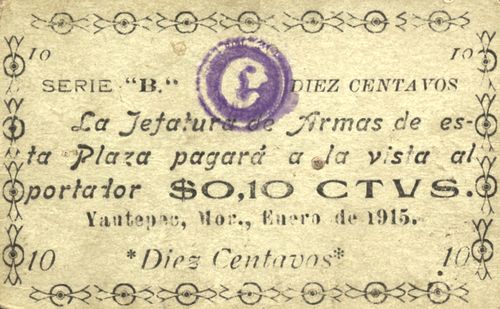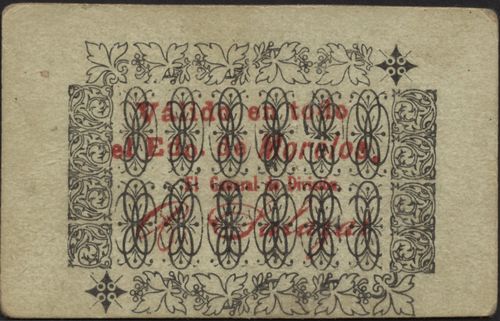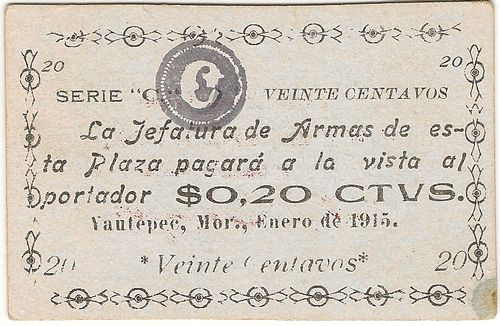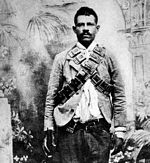 Amador Salazar Jiménez was born in Cuernavaca on 30 April 1868, a cousin of Emiliano Zapata. In his youth he worked as a farmhand in the hacienda de Atlihuayán, owned by Pablo Escandón, the governor of the state of Morelos but as a result of his antisocial behaviour he was sent into the army and his father had to pay to get him discharged. He was one of the first to join Zapata in his revolt, and rose to the rank of General de División in the Ejército Libertador del Sur. On 11 March 1915 the Convention appointed him military commander of the valle de México, a post he held until 2 August, when the Zapatistas had to evacuate the capital. He continued to fight against the Carrancistas and when they threatened to take his headquarters at Yautepec, he went out to inspect his forces and was killed in an ambush on 16 April 1916.
Pagaduría de la Brigada Salazar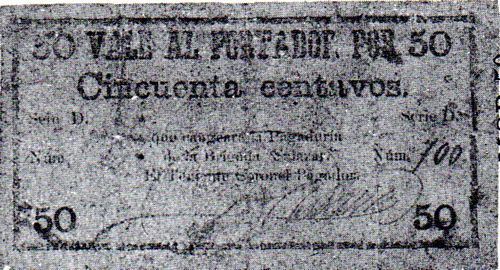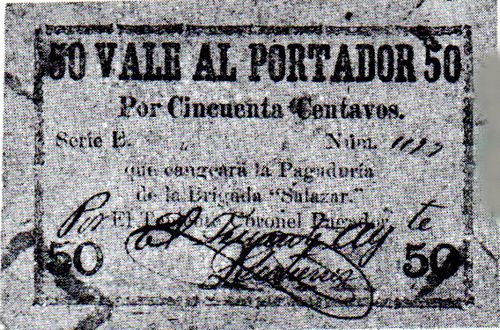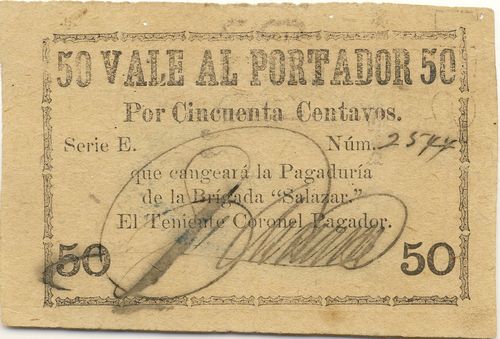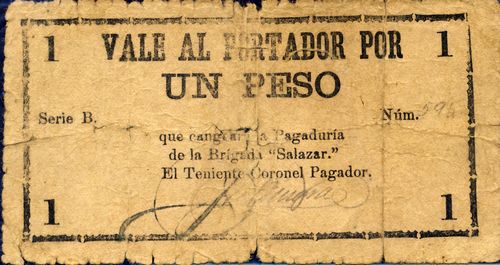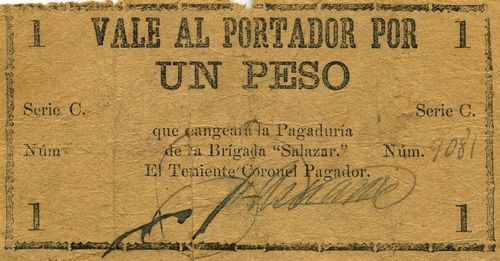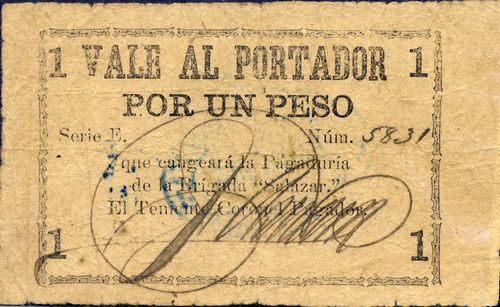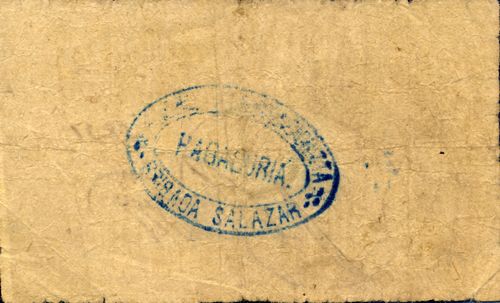 Series
from
to
total
number
total
value
50c
D
includes number 700
E
include numbers 1197 to 2544
$1


B
include numbers 594 to 595
C
include numbers 8108 to 9081
D
includes number 2247
E
include numbers 2426

CNBanxico #11644

to 5831
F
includes number 2850
From the illustrations we can see that there were variations in size of note and in the layout of legend for Series and Núm.. The signatures are of the paymaster Teniente Coronel [ ][identification needed] or in his place, the [ ] [ ][identification needed].
Withdrawal
Since these military issues, though useful, were a threat to the unity of the revolutionary cause and a danger to commerce, individuals and the military on 27 December 1915 the Executive Council of the Nation, in Cuernavaca, fixed a period of three months within which these notes had to be withdrawn, after which they would lack any value. The military commanders had to notify the Ministry of Hacienda of the amount of their issues, so that it could work out the best way of recording them, so possibly, somewhere, a record still exists with the details of all these issues.