El Casino de Hermosillo
A casino in Mexico was not so much a gambling establishment as a place for professionals, businessmen and others to meet socially. The Casino de Hermosillo, A. C. was established in March 1945. The first board had Ramón Corral as PresidentThe other members were Federico F. Valenzuela as Vice-President; Carlos Barragán Z. as Secretary; Rodolfo Tapia C. as pro-secretario; Luis Hoeffer as Treasurer; and Dr. Domingo Olivares, Matías Cázares, Gustavo Mazón, Luis Felipe Seldner, Víctor Manuel Acosta, Luis Soto, Francisco Ceceña, Ladislao López Negrete, Francisco Martínez Ruíz and Alfonso Tirado as members whilst in 1947 the President was General Abelardo L. Rodríguez.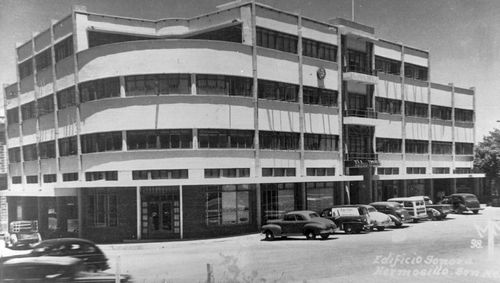 At first the Casino occupied premises on the top floor of the Edificio Sonora, on calle Gral Álvaro Obregón, with the semi-circular terrace used as a dancefloor. However, this did not meet requirements, so the board approved the construction of a purpose-built building. The project, made public on 14 August 1948, led to the construction of a building on the corner of Calle Comonfort and Avenida Dr. Ignacio Pesqueira. Finally, it moved to a building on Boulevard Kino.
These notes are not true paper money as they had a limited use, but Sonora is one of the two states that I collect. They were for use in the Casino's cantina (and not even its restaurant), and known in two types (both Series B).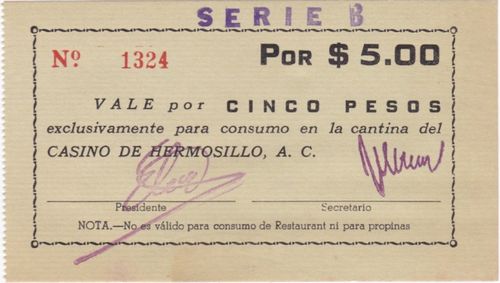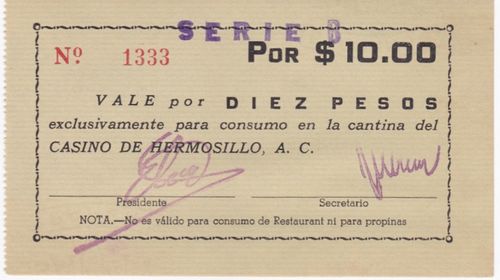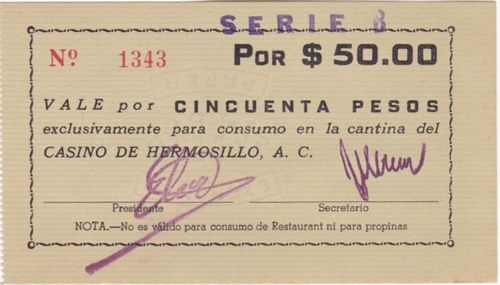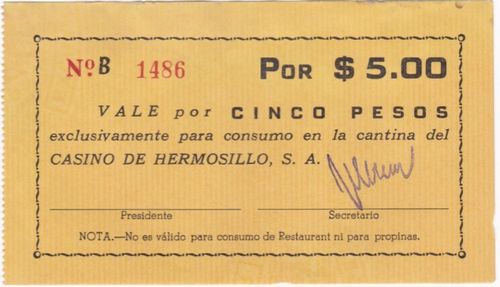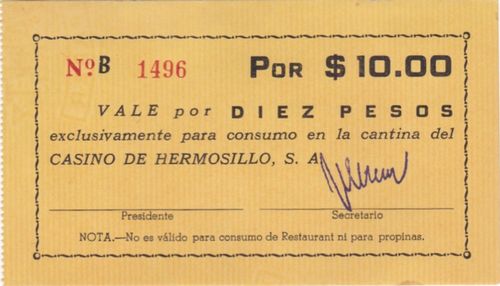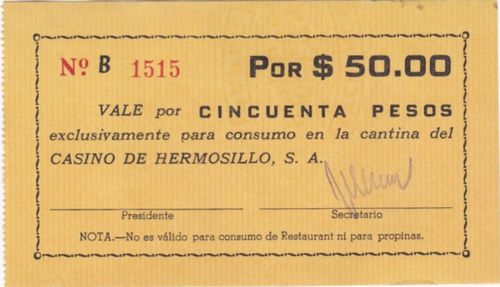 The stamped signatures are of [ ][identification needed] as Presidente and [ ][identification needed] as Secretario.