Private issues (San Marcos - Zapotlán)
San Marcos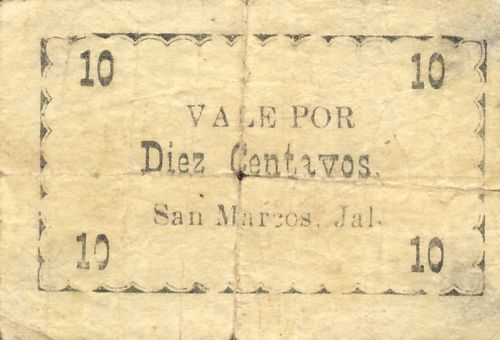 San Martín
Enrique Ureña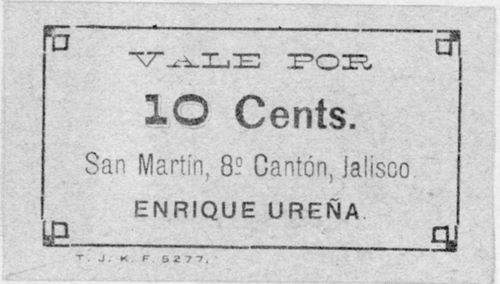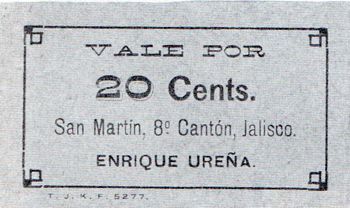 Juan Kaiser first produced a series of three notes (5c[image needed], 10c and 20c), modelo 5277, ordered on 3 August 1915 for a cost of $50.00.
total
number
total
value
5c
2,000
$100.00
oblong red cartón
10c
2,000
200.00
oblong white cartón
20c
1,000
200.00
oblong green cartón
5,000
$500.00
He produced a further issue on 9 December 1915.
total
number
total
value
5c
4,000
$200.00
oblong red cartón
10c
4,000
400.00
oblong white cartón
20c
2,000
400.00
10,000
$1,000.00
Sayula
Tranvias de Sayula, S. A.
Catalogues list a 6c note[image needed] fron this streetcar company. However, it is questionable whether such tickets were used as change and it is also likely that the '6' refers to the number in a strip of tickets rather that the value.
Tala
El Puerto Arturo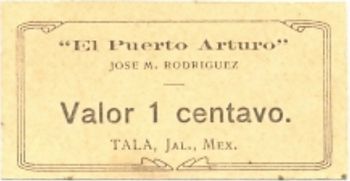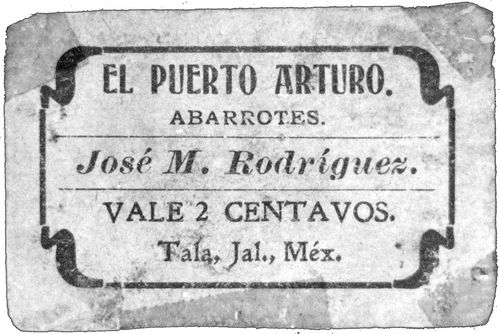 from
to
total
number
total
value
1c
2c
includes number 39
Pedro A. Zavala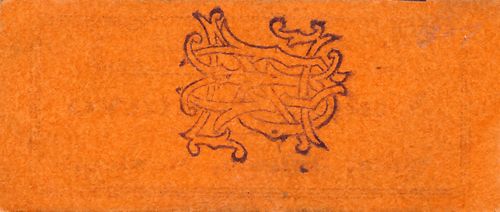 Tecalitlán
Leopoldo Ochoa
These were modelo 5095, produced on 27 October 1914, at a cost of $9.75 per thousand pieces.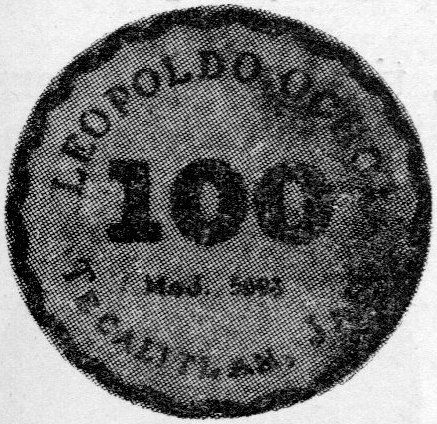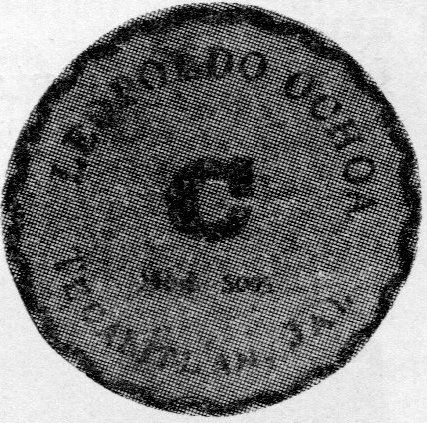 total
number
total
value
50c
1,000
$ 500.00
round cartón
10c
500
50.00
1,500
$550.00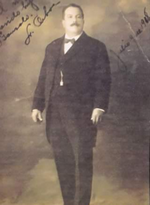 Leopoldo Ochoa Rodriguez was born in 1874. He was owner of the "La Guadalupe" mill (ingenio) on the edge of Tecalitlán. He began by making unrefined cane sugar (piloncillo) but, as a good visionary, he enlarged the sugar mill (trapiche) and began to make sugar in lumps (marqueta) and alcohol.
He was presidente municipal of Tecalitlán in 1901 and 1909 and everything was going well, but because of the revolution had to leave Tecalitlán, emigrating to Michoacán to work in a mill as a driver (tachero) and in charge of making sugar.
Later the family settled in Zapotlán (today Ciudad Guzmán) where they ran "La Guadalupe" mill.
Tecolotlân
Juan Cueva
We know of 4c[image needed] and 10c notes[image needed].
from
to
total
number
total
value
4c
10c
0001
includes number 0015
Jesús Flores Villaseñor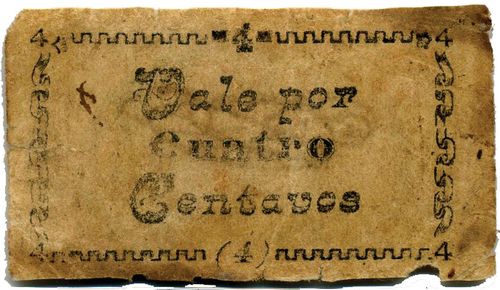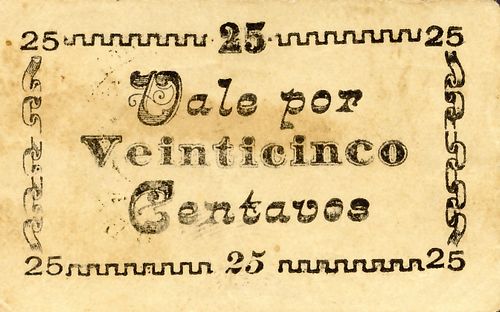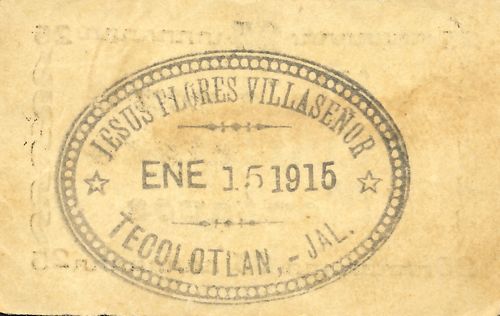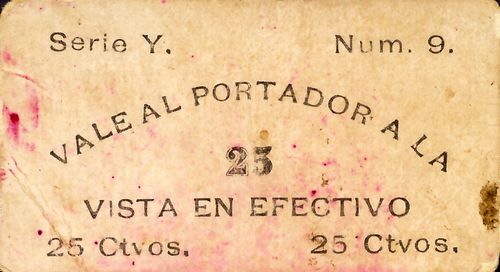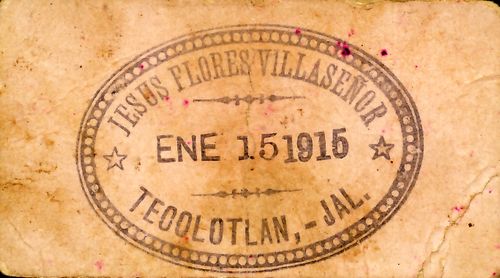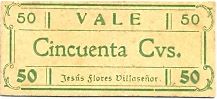 These were used throughout 1915 as some notes are dated 15 January 1915 but the 4c is known dated 15 November 1915CNBancico #11410.
Jesús Flores Villaseñor was listed as running a general store (tienda mixta) in 1903Directorio general de la República Mexicana, 1903-1904. He was presidente municipal of Tecolotlán from 1925 to 1926.
Tenamaxtlán
José Enrique Agraz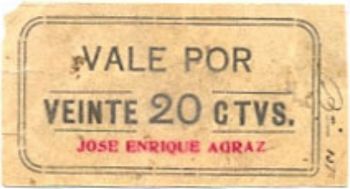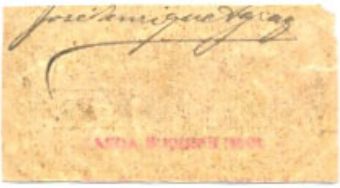 A 20c note.
Attributed to Tenamaxtlan but Agraz was presidente municipal of neighbouring Tecolotlán in 1912 and 1921El Informador, Año V, Tomo, XV, Núm 1,464, 9 October 1921.
Filemont Cobian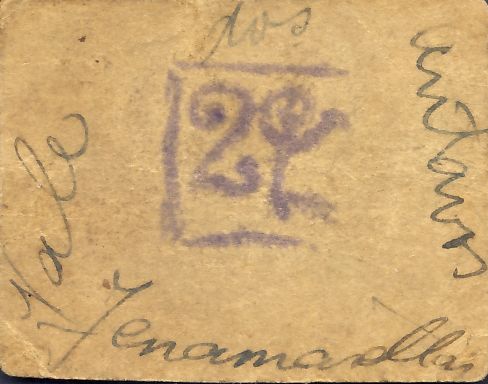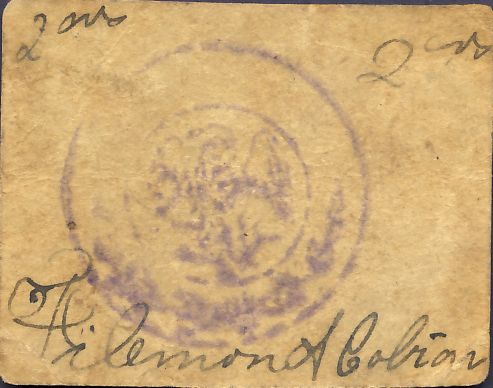 Tequila
Fonda J. W.
This was owned by José Wolf, who was listed in 1903 as owning a factory processing ixtle, a plant fibre used for cordage, nets, and carpetsDirectorio general de la República Mexicana, 1903-1904.
These simple notes were modelo 4647, ordered in 1915.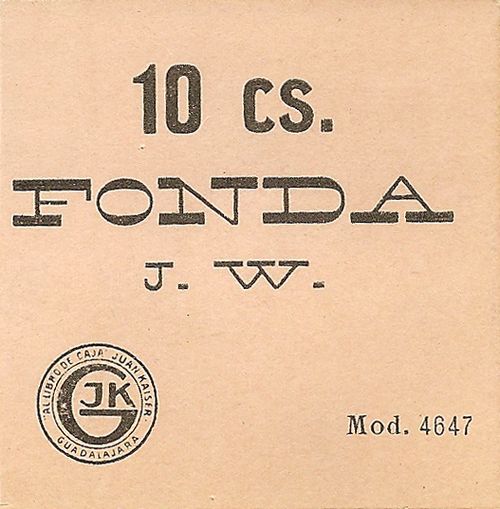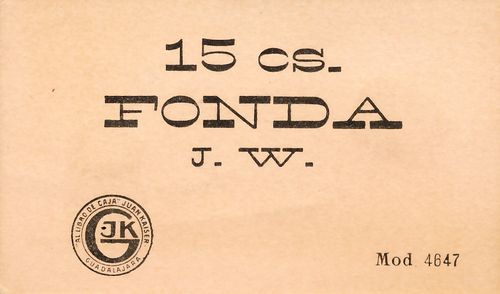 total
number
total
value
10c
1,000
$100.00
square cartón
15c
1,000
150.00
oblong cartón
2,000
$250.00
Tizapán
Chavéz Cisneros records that in 1917 (the Year of Famine) there was also a shortage of small change that was supplemented by fichas issued by businesses in the towns of Mazamitla, Tizapán, and QuitupanEsteban Chavéz Cisneros, Quitupán, Ensayo histórico y estadístico, Morelia, 1954, p. 152.
Tonaya
Everardo Ramos
Everardo Ramos was listed as a general merchant in Tonaya in 1898Directorio Comercial de las Repúblicas Americanas, Washington, 1898. Catalogues record a 1c note[images needed] on cream pasteboard, 41x52mm, dated 13 April 1915.
Julio Cobian
Julio Cobian was presidente municipal of Tonaya on several occasions (1897, 1901, 1904, 1912 and 1928). Catalogues record a 5c note[images needed] on tan pasteboard, 22x52mm.
Tuxpan
Angel Arch hijo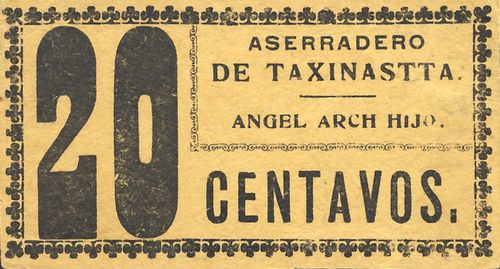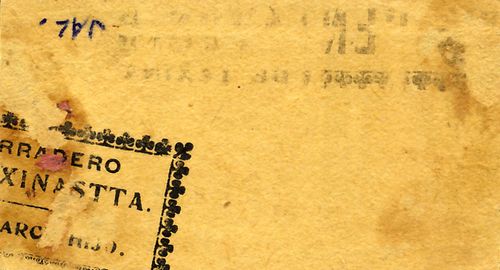 We know of red 5c[image needed] and yellow 20c notes, printed by J. M. Iguíniz.
Zapotlán
P. H. Ramsden
[if correct person] Major Percy H. Ramsden was born in London in 1858 and educated at Chigwell. He went to the United States and was connected with a number of prominent mines before moving to Mexico around 1879. After spending about 18 months in the mining district of Chihuahua, he moved to Guanajuato, and was regarded as one of the shrewdest and most reliable examiners of mining properties in Mexico. He surveyed every property which McElhiney and Bryant acquired either wholly or in part on their behalf. After several years connected to the Guanajuato Development Company in 1905 Ramsden was, with George Bryant, reprsenting the Peregrina Mining Company (The Mexican Herald, 12 August 1905) and an H. P. Ramsden was general manager of the Guanajuato River Mining Company (The Mexican Herald, 25 August 1905), in 1907 he resigned his position as superintendent of the Aparecida Mines company, to branch out on his ownThe Mexican Herald, 19 October 1907. He was still residing in Guanajuato and acquiring mining properties there in June 1913The Mexican Herald, 15 June 1913 and January 1914The Mexican Herald, 14 January 1914.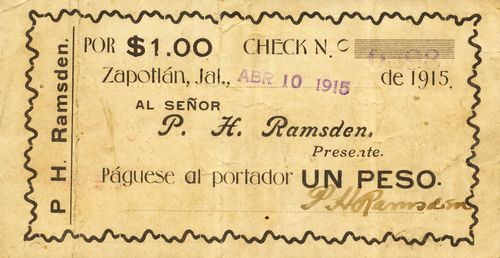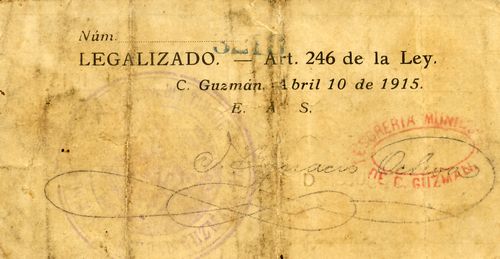 date on note
from
to
total
number
total
value
$1
10 April 1915
includes number 0398