Gobierno Provisional de México Veracruz $10 notes
All are Series C and dated 1 December 1914. All have imprint 'MEXICO OFICINA DEL GOBIERNO', title 'EL O. M. ENCARGADO DEL SRIA. DE HACIENDA', and underprint Type 2.
(1) The first have an italic "No." before serial numbers, and small '10' in the right-hand guilloche.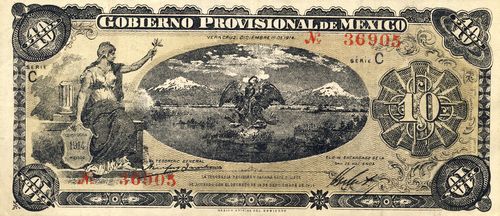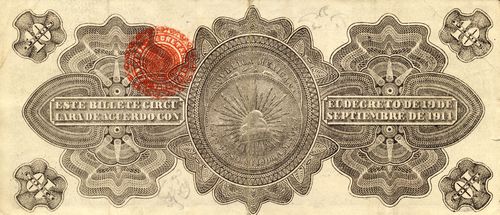 (2) The next have a Roman "No." before serial numbers, and small '10'.
(3) The next have suffix "D" after serial number, large '10' in the guilloche.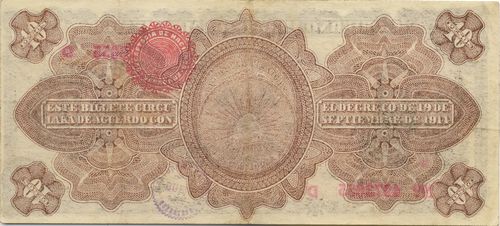 In León, which did not have an Oficina de Resello, in March 1916 certain businesses refused to receive $10 notes because they did not have this 'D'. However, the local newspaper pointed out that the majority of revalidated notes did not have this 'D'Las Noticias, Edición Local de "El Demócrata" de México, Tomo I, Núm. 32, 29 March 1916.
(4) The next have a large '10', no suffix after serial number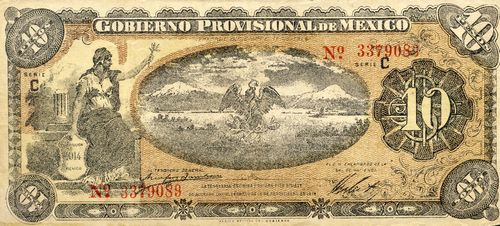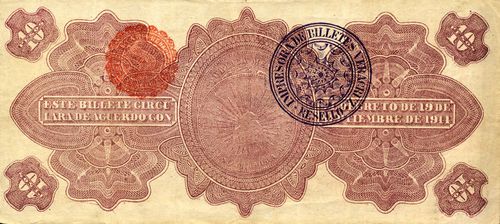 Anastasio Rojas, in his report, records that up to 30 April 1915 the Oficina Impresora de Billetes in Veracruz had printed 1,626,000 $10 notes (41,000 in December 1914, 385,000 in February, 224,000 in March and 976,000 in April). The "Marinoni" press had produced 307,500 notes and 9,352 notes were still in the office (listed in Folio y Corte). This left 1,057,148 notes to make up the decreed sum of $30,000,000CEHM, Fondo-XXI, carpeta 39, legajo 4265.
Date of issue
Date on note
Series
from
to
total
number
total
value
1 December 1914
C
small 10
scalloped Secretaría seal on reverse
includes number 36905
large 10
scalloped Secretaría seal and Impresora stamp on reverse
includes number 145543
scalloped Secretaría seal and Resellado stamp on reverse
includes number 565728

CNBanxico #3105

scalloped Secretaría seal, Impresora and Yucatán stamps on reverse
includes number 750037

CNBanxico #3107

scalloped Secretaría seal on reverse
includes numbers 1093949 to 1371893

CNBanxico #3104

scalloped Secretaría seal, Impresora and Yucatán stamps on reverse
includes number 1417381
scalloped Secretaría seal and Impresora stamp on reverse
includes number 3379089
dark scalloped Secretaría seal and Reselladora stamp on reverse
includes number 3551498

CNBanxico #3109

scalloped Secretaría seal on reverse
includes number 4240292
dark scalloped Secretaría seal and Impresora stamp on reverse
includes number 4641238

CNBanxico #3103

scalloped Secretaría seal and Resellado stamp on reverse
includes number 4940145

CNBanxico #3100

C D
scalloped Secretaría seal on reverse
includes numbers 228697

CNBanxico #3102

to 2594214
scalloped Secretaría seal and Resellado stamp on reverse
includes number 298800

CNBanxico #3113

scalloped Secretaría seal on reverse
includes number 2727090

CNBanxico #3106

dark scalloped Secretaría seal on reverse
includes number 4724374

CNBanxico #3110

scalloped Secretaría seal on reverse
includes number 4973655
scalloped Secretaría seal and Resellado stamp on reverse
includes numbers 5385133

CNBanxico #3111

to 7988845

CNBanxico #3101