Bonos of 1848
When the Federal Republic was restored in 1846 the authorities had to reorganize the public finances, including establishing and arming an army to defend the national territory. The authorities of the various states found themselves obliged to resort to increasing taxes and levying loans. Hence, on 30 August 1848 the Congress of the state of México issued decree núm. 78, stating that the government would pays salaries, pensions and debts contracted from the reestablishment of the Federation until 31 May 1848 by means of $1 bonos, issued by the Tesorería.
On 5 December 1848, at the request of diputado Escudero, they ordered the printing of these bonos, with a quarter to be ready within ten daysLa Voz de la Religión, 5 December 1849.
In January 1849 the local Congress issued a new decree núm. 116, giving holders a parafiscal opportunity, on the one hand to ask the Tesorerías for reports on outstanding debts and on the other to denounce debtors, which gave the denouncers priority in the exchange of their bonds with the amounts recovered from the debt.
According to the original decree, the government offices would cancel these bonos on receipt, and if any were still held by the public after a year the government would receive only a proportion in payment of state taxes. By 29 September 1849, 136,508 pesos had been issued, of which 108,003 were still in circulation, whilst 46,000 were still to be issued for outstanding debtsEl Siglo Diez y Nueve, 10 October 1849.
In 1850 Governor Mariano Riva Palacio, in his report to the local Congress, mentioned that these bonos had managed to stop the debtEl Siglo Diez y Nueve, 29 January 1850.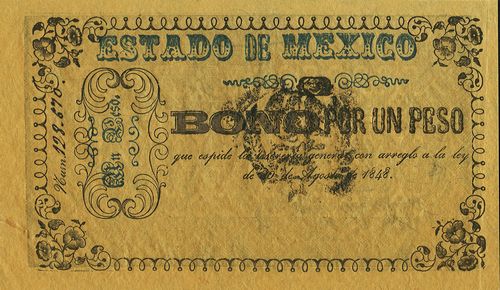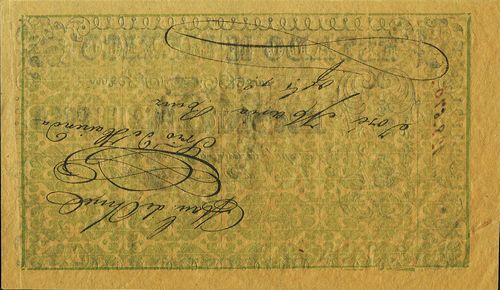 from
to
total
number
total
value
$1
1
136508
136,508
$136,508
issued by 29 September 1849
includes numbers 128642 to 128813

136507
On the face it reads "ESTADO DE MEXICO / Un Peso" in blue, "BONO POR UN PESO que expide la Tesorería general con arreglo a la ley de 30 de Agosto de 1848" and the national coat of arms in black. On the reverse, the background is green and it has the signatures of Manuel de Olmedo, Secretario de Hacienda del Estado, and of José María Ruiz, Primer Oficial, in black.
| | |
| --- | --- |
| Manuel de Olmedo | |
| José María Ruiz | |
(Based on "Bonos de Un Peso del Estado de México de 1848" by Cedrian López-Bosch in Boletín Numismático, No. 254, January/March 2017)