Pinos Altos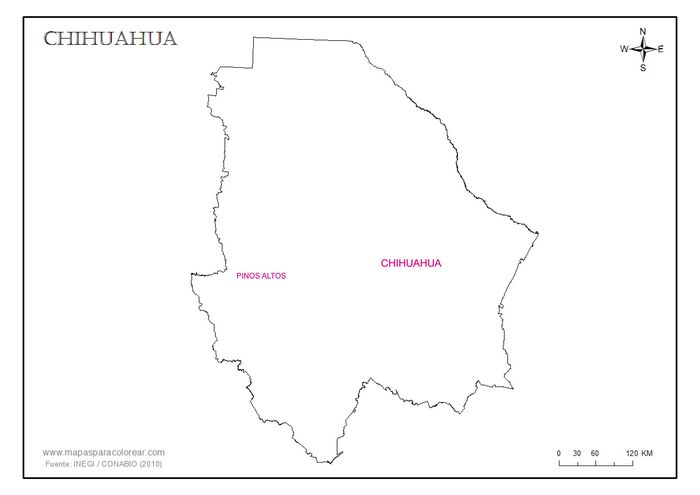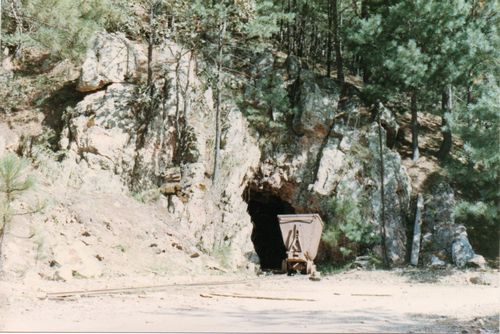 Pinos Altos is on a mountain top about fifteen miles north of Jesús María (now Ocampo). Now it is easily reached from the Chihuahua-Sonora highway west of Basaseachic but as the new owners have stripped away the hillside there is no longer much to see.
In 1877 the mines were sold by their Mexican owners to the Anglo-American Negociación de Pinos Altos (or Compañía Minera de Pinos Altos) headed by John Buchan Hepburn. Hepburn paid $100,000 for the property and spent even more on establishing a hacienda de beneficio and opening up the mines.
Hepburn kept an account with the Banco Mexicano and every month brought in as much paper money and hard cash as he thought necessary. However, occasionally the notes 'ran out' before the stage arrived and at other times it was necessary to delay the stage. At these times Hepburn, who had the only store in Pinos Altos, did not have enough notes to pay his accounts, so he decided to issue his own paper. These were redeemed periodically, at par, with Banco Mexicano notes when the stage arrived from Chihuahua. The amount in circulation fluctuated between $40,000 and $50,000.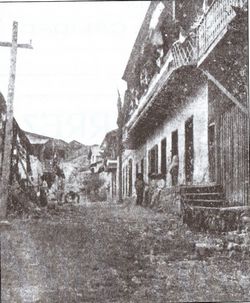 At some time (in 1882 or 1883 according to Enrique Creel's reminiscence in 1920 but probably earlierOtherwise, the timetable is too tight. However, the entire business section was destroyed by a fire, started when a lamp overturned in a casa comercial, on 29 May 1884 (La Libertad, 17 June 1884 list twenty-one businesses, besides the company's tienda de raya, that lost all their stock, and states that the population either fled to the hills or started pillaging; Cleveland Plain Dealer, 17 June 1884) whilst in January 1885 a Dallas newspaper reported that the whole of Pinos Altos had been destroyed by fire and hundreds made homeless (Dallas Weekly Herald, 15 January 1885). This cannot have been the same fire as by that time Hepburn was dead, so the town must have been particularly susceptible.) a fierce fire, whipped up by a strong wind, destroyed almost the whole of Pinos Altos. People lost everything, including, it was thought, any paper money and the idea spread that the company was responsible for its issue and should make good any loss in its notes by sharing out $40,000 amongst the employees. Hepburn was a considerate man, offering to reconstruct the houses, helping to replace food and clothing and willing to compensate for any notes that had been burnt, but he did not want to pay out twice on his notes so he arranged for a shipment of $50,000 in Banco Mexicano notes from Chihuahua and announced a period of sixty days in which the Pinos Altos notes would be redeemed. After that time the notes would be demonetised, and any sum outstanding would be shared out amongst people who were thought to have lost notes.
After a few days' vacilliation people began to present their notes for redemption and to everyone's surprise over 99% of the notes in issue were exchanged for Banco Mexicano notes. It seemed that as soon as the fire started people made sure that their notes were safe, some mothers even putting this before looking after their own childrenCEHM, Fondo Creel, 238, 60996 letter of Enrique C. Creel, 9 March 1920.
In January 1883, Hepburn decided to change the workers' pay period from the customary week to a less convenient fortnight, and, to make matters worse, decided that they should be paid half in cash and half in store-coupons. The workers called a strike and staged a demonstration in the camp's main street, where a worker and a company guard became involved in a fight in which both died. As the only local authority, the town judge ordered a dozen men to take up arms and restore peace. Outnumbered, these were soon overpowered by the strikers, who quickly moved on to the company's headquarters. However, after an exchange of gunfire, the strikers retreated to the company store, taking it, and barricading themselves inside. When Hepburn stepped out onto the balcony of the local hotel to address some of the miners, a shot rang out and he fell over dead, landing in the street below.
When news reached Jesús María, Carlos Conant, Superintendent of the Santa Juliana Mining Company and jefe político of Jesús María, rode to Pinos Altos at the head of twenty-six men and declared martial law. A summary court martial then sentenced three men said to have been responsible for starting the disturbance to be executed on the spot. By nightfall, Ramón Campos, jefe político for the Rayon district, had instructed Francisco Armenta, of Uruachic, to ride into Pinos Altos with some men and officially patrol the area. By the time he got there, two more had been shot to death in retaliation for Hepburn's death. Sixty-eight others were later sentenced to forced labour. Those shot 'were the first victims suffered by the labour movement in the Americas'Gastón García Cantú, El socialismo en México, Siglo XIX, México, 1969, as these events happened three years before the Haymarket massacre in Chicago.
On 28 January 1891 a Scotsman, Cornelio Callahan, with an escort of fifteen men, was conducting 45,000 pesos in silver coinage and banknotes (billetes) to Pinos Altos to pay wages and salaries when he was attacked at Las Manzanillas by sixteen men. These bandits were repulsed and subsequently tracked downFrancisco Almada, Apuntes Históricos de la Región de Chínipas, Chihuahua, 1937.
This company seems to have been particularly susceptible to fire. In June 1895 it was reported that fire originating from spontaneous combustion had destroyed the stables, hoist works and office, including all its books and $16,000 in Mexican paper moneyThe Journal Times, Racine, Wisconsin, 21 June 1895.
Known notes
Four denominations are known from the company.
The pre-fire notes may have been of a different type, but if the company reused the same design they must have distinguished the new issue in some way, perhaps through a different signatory or overprinting a date.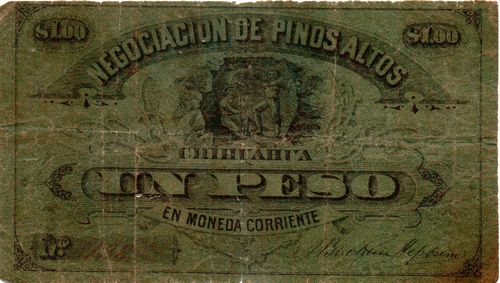 An early one peso note payable in copper coin (en moneda corriente) is signed by Hepburn.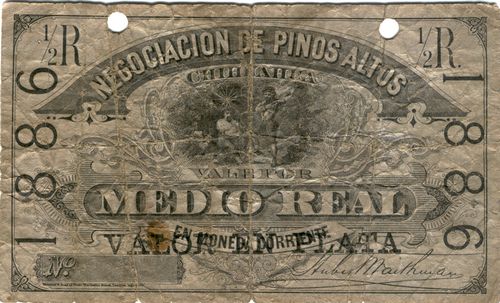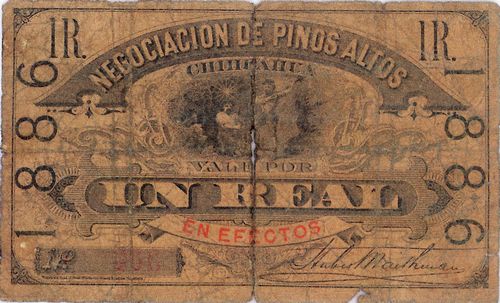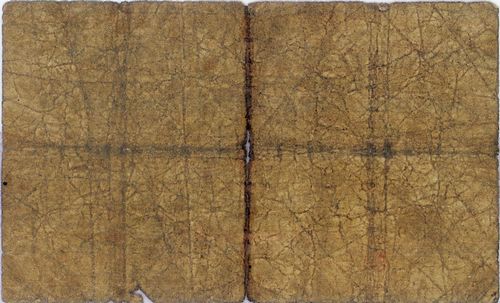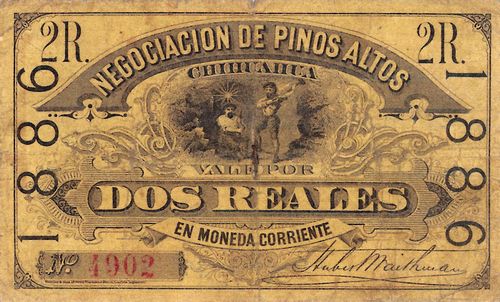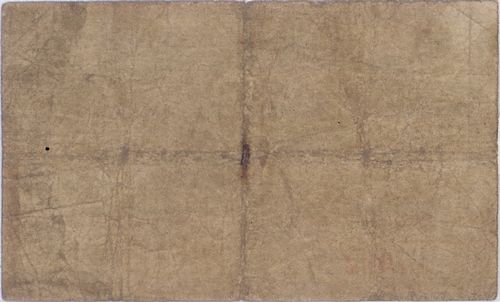 date on note
from
to
total
number
total
value
½r
1886
EN MONEDA CORRIENTE o/p VALOR EN PLATA
includes numbers 1285 and 4195
1r
1886
EN EFECTOS
includes number 366
2r
1886
EN MONEDA CORRIENTE
includes number 4902
$1
EN MONEDA CORRIENTE
A ½ real is payable en moneda corriente but overprinted 'silver' (valor en plata), whilst a one real in cash (en efectos) and two reales (en moneda corriente) are overprinted with the date 1886, and signed by Hubert Waithmann.
John George Buchan-Hepburn was born in Smeaton, Scotland on 24 September 1841, the son of Sir Thomas Buchan-Hepburn of Smeaton Hepburn, 3rd Baronet, and Helen Littleinformation courtesy of Michael Snelgrove.

As detailed above, he died on 21 January 1883, shot during a protest.

Huberto Waithman: Hubert Waithman was born in England (probably Chorlton, Manchester) on 18 March 1859, to a prominent Quaker family. In 1879 Hubert's father, Joseph Waithman, John George Buchan Hepburn, and W. M. Kerr and the Pinos Altos (Mexico) Mining Company Limited made an agreement to acquire the business, mining rights, machinery, etc and "to do all acts necessary for obtaining for the company a legal status in Mexico, or any country in which business may be carried on."

Waithman was Superintendente of the company by August 1886 and a founder shareholder in the revamped Banco de Chihuahua in 1888.

Hubert married Grace Gertrude Winton on 14 December 1887 in Oakland, California and their three three children, Joseph deLindeth Waithman, Maude Victoria Waithman and Grace Elizabeth Waithman, were born in Pinos Altos but after Hubert's death in 1891 their mother took them to live in Hayward, CaliforniaInformation courtesy of Michael Snelgrove. Waithman's descendants say that he "was shot by bandits near the silver mines", but in a letter, Enrique C. Creel records that he committed suicide at Pinos Altos when his wife discovered that he was having an affair (CEHM, Fondo Creel, [ ], 66088).