Bonos of the Ejército Nacional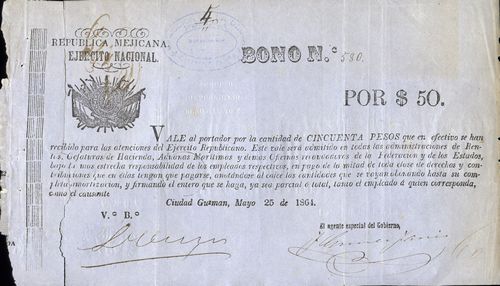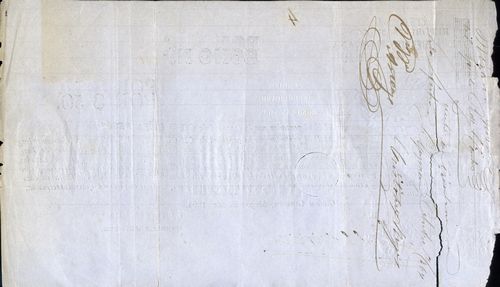 from
to
total
number
total
value
$50
includes number 584
This bono/vale al portador for the sizeable sum of fifty pesos is a receipt for monies received for the costs of the Republican Army (Ejército Republicano). It was to be accepted in part payment (50%) of all federal or state taxes. Because of the similarities with a $100 bond issued for the Ejército Nacional in Colima, this issue may have been the result of a decree[text needed] of José María Arteaga, the General en Jefe of the Ejército Republicano, promulgated in [ ] on 13 June 1863.
Arteaga assumed the governorship of Jalisco on 20 June 1863. On 2 January 1864 in the face of the French advance the state archives were transferred from Guadalajara to Ciudad Guzmán and the next day Arteaga left Guadalajara to set up his administration in the south of the state.
This bono is dated at Ciudad Guzmán on 25 May 1864 and carry the visto bueno of [ ][identification needed] and signature of [ ][identification needed] as Agente Especial del Gobierno.
Arteaga was taken prisoner on 13 October 1865 in Santa Ana Amatlán, Michoacán, by the forces of Colonel Ramón Méndez and executed in Uruapan eight days later on Maximilian's orders.