Constitutionalist cartones
During the revolution paper currency issued by the rebels virtually replaced coins and banknotes. The rebels resorted to printing money partly to remedy a lack caused by people hoarding their good money and the authorities themselves using it to purchase war supplies abroad but also because it was the most equitable way to finance the revolution. Mass confiscations could have affected the popularity of their cause and were open to abuse; loans, forced or otherwise, would have put the revolution under obligations to selective pressure groups or foreign agencies and would have laid the cost on future generations, but the issue of currency ensured that everyone contributed to the cause, roughly in proportion to their means.
The first issue was the Monclova series, printed in accordance with Carranza's decree núm. 1 of 26 April 1913, issued at Piedras Negras, Coahuila. Much of this will have been used in Sonora. As a news report datelined Douglas, 26 June stated,
The monetary stringency from which the rebels in Sonora are suffering will be relieved by the issue of five million pesos in bank notes. This statement was made today by Roberto Pesqueira, brother of the rebel governor of Sonora, and rebel representative in Washington, who returned to his home here todayMexican Herald, 27 June 1913.
In the area controlled by the Constitutionalists the lack of small change became so serious that on 4 March 1914, whilst at Nogales, Sonora, Carranza authorised (decree núm. 22) an issue of 200,000 pesos, half in five centavos and half in ten centavos. These were given the same status as the larger Monclova and Ejército Constitucionalista notes already in existence, except that their compulsory acceptance in one payment was limited to ten pesos. They were exchangeable at the Jefaturas de Hacienda and the Tesorería General in amounts of 100 pesos or multiples thereof for large denomination notesEl Constitucionalista, 12 March 1914.
The money was issued in the form of small cardboard notes called cartones and the first appeared on 31 MarchEl Paso Morning Times, 1 April 1914.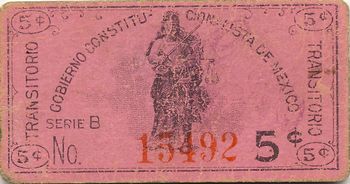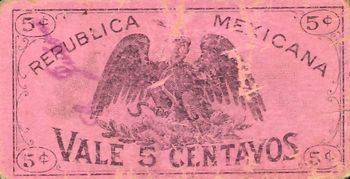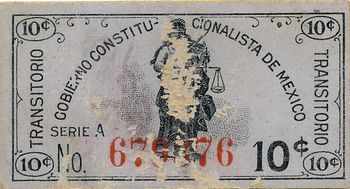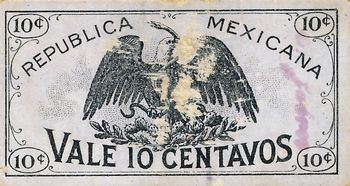 Value
Series
from
to
total
number
total
value
5c
A

1

1000000

1,000,000

50,000

B

1

1000000

1,000,000

50,000

10c
A

1

1000000

1,000,000

100,000
The five centavos was printed on pink and the ten centavos on lead-coloured card. They have no date or signature. They are countermarked with the monogram 'GCM' in violet or blue affixed with a rubber stamp.
These cartones occasionally carry rubber overprints with the name of important cities, including 'Nogales' but these are a (contemporary) souvenir rather than a resello.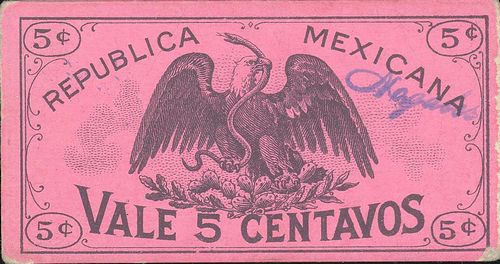 Carranza later authorised five other additional issues of fractional notes, but by that time he had transferred his headquarters from Sonora.