Carrancista Tesorería General
Tabasco, in 1915, was the scene of fighting between Carrancistas and Villistas. The Carrancista Carlos Greene handed over the governorship to Aquíleo Juárez on 2 February, who in turn passed on the role to Pedro C. Colorado on 28 August, who was assassinated by a Villista on the same night.
On 22 March Aquíleo Juárez authorized[text needed] the issue of a new pair of notes (20c and 50c) from the Tesorería General del Estado. These are known in two varieties.
The first has the denomination in figures in the centre.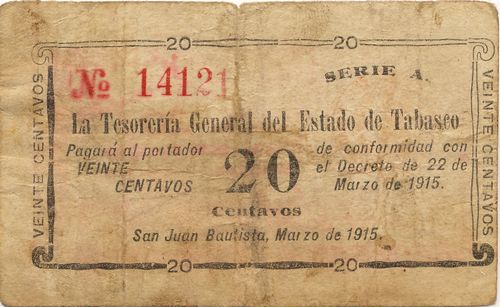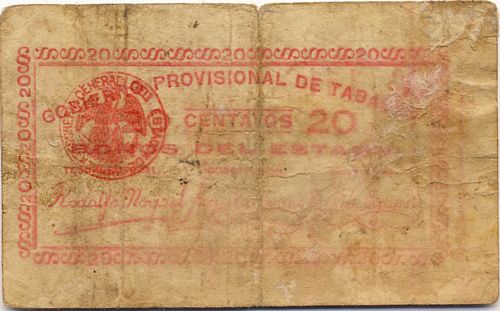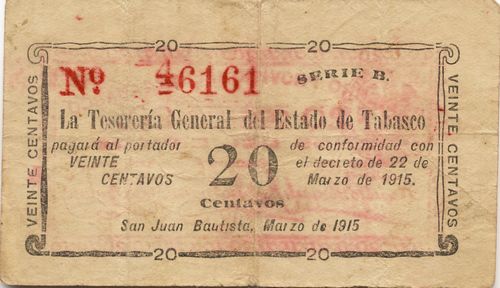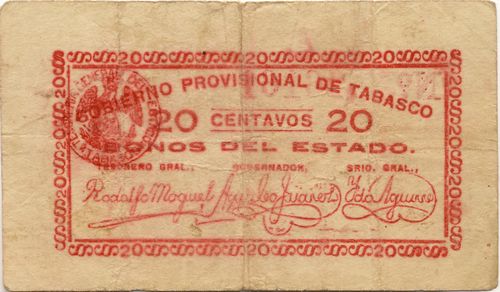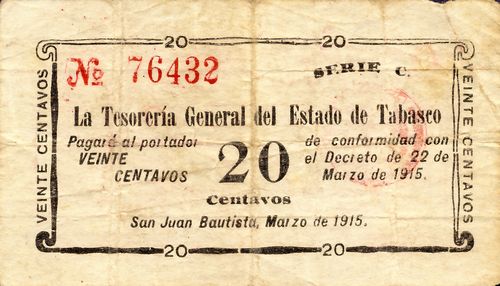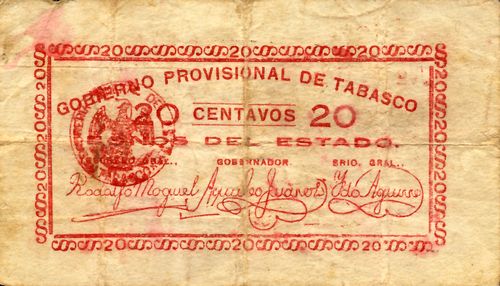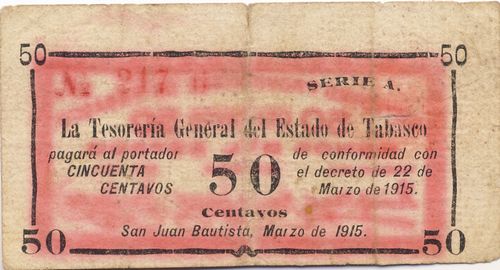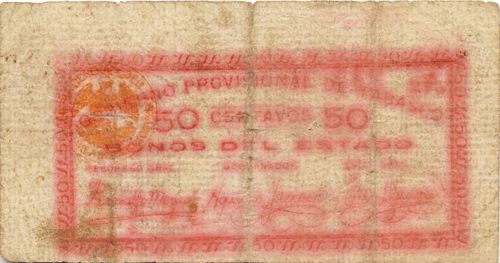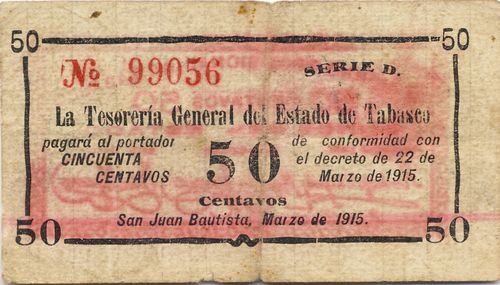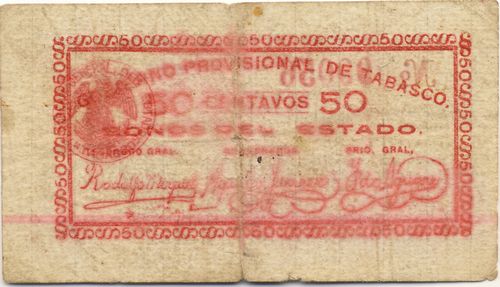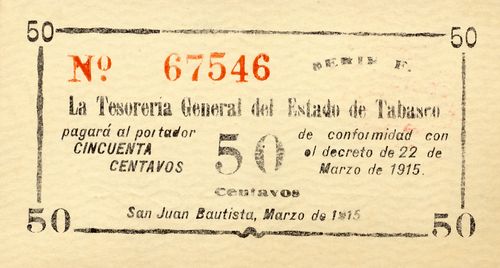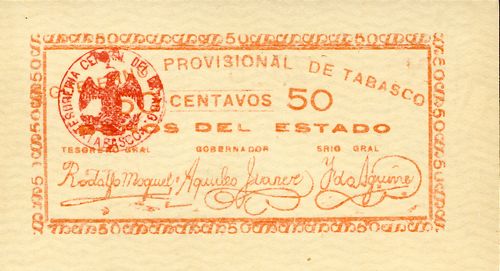 Series
from
to
Total
number
Total
value
20c
A
italic No.
includes number 14121
includes number 57818

CNBanxico #6337

B
includes number 46161
C
italic No.
includes numbers 61949 to 76432
D
E
italic No.
includes number 50370

CNBanxico #12152

50c
A
italic No.
includes number 217[ ]6
B
C
italic No.
includes number 11448

CNBanxico #6338

D
italic No.
includes number 99056
E
F
includes numbers 35552

CNBanxico #12153

to 67546
The other variety has the figures at both sides and a different edging on the reverse. The numbering machine now has six digits.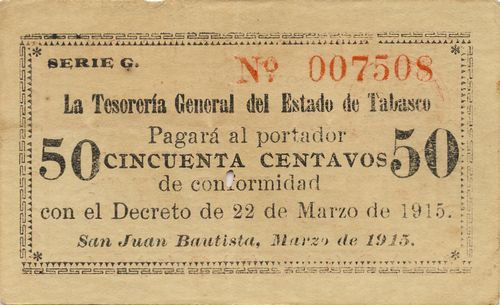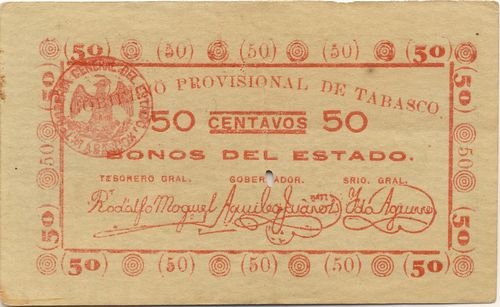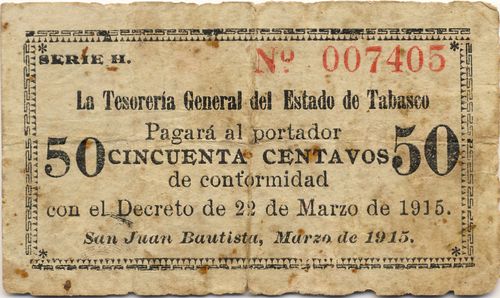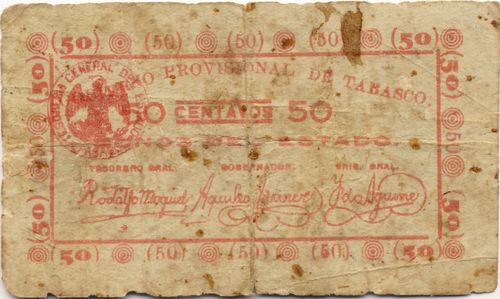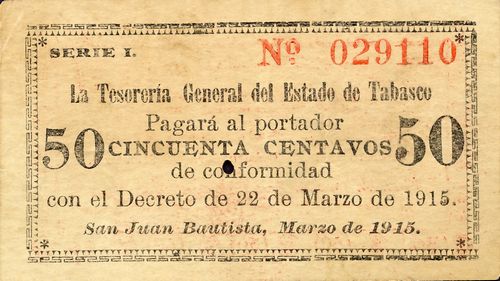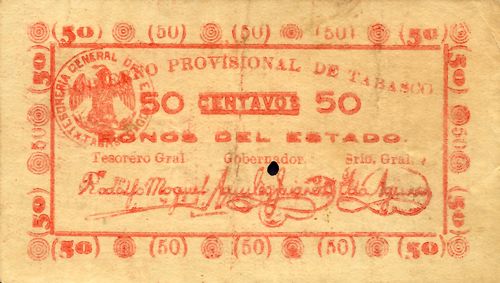 Series
from
to
Total
number
Total
value
50c
G
includes numbers 007508 and 036903

CNBanxico #12154

H
includes number 007405
I
includes numbers 029110 to 094584
Both series on the reverse have the printed signatures of Rodolfo Moguel as Tesorero General, Aquileo Juárez as Gobernador and Fernando Aguirre Colorado as Secretario General.
Rodolfo Moguel was was born in Ocozocoatla, Chipas, in 1869 and had moved to Tabasco by 1883Periódico Oficial, 11 November 1911. Formerly a businessman, by August 1911 he was Visitador de Administración for the Maderista state governmentPeriódico Oficial, 6 September 1911 and in September was elected a deputy to the state congressPeriódico Oficial, 28 October 1911. In 1912 he was also a regidor for San Juan BautistaPeriódico Oficial, 23 December 1911.

Aquileo Juárez was born in Comacalco, Tabasco.

He joined the revolution in 1914. On 1 February 1915 Carranza instructed governor and Comandante Militar Carlos Greene Ramírez to attack the Zapatistas in the state of México, so he was ordered to hand over his governorship to Coronel Aquileo Juárez. Juárez was governor from 2 February until 26 August when Carranza summoned him to Veracruz. Juárez left a message for Pedro C. Colorado to take over the governorship, but two days later Colorado was assassinated and the Villista José Gil Morales took over. Juárez was still at the port of Frontera and, together with reinforcements from Campeche, retook San Juan Bautista. On 10 September General Francisco J. Mújica arrived to take over as governor and Comandante Militar, and Juárez finally relinquished his post.

Juárez was a senator for Tabasco for the 1918-1920 and 1920-1922 legislatures. He was assassinated in San Antonio, Texas, in November 1923El Informador, Año VII, Tomo XXIIII, Núm. 2231, 14 November 1923.

Fernando Aguirre Colorado was born in Huimanguillo, Tabasco in 1879. In 1902 he founded the club antirreeleccionista Melchor Ocampo in his home town, a precursor of the revolution in Tabasco. On the assasination of Madero he and others in Huimanguillo rose in revolt, and finally capture the state capital on 2 September 1914.

Aguirre Colorado served as a local deputy, a federal deputy, presidente municipal of Huimanguillo and governor of the state.

He died in 1966.