Signatories on El Banco Minero Chihuahuense notes
The signatories on the Banco Minero Chihuahuense notes are Inocente (Ynocente) Ochoa as President, Mariano Samaniego as Accountant (Contador), and Enrique Creel as Manager (Gerente). The 1880 printing were delivered without signatures, whilst the rest had the signatures engraved on the notes.
Inocente Ochoa: Ochoa was born in Aldama, Chihuahua on 27 December 1832. He was a member of a wealthy family based in Villa del Paso del Norte (later Ciudad Juárez) and had offered his hospitality to Benito Juárez when the latter took refuge there in 1864 and 1865. He was married to Concepción Samaniego, Mariano's sister and the two men co-operated in politics and business. He remained connected with the bank and was a director in 1897 and 1900. He died on 19 May 1909.

Mariano Gil Samaniego: Born in July 1831 in Bavispe, Sonora, Samaniego studied in Paris and graduated as a doctor in 1859. He settled in Villa del Paso del Norte where he remained for the rest of his life, building up a local power base that made him the most important political figure in the city during the second half of the nineteenth century. He was an ardent supporter of Juárez and then of Terrazas, whom he supported in both the Porfirian rebellions.
Samaniego was jefe político of Bravos (the canton centred on El Paso del Norte) from 1862 to 1863, deputy to Congress, and local deputy in ten different sessions. In 1872 Terrazas openly supported Samaniego as a candidate for governor, but he lost to Antonio Ochoa, (a rich miner who had the support of the anti-Terracista leaders from the western districts) by a margin of 105 votes. In June 1876 the same legislature named Manuel de Herrera governor and he established his administration in Cusihuiríachi and Guerrero. Four months later Ochoa returned, only to entrust the interim governorship to Samaniego who, as comandante militar, was to fight the rebels. When the rebel army under Juan B. Camaño reached Chihuahua in February 1877 Samaniego returned home to El Paso del Norte.
In 1878, Samaniego was elected jefe político of Bravos for 1878-1880, a period in which several groups combined to depose governor Ángel Trías in favour of Luis Terrazas. This consolidated Samaniego's position.

Samaniego was president of the local junta that organised war against the Apaches (with José María Uranga as secretary and Inocente Ochoa as treasurer). Samaniego substitued for Terrazas as governor in August to October 1881 and November 1882 to May 1883. On the second occasion he extended by five years the tax concession in favour of the Banco Minero and relieved it of certain obligations it had with the state, and gave Samuel Miller the concession to establish the Banco de Hidalgo del Parral.
He was also in charge of customs (Administrador de la Aduana Fronteriza) and a judge. He died in 1905.

Enrique Clay Creel: Creel was born in Chihuahua in 1854, the son of merchant Reuben W. Creel, who had come to Mexico from Kentucky in 1845, and Paz Cuilty de Creel, one of General Luis Terrazas' sisters Reuben Waggener Creel was U.S. consul in Chihuahua during the French intervention. Paz Cuilty was the sister of Carolina Cuilty Bustamente de Terrazas, the wife of General Luis Terrazas. The Cuiltys were among the largest landowners in the state. In his teens Enrique sold cigars and cigarettes on the streets and taught night school. His family's financial difficulties ended his formal education, but his mother, a schoolteacher, undertook his training at home. At fourteen, Enrique managed a small store for his father; after Reuben died in 1871, the seventeen-year-old Creel borrowed three hundred pesos and went into business himself. By the time he was twenty-five, he had "one of the best mercantile houses in Chihuahua." J. Adolphus Owens, Anywhere I Wander I Find Facts and Legends Relating to the Creel Family, Alabama, 1975: Chihuahua Mail, 17 October 1882. In 1880 he married Angela Terrazas, the daughter of Luis Terrazas.

Through his family connections, vast personal wealth and astute business sense Creel was a prominent member of the oligarchy that came to dominate Chihuahuan industry, politics and the courts. He was elected regidor of Chihuahua in 1878. He was a deputy in several legislatures and at times represented Chihuahua and Durango. He substituted for his uncle, Luis Terrazas, as governor from August 1904 to December 1906, when he went to Washington as Mexican ambassador. He was state governor from October 1907 until 1911 and at times also minister of foreign relations.

Creel began his banking activities in 1881 as manager of the branch of the Banco Minero in El Paso del Norte (now Ciudad Juárez) and ended up as President of the bank. He was manager of the Banco Minero from 1884 until 1904, when he renounced the post on taking up the governship of Chihuahua. As manager of the Terrazas family's banks, he ruled over an empire that counted more than two hundred million pesos in assets, almost a fifth of the nation's total bank assets in 1910. As well as his interests in Chihuahua, he presided over or had substantial interests in banks in Mexico City, Nuevo León, Durango, Guanajuato, Sonora, and the United States He was associated with the Sonoran elite as president of the Banco Mercantil de Cananea (Mexican Herald, 22 January 1906, and Mexican Investor, 3 February 1906); in partnership with Joaquin Casasús and several Monterrey entrepreneurs, he founded the Banco Mercantil de Monterrey in 1889; he was also a large stockholder in the Banco Oriental de México and a board member of the Banco de Guanajuato. His most ambitious projects were two large banks in Mexico City. Creel founded the Banco Central Mexicano in 1899 to provide "a mechanism in Mexico City" for state banks of issue to circumvent the currency monopoly of the Banco Nacional. By 1910 it had become Mexico's second largest bank, with assets of ninety million pesos. He also set up the Banco Hipotecario de Credito Territorial Mexicano, which had thirty-eight million pesos in assets in 1910, to furnish long-term, low-rate mortgages to finance the modernization of agricultural properties.So Creel played a crucial role in coordinating native and foreign banking interests. After 1900, as the Mexican member of important international financial committees, he established a worldwide reputation. In matters of national monetary policy, Creel ranked in importance second only to José Ynes Limantour, Diaz's minister of finance, and he was instrumental in formulating many of the fiscal policies of the dictatorshipHe was president of the Comisión de Cambios that planned the monetary reforms of 1905. He travelled widely on behalf of the government and was well-known in financial circles in New York and Paris.
After Huerta's defeat and exile, Enrique Creel was one of those who journeyed to Spain in 1915 to persuade the general to return. He helped back an aborted rebellion by Huerta and Orozco that ended in the death of both in 1915Charles C. Cumberland, Mexican Revolution: The Constitutionalist Years, Austin, 1972.

Creel never fully won the trust of his nationalistic Mexican compatriots. As his critic Bulnes put it, Creel was 'half yankee by blood' and 'by character and education a yankee-and-a-half'. He died on 17 August 1931 in Mexico City.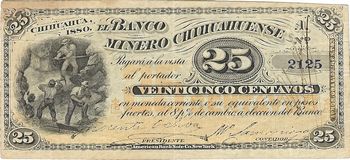 All three values (25c, 50c and $1) are known with the signature of Ramón Cuellar (the Administrador General de Rentas) above a bar overprint with his title 'ADMOR. GRAL DE RENTAS'. These scarce items presumably date from the period between 31 July 1882 when Cuellar's signature became a legal requirement and October 1882 when the American Bank Note Company provided the metal seals'ABNC presents two steel seals ..., reduced to 12 or 15 milimeters diameter, under each seal a combination of 4 numbers is to be printed, arranged in such a manner so as to allow them to be changed. Sufficient indelible ink to be furnished with the stamps for printing 2 to 3 millions of notes, also the necessary press or other apparatus for making the impressions. Send the above ..to the Administracion General de Rentas del Estado de Chihuahua, Mexico, Chihuahua, Mexico and invoice to Fred' Probst and Co.' (ABNC note dated 19 October 1882).
Ramón Cuellar was born in 1839 and came to Chihuahua in 1864 as part of Juárez' entourage. He became a judge in 1873 and was later made Jefe de Hacienda. He fought for the Terracistas and on their victory in November 1879 was appointed Administrador de Rentas, a position he held for just over four years. On 9 January 1884 he was named Substitute Governor for three months. After this, he returned to the Administración General de Rentas, until 28 July 1885.

He replaced Granados as interventor in January 1890El Tiempo, 23 January 1890 and held the post until 1895. Later he was manager of the Banco Mexicano until 1897 when, on approving the merger with the Banco Minero, the Secretaría de Hacienda named him Interventor de Bancos en el Estado, a post he held until October 1912. He signed notes dated from 1888 (but issued from 20 December 1889) to 25 March 1914.

He died in Chihuahua in 1917, the last surving member of the immaculados, the small group of officials that accompanied Benito Juárez to El Paso del Norte to continue the fight against Maximilian.