The Junta Revolucionaria de México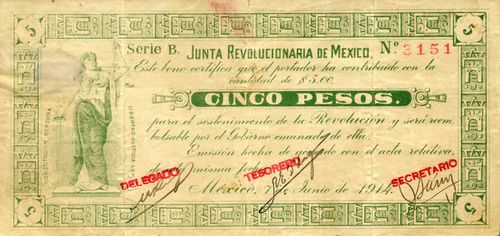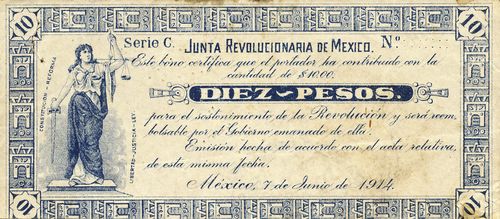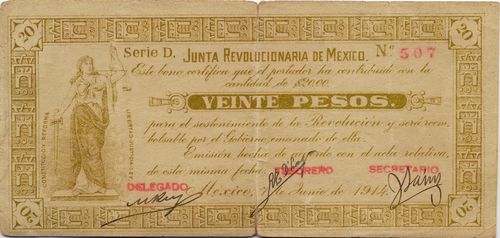 series
from
to
total
number
total
value
$1
A
001
includes numbers 185

CNBanxico #6629

to 1344
$5
B
001
includes numbers 051

CNBanxico #6630

to 3151
$10
C
$20
D
includes number 507
Gaytan also lists 25c[image needed], 50c[image needed] and $50[image needed] notes for this issue but given the sequence of serial letters, the first two denominations, at least, are doubtful.
These are not paper money but records of contribution to a revolutionary cause. The text states 'Este bono certifica que el portador ha contribuido con la cantidad de ……….para el sostenimiento de la Revolución y será reembolsable por el Gobierno emanado de ella. Emisión hecha de acuerdo con el acta relativa, de esta misma fecha.' and are dated Mexico City, 7 June 1914.
The statue of Justica has the motto 'CONSTITUCION – REFORMA – LIBERTAD-JUSTICIA-LEY' which suggest Zapatista influences and though a Junta Revolucionaria is rarely mentioned the few instances would seem to confirm this. On 3 May 1914 Blas Urrea (a non-de-plume for Luis Cabrera) published an article in El Renovador entitled "!Alerta, mexicanos!" from the Junta Revolucionaria de México' which attacked the false rumours put out by Huerta and his henchmen who were trying to provoke an American interventionEl Renovador, 3 May 1914 . On 23 July the 'Junta Revolucionaria de México' warned that the revolution was being betrayed by Carbajal who was being played by científicos and the clergyAGN, Fondo Genovevo de la O, caja 19, exp. 4, f. 10: Benson Latin American Collection, Genaro García Collection, Broadsides and Circulars, box 1, folder 13, item number 31 and there was also an open letter from Generals Francisco Coss, Luis Gutiérrez, Eulalio Gutiérrez and J. Dávila Sánchez, of the Junta Revolucionaria de México, addressed to the revolutionary groups to make an armed uprising against Carranza.
The three signatories are [ ][identification needed] as Delegado, [ ][identification needed] as Tesorero and J. Sainz as Secretario.