Other personnel of El Banco Minero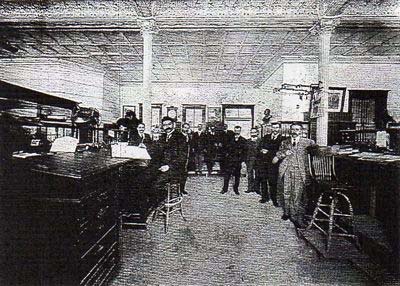 Amongst other people connected with the bank were:
Ignacio Alcarez: was Interventor in June 1909.
Joaquín Cortazar hijo: The son of a former Governor, Cortazar married Adela Creel, Enrique Creel's daughter, on 12 September 1901. He was the bank's solicitor between at least 1908 and 1911.
Eduardo C. Cuilty: He signed a single monthly balance sheet as cajero in November 1892 and was then cajero from January 1902. He joined the board in March 1903. He was subgerente from 18 March 1905AGN, Antiguos Bancos de Emisión, Actas de Banco Minero, 18 March 1905 but resigned on 23 December 1910 to go to work for Creel in Mexico City. He was a suplente on the Board in 1911.
Jesús José Falomir: from a distinguished Chihuahuan family, having been cajero of the Banco Comercial, he was cajero from January 1911, subgerente from 23 December 1910 and occasionally acted as gerente in 1911 and 1912. In 1927 he was manager of the Chihuahua branch of the Banco de México.
Born in 1873, the son of José María Falomir Gastelum, like his brother Martín, he married a daughter of José María Maytorena, Armida Maytorena Tapia (in Guaymas on 12 July 1901). He died in Chihuahua on 8 September 1935.
Felix Epler Farrell: He was born in Jacksonville, Illinois on 28 October 1868. After a spell at the First National Bank of Jacksonville he went to Ciudad Juárez, where, in 1893, he established the private banking firm of Farrell & Müller. In December 1897 he sold his interest to the Banco Minero and moved to Hermosillo, where he assisted in the establishment of the Banco de Sonora. In the spring of 1898 he disposed of his interests and returned to Jacksonville to become Assistant Cashier of the First National Bank.
Perfecto Miramontes: cajero in 1908 and cajero pagador in 1912.
Felizardo G. Montenegro: contador in 1912.
Arcadio Palacios: first manager of the Parral branch in 1897, cajero from September 1898 to at least June 1902.
Luis Pérez: subcajero from at least February 1908 (and for several years cajero de valores).
Miguel Salas: a director in 1897, 1899 and 1900.
Alberto Terrazas: Born in 1869 the son of Luis Terrazas, he joined the bank in 1895Chihuahua Enterprise, 30 October 1897 and was appointed vice-gerente in March 1896AGN, Antiguos Bancos de Emisión, Actas de Banco Minero, libro 1, 12 March 1896. He held various positions over the next few yearsHe was subcajero acting as gerente in May and June 1897, March, April, October and November 1901, July, September and October, 1902 and January 1903 and subgerente in February 1903. and was a director by 1911. In 1910 Díaz felt he need to bind the Terrazas more closely to his rule and in December chose Alberto as governor of Chihuahua to replace Creel and Terrazas' creature, José María Sánchez. However, Alberto was unable to stave off the rebellion and was replaced by the firmer pair of hands of Miguel Ahumada in January 1911. He was driven out of Chihuahua in 1914 but returned after the revolution in 1920. He was married to Emilia Creel, Enrique's daughter and his own niece. He died in El Paso in 1926.
Francisco Creel Terrazas: was subcajero in 1905 and 1907. Francisco was manager of the branch in Gómez Palacio between 1907 and 1912.
Mariano Terrazas: was acting gerente in January, February and September 1899 and a secretary in March 1908.
Miguel Torres: was manager of the Gómez Palacio branch from [ ] 1899 until November 1907 when he moved to be manager of the new Banco de la LagunaEl Economista Mexicano, 2 November 1907.
Celestino Velásquez: contador in 1912. He must have stayed in Chihuahua when the Banco Minero closed its door as on 13 March 1914 Adolfo Beyer wrote to Silvestre Terrazas recommending Velázquez for the post of contador investigator of his proposed bankST papers, Part I, box 6, letter Adolfo Beyer, Chihuahua to Silvestre Terrazas, 13 March 1914.
Francisco de P. Venzor: was cajero of the Gómez Palacio branch from [ ] to [ ].
James Woodworth: was the stenographer at the bank in 1896.
Carlos Zuloaga: a director in 1897 and 1900. Carlos was born in 1848, the son of Pedro Zuloaga Olivares and María de la Luz Cuilty Bustamente.
Pedro Olivares Zuloaga: A suplente in 1911. Pedro Olivares Zuloaga was born in Chihuahua on 1 July 1854 and twice married to Falomirs, the second time to Josefina Falomir Caballero, the sister of Martín Falomir Caballero, on 17 April 1897. He died on 15 February 1928 in Chihuahua.