Gustavo M. Bravo, governor, threatening to fine people who refused to accept notes, Querétaro, 12 March 1915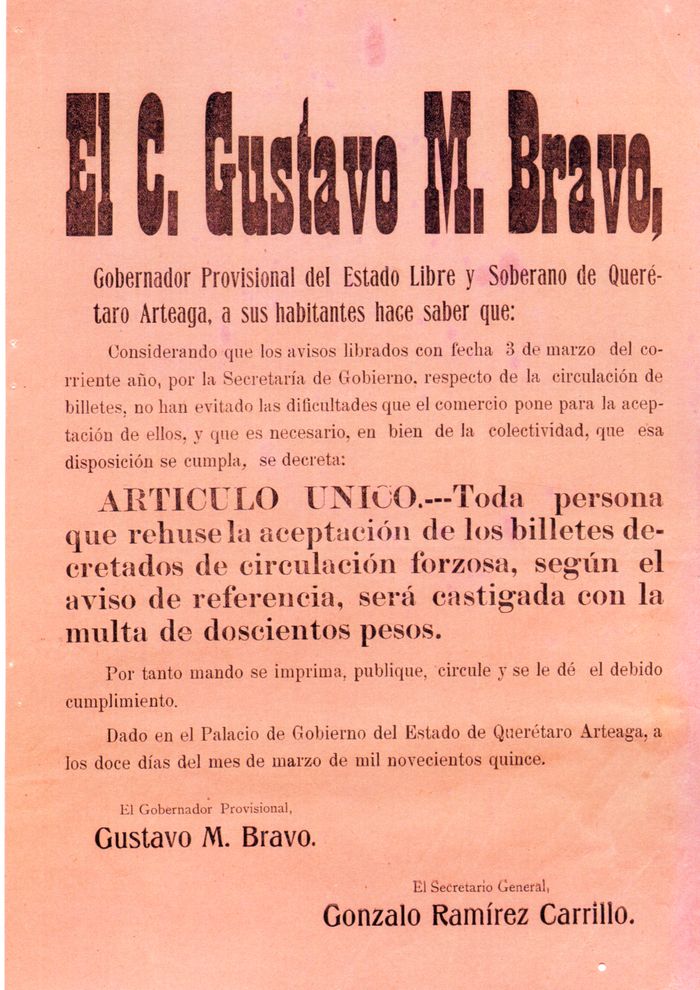 El C. Gustavo M. Bravo,
Gobernador Provisional del Estado Libre y Soberano de Querétaro Arteaga, a sus habitantes hace saber que:
Considerando que los avisos librados con fecha 3 de marzo del corriente año, por la Secretaría de Gobierno, respecto de la circulación de billetes, no han evitado las dificultades que el comercio pone para la aceptación de ellos, y que es necesario, en bien de la colectividad, que esa disposición se cumpla, se decreta:
ARTICULO UNICO. – Toda persona que rehuse la aceptación de los billetes decretados de circulación forzosa, según el aviso de referencia, será castigada con la multa de doscientos pesos.
Por tanto mando se imprima, publique, circule y se le dé el debido cumplimiento.
Dado en el Palacio de Gobierno del Estado de Querétaro Arteaga, a los doce días del mes de marzo de mil novecientos quince.
El Gobernador Provisional,
Gustavo M. Bravo.
El Secretario General,
Gonzalo Ramírez Carrillo.