Advertisements on Chihuahua notes - Clubs and bars (others)
Columbus, New Mexico
Pancho Villa Motel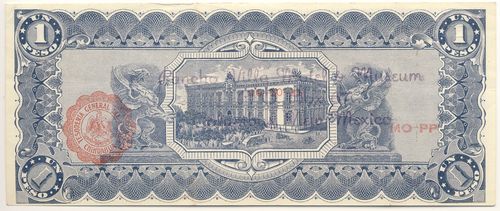 'Pancho Villa Motel & Museum / Columbus, New Mexico', known on $1 dos caritas
Fort Worth
Mexican Inn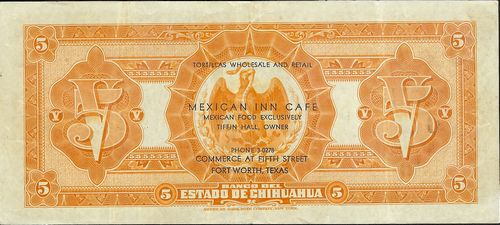 'TORTILLAS WHOLESALE AND RETAIL/ MEXICAN INN CAFÉ/MEXICAN FOOD EXCLUSIVELY/TIFFIN HALL OWNER/PHONE 3-0278/COMMERCE AT FIFTH STREET/FORTH WORTH/TEXAS', known on $5 and $10 Banco del Estado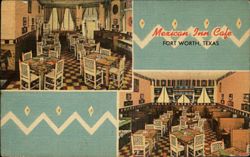 According to the Mexican Inn Café's website, in 1920, when Fort Worth was still young, a colourful and free-spirited man named Tiffin Hall came to the city. Only 20 years old, he was already a skilled gambler. Soon Tiffin had established gambling halls throughout his new hometown. He was a quiet man even then - dignified, well-dressed and soft spoken.
Tiffin entered the world of legitimate business in 1936 when his Mexican Inn Cafe opened its doors at Fifth and Commerce Streets in a downtown Fort Worth building already 50 years old. From the beginning, he insisted upon courteous service and fresh home-cooked food. On a good day in the 1930s, restaurant receipts might total only $25.00, but much greater amounts were accumulated each night when gamblers gathered in the second floor rooms above the restaurant. Wary of traditional advertising, Tiffin commissioned a family pet burro to generate interest in the new cafe. Star would be dressed in a banner reading, "MEXICAN INN CAFE... MEXICAN FOOD EXCLUSIVELY... FOLLOW ME TO MEXICAN INN" and turned loose somewhere downtown. He would find his way back to the side door of the restaurant and beg for tortillas. The police would be compelled to "arrest" Star for being on the street without a permit. Tiffin laughed that he and Star were on the same side of the law.
By the 1940s both of Tiffin's empires were flourishing. While restaurant employees recall his kindness toward them, headlines depicted him as Fort Worth's Kingpin of Gambling." Yet, lady luck continued to smile on Tiffin, and the law remained at bay. Tiffin's good fortune lasted until 1966, when a stroke left him permanently disabled.
The location at Fifth and Commerce operated from 1936 until its closing on 2 December 2005.
Gómez Palacio, Durango
Hotel Plaza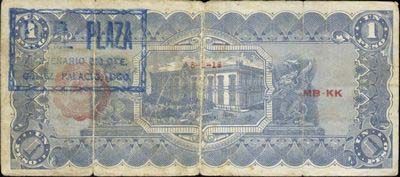 'HOTEL PLAZA / CENTENARIO 210 OTE / GOMEZ PALACIO, DURANGO.' known on $1 dos caritas.
Guaymas, Sonora
Hotel Almada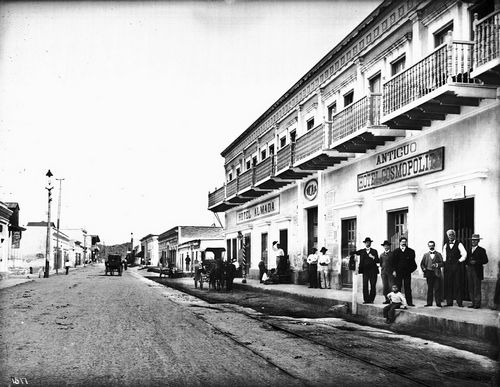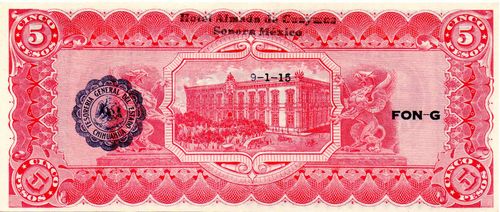 'Hotel Almada de Guaymas / Sonora México', known hand-stamped on $1, $5 and $20 dos caritas.
The Hotel Almada, owned by Manuel Almada, located on the seafront, facing the bay, had for 70 years the best reputation in the state, with its restaurant and Gambrinus cantina.
Manhattan, Montana
Manhattan Hotel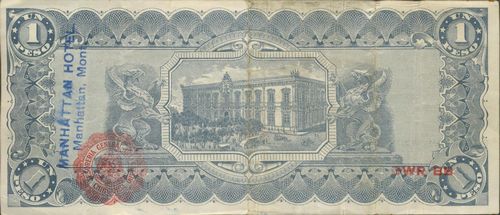 'MANHATTAN HOTEL / Manhattan, Mont', known on $1 dos caritas
Unallocated
Rialto Cinema
'RIALTO CINEMA', known on $1 dos caritas[image needed]