La Pagaduría de la División del Suroeste
These small notes for 5c, 10c, 20c, 50c and $1, issued in accordance with a decree of 16 March 1915[text needed], are currently catalogued as from Guerrero.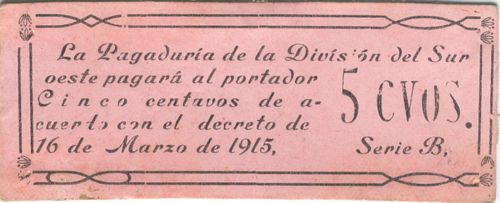 Series
from
to
total
number

total

value

5c
B
10c
A
includes number 11167
50c
A
includes numbers 4464 to 7267
$1
A
includes numbers 1122 to 5819

CNBanxico #11118
Gertrudis G. Sánchez, as well as provisional governor of Michoacán, was General en Jefe of the División del Suroeste. On 25 March 1915 he was seriously wounded in combat and since he felt he could no longer carry out his duties on 29 March delegated these roles to General de Brigada Cecilio García. García told Carranza and Obregón that he accepted only to ensure continuity and asked them to appoint someone else. In the meantime, since he had to stay in Michoacán, he sent General Amaro to Celaya to fight with Obregón against Villa.
So a decree of 16 March 1915 could have been issued in Sánchez' name.
Some of these notes however, have an oval stamp of the 'PAGADURIA GENERAL – DIVISION DEL SUR' (though Sánchez' División was occasionally referred to as the División del Sur). In 1915 the Constitutionalist División del Sur was involved in pacifying the state of Guerrero and General Vicario's column had occupied Chilpancingo, Tixtla, Chilapa, Tlapa, Arcelia, Ajuchitlán and other placesEl Pueblo, Año II, Tomo II, Núm. 363, 6 October 1915.
So, more information is needed before these notes can be given a definite location.