A Huertista siege issue
After the assassination of President Madero in February 1913 the port of Mazatlán in Sinaloa remained under the control of the Huerta government. The rebel general Alvaro Obregón moved down from Sonora to Sinaloa in November 1913, capturing Culiacán on 14 November, and then besieged Mazatlán, even resorting to what is erroneously described as the first aerial bombardment when a biplane, as well as distributing leaflets, dropped a few grenades (and killed in passing some rebel sympathizers).
The first attempt to raise money was a bond issue. On 6 October 1913 by law núm. 63 the local Cámara authorised General Legorreta to issue $115,000 in bonos al portador, to be sold to individuals at a discount for $100,000. However, because of the onerous interest rate the administration limited the amount sold to $36,500Periódico Oficial, Mazatlán, Tomo V, Núm. 14, 24 March 1914.
Also, coins themselves continued to disappear. By mid February the Mazatlán newspaper El Correo de la Tarde was complaining about the scandalous disappearance of small change, which was making purchasing everyday items difficult. Workers who were paid in notes found that shops could not change them, while shopkeepers were accused of hoarding goodsEl Correo de la Tarde, Año XXIX, Núm. 9394, 16 February 1914. At the end of that month the federal government authorized the state governor, Miguel Rodríguez, to issue 100,000 pesos in vales of ten, twenty and fifty centavos, and the local governor passed the relevant decree on 25 February. The issue was:
| | | | |
| --- | --- | --- | --- |
| | Series | Number | Value |
| 10c | C | 100,000 | $ 10,000 |
| 20c | B | 100,000 | 20,000 |
| 50c | A | 140,000 | 70,000 |
| | | | $100,000 |
The notes were to be of unlimited circulation and acceptable in all federal, state and municipal offices, as well as exchangeable for bank notes when the latter were required. As the American consul, William E. Alger, noted, "if the decree had provided that the amount realized for this obligation should be deposited as a guarantee for its redemption, no objection could have been made, but as any cash received would be spent, the obligation was bound to drop in value. Besides, if Huerta were to lose, the notes would be worthless. As none of the merchants would purchase these obligations, they were to be forced into circulation by using them in payment of government employees and in daily payments to the military forces. These expenses amounted to at least five thousand dollars a day so the government would have funds for nearly a month."SD papers, 812.515/18.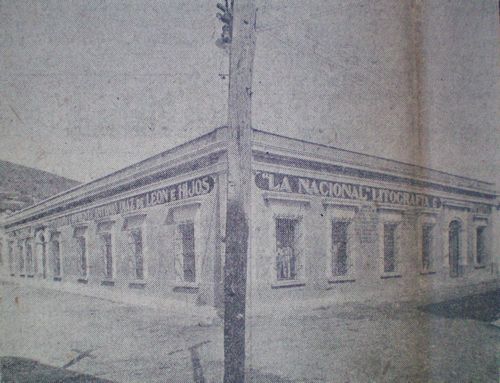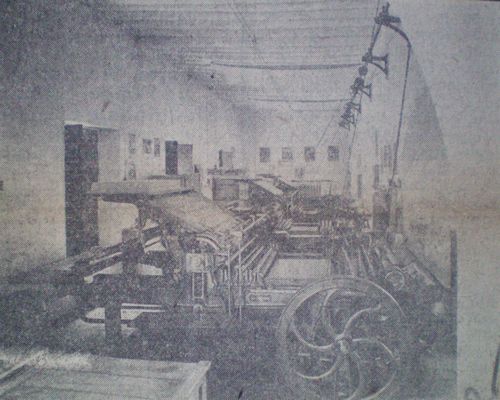 The notes were printed by the firm 'La Nacional', owned by Antonio Díaz de León and his sons, under the supervision of inspectors nominated by the governor, and carried the printed signatures of Eduardo Bátiz as Treaurer (Tesorero) and Juan. R. Sais as Accountant (Contador).
Eduardo Bátiz Bátiz was born on 26 November 1870 in Culiacán. He served as Recaudador de Rentas in Cosalá, and then in ConcordiaEl Tiempo, 8 October 1888and finally in the Distrito de SinaloaEl Diario del Hogar, 15 February 1901, then was in charge of the Oficina de Timbre in Culiacán for a year before becoming Administrador Principal de la Renta del Timbre in Nogales, Sonora in October 1910La Patria, 25 October 1910.

He was appointed Tesorero General in August 1913Periódico Oficial, Tomo IV, Núm. 88, 17 August 1913.

He died in Manzanillo, Colima on 16 September 1923, aged 52 years old.

Juan R. Sais was appointed Contador de la Tesorería in August 1913Periódico Oficial, Tomo IV, Núm. 88, 17 August 1913.
The printers used 28,440 sheets of the finest washable linen paper (so twelve images a sheet) and made 120,900 printing passes in different coloursEl Correo de la Tarde, Año XXIX, Núm. 9410, 10 March 1914. The firm went on to produce a similar series of notes for the federal garrison besieged in Guaymas, Sonora.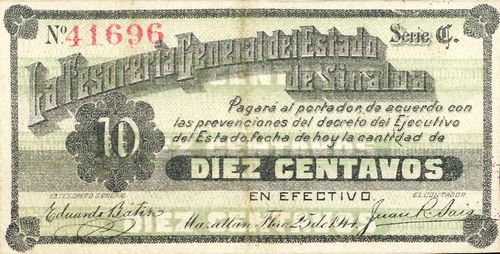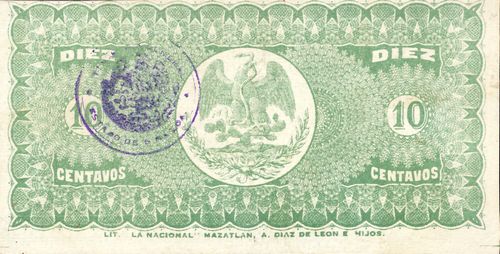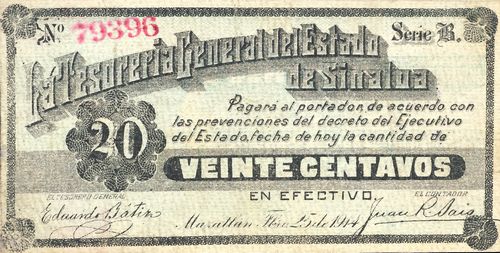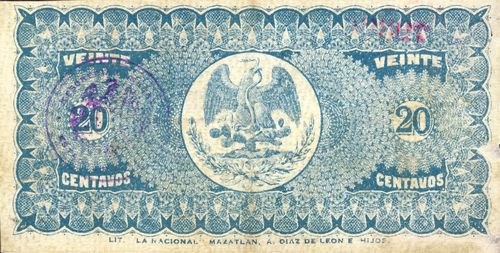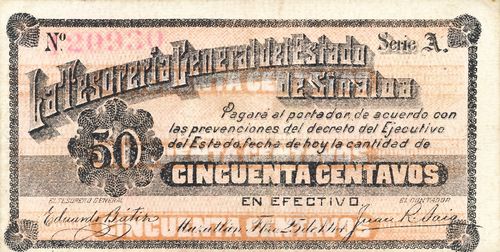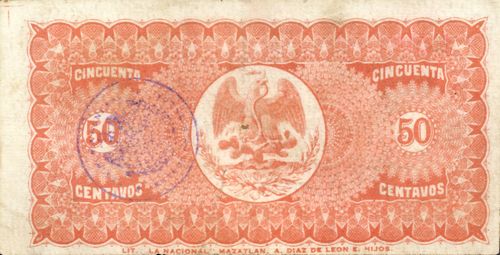 After a delay, the first notes went into circulation on 7 MarchEl Correo de la Tarde, Año XXIX, Núm. 9407, 6 March 1914. The Mexican Herald reported the issue of the 10c and 20c values on 4 March (The Mexican Herald, 4 March 1914) but it was slightly delayed, and, according to the local newspaper, were eagerly accepted by the public and businesses that bought large amounts to make up for the shortage of change. The method of introduction into circulation was that merchants bought the vales at their face value from the Chamber of Commerce and the latter body redeemed the vales with the same notes which were paid for themThe Mexican Herald, 4 March 1914.
On 10 April Rodríguez authorized the issue of a further 100,000 pesos, in 50c notes, Series B, with the new dateEl Correo de la Tarde, Año XXIX, Núm. 9442, 18 April 1914.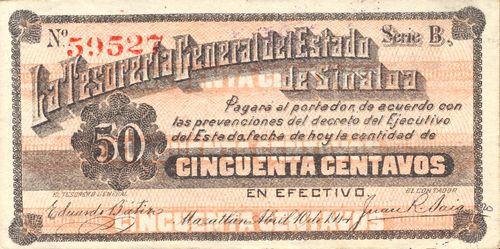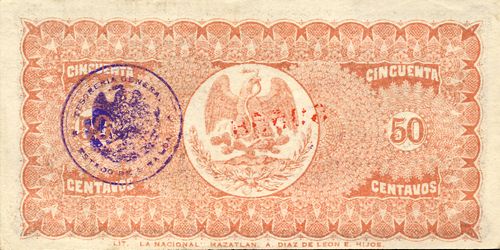 Initially few knew of the decree and there was some resistance to the notes of this new issue. On 23 April Rodriguéz summoned the leading businessmen to Government House and told them that he had received complaints that some businesses were not accepting or were discounting these notes. Some goods had more than doubled in price in the past few days. Pablo Valdés, the secretary, said that the government did not want to have to exert its authority to ensure the forced circulation and so had called the meeting. After a heated discussion the group agreed to meet again the following morningEl Correo de la Tarde, Año XXIX, Núm. 9447, 24 April 1914. There they agreed that acceptance should be limited as followsEl Correo de la Tarde, Año XXIX, Núm. 9448, 25 April 1914:
| | |
| --- | --- |
| in payments up to $100 | in full |
| in payments of $100 to $1,000 | 50% in these notes |
| in payments over $1,000 | 25% in these notes |
On 25 April Rodríguez passed the necessary decree and also restated penalties for refusing to accept the notes or altering prices when these notes were offered in paymentEl Correo de la Tarde, Año XXIX, Núm. 9448, 25 April 1914.
On 28 April Valdés summoned a similar meeting of retailers, mainly Chinese stallholders. Afterwards Rodríguez ordered the Prefectura to enforce the law and the Prefecto, Francisco Labastida y Anguiano, issued a warning circular. However, as time passed more trouble arose. Businesses complained that the vales were only of use in Mazatlán, and that neither the Banco Nacional de México nor the Banco Occidental, relying on their statutes, would accept themEl Correo de la Tarde, Año XXIX, Núm. 9452, 30 April 1914.
Im May the authorities received $150,000 from the central government. Of this some went on covering the cost of the gunboats "Guerrero" and "Morelos" whilst more than $100,000 was used to support the local issue and prevent speculationEl Correo de la Tarde, Año XXIX, Núm. 9457, 6 May 1914. By the end of the month businesses were refusing to accept them, because of their deteriorationEl Correo de la Tarde, Año XXIX, Núm. 9470, 21 May 1914.
By 19 June El Correo de la Tarde was writing an editorial calling for businesses to abide by the agreement that they had made and arguing that $200,000 was a relatively small amount to be in circulation for a place the size of Mazatlán. At the same time the banks should be included in the April decreeEl Correo de la Tarde, Año XXIX, Núm. 9494, 19 June 1914. On the same day Rodríguez declared the notes to be of forced acceptance in any amountEl Correo de la Tarde, Año XXIX, Núm. 9495, 20 June 1914. On 1 July another meeting of government officials and the leading business houses discussed the lack of basic necessities. Rodríguez offered to forego taxes on imported goods and also to change $15,000 in vales into bank notes to pay for imported merchandiseEl Correo de la Tarde, Año XXIX, Núm. 9504, 2 July 1914.
When the rebels took the port these federal notes must have quickly disappeared and were ultimately declared null and void by Carranza's Secretaría de Hacienda on 23 October.
In summary:
Series
from
to
total
number
total
value
25 February 1914
10c
C

1

100000

100,000
$ 10,000
includes numbers 34001

CNBanxico #12037

to 61907

CNBanxico #6190

20c
B

1

100000

100,000
20,000
includes numbers 34023

CNBanxico #6191

to 88253

CNBanxico #12038

50c
A

1

140000

140,000
70,000
includes numbers 20930 to 116987

CNBanxico #6196

10 April 1914
50c
B

1

200000

200,000
100,000
includes numbers 94081

CNBanxico #6201

to 165678

CNBanxico #12040

$200,000