The crisis of 1935
Twice in the twentieth century, in 1935 and again in 1943, Mexico had to resort to the issue of bearer cheques (cheques al portador) to overcome a temporary shortage of small change, caused by the disappearance of silver coins.
This method had been used during the Mexican Revolution, and occasionally since in a few locations, but in these two instances the phenomenon was nationwide. Although some cheques were issued by private businesses for their own employees, the usual procedure was for the local Chamber of Commerce (Cámara Nacional de Comercio) to contract with the local banking institutions. The Chamber would deposit a sum of money to guarantee the cheques and recoup its money when it sold the cheques in bulk to businesses that needed them: the bank would use the deposit to redeem the cheques when they were handed in (originally in multiples of five pesos since that was the smallest banknote, but when the new Banco de México $1 notes arrived, they could redeem smaller amounts).
This procedure could be considered to breach the Federal Government's monopoly on issuing paper currency and there were occasional complaints but the Secretaría de Hacienda acknowledged the dire circumstances. Thus on 5 May 1935 the Secretaría declared the issue of $1 cheques de caja legal. On 16 May 1935 Secretario de Hacienda Narciso Bassols suggested that the Dirección de Correos y Telégrafos tell all their offices to accept the $1 and $2 cheques al portador that had been issued by local Cámaras de Comercio.
The cheques were of voluntary acceptance, and occasionally public officers refused to accept them, but generally, as they were redeemable on demand, they were readily accepted and helped greatly to relieve the crisis.
The 1935 crisis began when the United States passed its American Silver Purchase Act on 19 June 1934: this caused to price of silver to increase and as a result, in Mexico, silver coins began to be hoarded to be remelted at a profit. On 25 April 1935 the Mexican government reacted with a series of reforms, changing the fineness of its coinage, and withdrawing silver coins from circulation. It had ordered 50c coins (tostones) and $1 Banco de México notes from the United States but until these arrived the sudden shortage of small change led to these "necessity notes". When the crisis passed most of these cheques were redeemed (out of $10,000 issued by the Uníon Nacional de Industria y Comercio in Guadalajara only $18 was not handed in) and so survivors are extremely rare.
Tijuana
Banco del Pacífico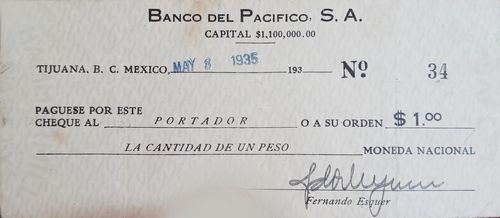 from
to
total
number
total
value
$1
includes number 34
The Banco del Pacífico was founded in 1932 by William C. Allen, a North American banker with interests in transport and tourism, and Fernando Esquer It grew out of La Bancaría del Pacífico S. A., which had been formed in 1925.. Allen held 60% of the shares, whilst another principal shareholder was former governor General Abelardo L. Rodríguez.
The bank had branches in Tijuana and Ensenada in Baja California del Norte and Nogales and Navojoa in Sonora.
In Tijuana the Banco de Pacífico issued $1 cheques dated 8 May 1935. These are signed by Fernando Esquer.
Fernando Esquer was president of the bank in May 1935Periódico Oficial, 30 May 1935.

Esquer also had shares in the Destilera Tequate, S. A.