State bonds
Politics in Chihuahua became less violent with the victory of Díaz and, later in 1884, the completion of the Central Mexican Railroad, which not only connected the state with the rest of the Republic but also allowed the federal authorities quickly to dispatch troops. In May 1877 Governor José Eligio Muñoz commissioned the Secretaría del Gobierno to establish the size of the debt arising from the costs of the recent rebellion (excluding the créditos of the defeated administration). Once this was determined, Congress would decide how to amortise the debtEl Guardia Nacional, 10 May 1877.
People who had lent money or provided goods to the victorious regime presumably had receipts but as a receipt was not a negotiable instrument their investment was effectively frozen. It was therefore resolved to issue certificados in accordance with the receipts that were presented and confirmed. This on the one hand permitted the government to convert the debts and on the other gave to the creditors an official document that could be negotiable.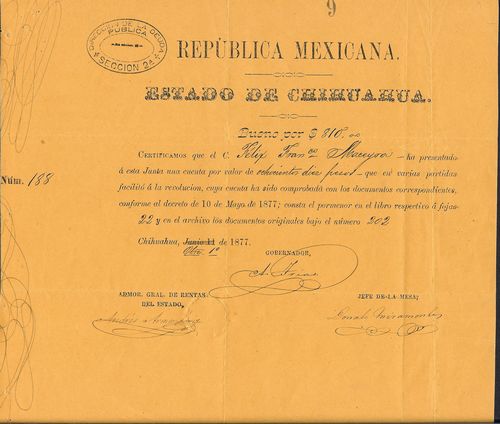 Such certificados carried the printed date 11 June 1877 (frequently amended by hand) and were signed by the Governor (Pedro Hinojosa or Angel Trias), Administrador General de Rentas (M. G. Vidal or Andrés Armendáriz) and Jefe de la Mesa (Vicente Ochoa or Donato Miramontes)The text of such certificados was 'Republica Mexicana/Estado de Chihuahua/Bueno por .../Certificamos que el C .... ha presentado á esta junta una cuenta por valor de ... en varias partidas facilitó á la revolución, cuya cuenta ha sido comprabada con los documentos correspondientes, conforme al decreto de 10 de mayo de 1877...' One certificado (Num. 98) was transferred to different parties seven times between July 1877 and January 1895.
| | |
| --- | --- |
| Pedro Hinojosa: Born in Matamoros, Tamaupilas in 1822, he entered the army in 1840 and fought against the American invasion and in the War of Reform. He came to Chihuahua in 1860. In 1861 he was a deputy and Secretary of War (Secretario de Guerra y Marina). Díaz named him governor of Chihuahua in 1877, a position he held from 13 June to 14 August. He died in Mexico in 1903. | |
| Angel Trias hijo: Trias's father, General Angel Trias senior, was also governor of Chihuahua. Trias hijo was born in Chihuahua in July 1839. He fought against the French and then supported Díaz when he proclaimed his Plan de Tuxtepec in 1876 but was driven out by Luis Terrazas. When Díaz triumphed nationally Trias was elected state governor and took over from Hinojosa on 14 August 1877. He had to deal with various uprisings, at one stage was taken prisoner by Terrazas, and resigned in November 1879. He stayed in the army until his death in April 1912. | |
| Manuel G. Vidal: originally from Ocampo, Vidal was a deputy to the state legislature, fought for Terrazas and then supported the Plan de Tuxtepec, was Jefe de Hacienda, then Administrador General de Rentas from 22 March 1877 to 30 September 1877, when he resigned rather than carry our payments ordered by governor Trias that he felt were unjustified. He was later a Senador Suplente and editor of the Periódico Oficial. He died in Chihuahua on 11 April 1887. | |
| Andrés Armendáriz: from Chihuahua, Armendáriz spent several years in financial posts, being sucessively Administrador Principal de Correos, Jefe de Hacienda, Administrador del Papel Sellado and Administrador General de Rentas. He died a pauper on 22 September 1880. | |
| Vicente Ochoa | |
| Donato Miramontes | |
A short time after Angel Trias became governor in 1877 he made the Tesorería General del Estado establish the amount that was owed to creditors of the public treasury, mostly unpaid wages of civil servants and employees. The public debt was consolidated at $242,631·67 and titulos issued to creditors. In November 1877 Lauro Carrillo was allowing such bonos o créditos reconocidos to be used in payment of taxesEl Estado de Chihuahua, 12 November 1877.
In June 1889 Governor Carrillo set up a special section within the Tesorería General del Estado again to consolidate the outstanding debts. Creditors and holders of créditos had six months within which to present their claims and the section was given another four months thereafter to consider their validity. Then the Tesorería General would issue bonds (bonos al portador), such bonds to be in denominations of 10, 100, 500 and 1000 pesos, signed by the Governor, Tesorero and Contador, progressively numbered and recorded in a book kept in the TesoreríaEl Estado de Chihuahua, 29 June 1889.
In July 1890 the public debt was verified to be $218,193·71El Estado de Chihuahua, 9 August 1890. The bonds had been printed by the American Bank Note Company in 1889American Bank Note Company specimens are dated 16 October 1889.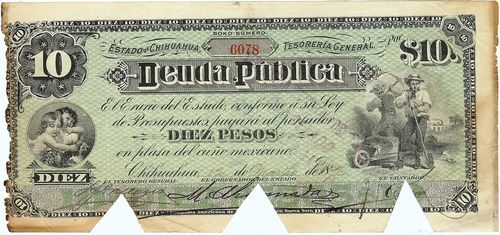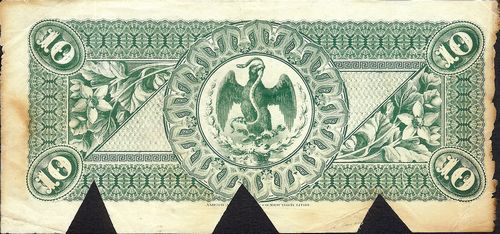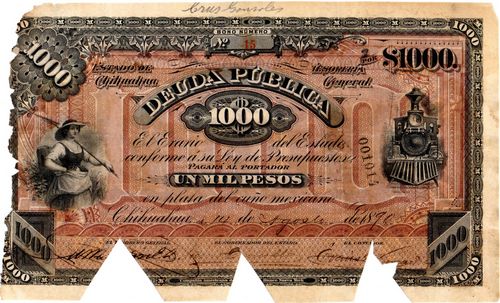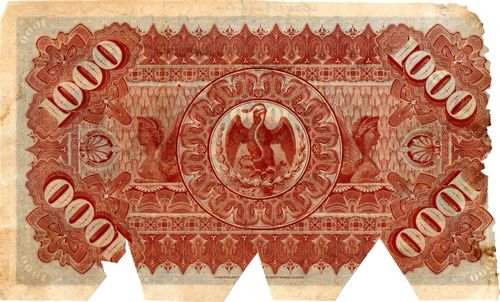 At least $193,270 were issued. The Periódicos Oficiales list 26 holders with a total of $66,600 on 6 September 1890, 25 holders with $72,390 on 1 October 1890 and 16 holders with $50,290 on 8 November 1890. Later two decrees (4 December 1891 and 17 December 1891) added a further $4,590. According to the individual sums and assuming the minimum number of bonds the number of bonds issued will have been
| | | | | |
| --- | --- | --- | --- | --- |
| | $10 | $100 | $500 | $1000 |
| 6 September 1890 | 110 | 60 | 11 | 54 |
| 1 October 1890 | 79 | 36 | 12 | 62 |
| 8 November 1890 | 69 | 36 | 4 | 44 |
| 4 December 1891 | 3 | 6 | 1 | 1 |
| 17 December 1891 | 6 | 4 | | 2 |
| | 267 | 142 | 28 | 163 |
$18,240 in bonds were redeemed in September and October 1892. However, claims against the Tesorería continued to mount and in December 1894 under Governor Miguel Ahumada the whole process was repeated, though claims that had previously been rejected were excluded. This time the state was to issue bonds with the value of 10, 50 and 100 pesosEl Estado de Chihuahua, 28 December 1894. A year later the Congress acknowledged the outstanding debt to be $50,143·43 and issued bonos to forty-two creditorsPeriódico Oficial, 1909 though later on it added Gaspar Horcasitas' claim for $2,385·75 and there might have been others.
The signatories were:
| | |
| --- | --- |
| Lorenzo J. Arellano Milán: born in Mazatlán in 1860 and moved as a child to Urique. He moved to Chihuahua in 1882, was a deputy in various local legislatures and Tesorero General del Estado from 3 January 1893 to 1 June 1903. He later served as jefe político of Iturbide in 1911, presidente municipal of Chihuahua in 1913, and later Subtesorero General of the Federal District until his death in 1926. | |
| Miguel Ahumada: Born in 1844 in Colima, Ahumada was in charge of the tax service (Jefe de la Gendarmería Fiscal) in Chihuahua in 1892 when Díaz chose him as the compromise candidate for the governorship to settle the political infighting between the Terrazas and Carrillo cliques. He was governor from 1892 until 1904 though he renounced the post in 1903 when he was elected governor of Jalisco. Later, during the Maderista revolt in 1911, Díaz once again called upon him to take over the governorship but this time his influence and prestige were unable to deflect the revolution and he handed over the reins to Abraham González on 10 June. He died on 27 August 1916. | |
On 14 March 1908 the Tesorero General, J. Lamelas, told holders of outstanding bonds issued in accordance with the decrees of 31 July 1890 and 14 December 1895 to present them for immediate payment, as they would be declared null and void as soon as the time was rightPeriódico Oficial, 15 March 1908.They had been all but redeemed by 1909, when only $2,780 was outstandingInforme of Governor Enrique Creel, 1 June 1909.
Bonos de Subvención Ferrocarrilera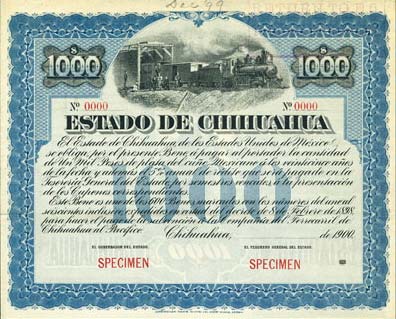 On 8 February 1898 Governor Ahumada decreed the issue of six hundred bonds of $1,000 each to subsidize the construction of the Chihuahua al Pacifico railway. The bonds offered 5% interest and were to be redeemed in twenty-five years.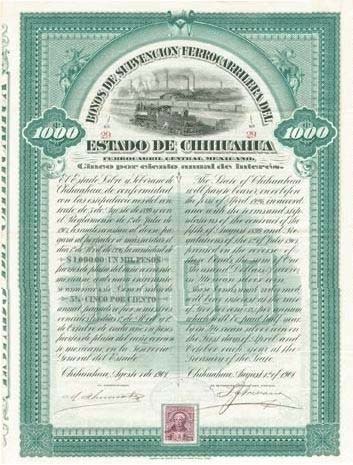 On 31 July 1899 the governor authorised a similar issue for the Central Mexicano railway for the line between Parral and the Chihuahua-Durango border.
On 14 November 1904 Governor Enrique C. Creel issued regulations on redeeming these bonds, which had reached the sum of $685,000. They were to be redeemed twice yearly by lot: redeemed bonds were to be perforated 'Cancelado' and destroyed after ten years.
In his Informe of 16 September 1911 Governor González reported that $6,000 in bonos ferrocarrlieros had been amortised since 1 June 1911 and that $487,000 was outstanding in the Subvención al Ferrocarril de Chihuahua al Pacifico and $63,000 in the Subvención al Ferrocarril Central MexicanoInforme of González, 16 September 1911.
We known of one issued $1,000 bond, numbered 545, dated 1 July 1900 and signed by Miguel Ahumada as Governor and Lorenzo Arellano as Tesorero General, whilst a 1913 reference mentions $100 Chihuahua al Pacifico and $100 Central Mexicano bonds.