El Banco de San Ignacio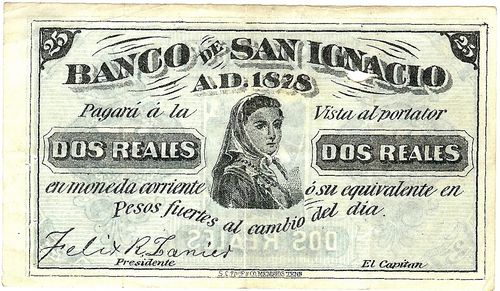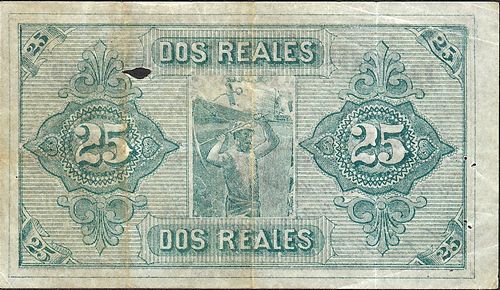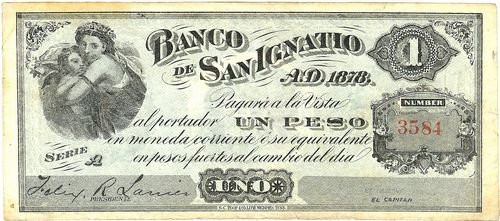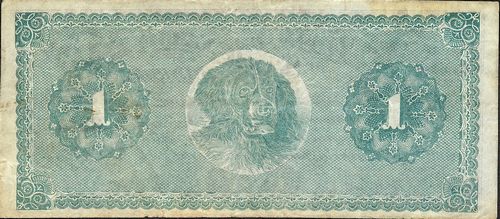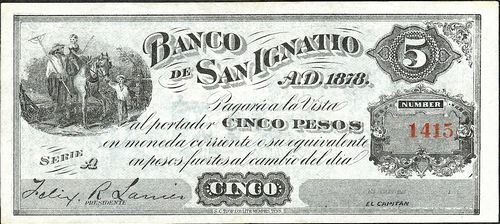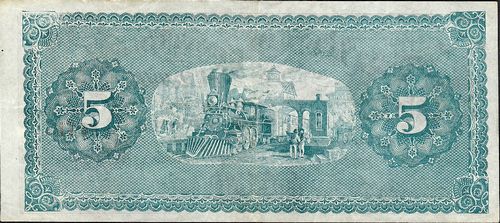 series
to
from
total
number
total
value
25c
$1
includes numbers 2791

CNBanxico #300

to 3584
$5
includes numbers 1415 to 1483

CNBanxico #301
Similar to the Guadelupe y Calvo notes are the notes of the enigmatic Banco de San Ignacio. Elizabeth Barrett Browning once asked Robert Browning what he meant by a line in his poem Sordello. He replied, 'When I wrote that only God and myself knew what I meant. Now only He knows.' In a similar vein I once asked Duane Douglas why, when he catalogued the Nicanor Vega collection, he had included the Banco de San Ignacio amongst Chihuahua, but in his Complete Encyclopedia of Mexican Paper Money placed it in Sinaloa. He gave me almost the same reply.
El Banco de San Ignacio does not appear to have been a true bank, authorised either by a state or the federal legislature, but if a bank at all, it would have been a private one akin to El Banco de Patricio Milmo of Nuevo Leon. However, the title 'Banco' might have been to establish confidence and suggest creditworthiness and the notes appear to belong among those issued by mining companies. If so, they must come from an area that in the 1870s was enjoying a sufficiently robust economy to need such a medium of exchange, and so again one can certainly expect them to come from one of the northern states.
The notes themselves offer some clues. Like the Guadelupe y Calvo Mining Company notes, they are dated 1878, were printed in the United States by S. C. Toof and Co. Lithographers of Memphis, Tennesee, and so will also have been issued by an American mining company incorporated in Tennessee (as was the Guadalupe y Calvo company). They have the printed signature of Felix R. Lanier as President and have a space for countersigning by the Overseer (Capitan): Lanier may have been Felix R. Lanier, Jr. who was a member of the "well known and substantial" mercantile firm of L. A. Morris & Co., of Osceola, Arkansas, just north of Memphis, though the date 1878 is problematical. Lanier was born in Mississippi County, Arkansas, in 1857 alternatively, in census, in Tennessee in February 1858. In his youth he worked on his uncle's farm and attended school at Memphis until the age of eighteen. He then returned to the farm, but in February 1888 entered the business of L. A. Morris & Co. as a partner. This firm "did a general commission business, buying country produce, cotton, etc" Biographical and Historical Memoirs of Eastern Arkansas, Chicago, Goodspeed Publishers, 1890 but Lanier may have had earlier and other interest and investments.
Like the Guadelupe y Calvo notes, the Banco de San Ignacio notes are known in three denominations: two reales, one peso and five pesos.
Ramón Lerna Alvidrez has drawn attention to the attached document which shows that in November 1906 the Parral branch of the Banco Minero was handling twelve bars of silver from the San Ignacio Mine. The three people assigned (or responsible for) four bars each - Guillermo C. Beckmann, Juan J. Weisell (of Juan J. Weisel y Kock) and J. J. Branon - appear to have been commission agents.
As yet these notes have not been definitely located. Although there are several San Ignacios in Chihuahua, there are also several in Sonora and it is the name of the main mining district in Sinaloa, but, based on the Banco Minero letter, the main contender appears to be San Ignacio de la Sierra in the municipio of Tepeguanes (Tepehuanes) in the state of DurangoTepehuanes is located in the north west of Durango and bounds, to the north, with Guanacevi; to the east, with El Oro, to the west with Topia and Tamazula, and to the south with Canelas and Santiago Papasquiaro.