Mining scrip (2)
Jesús María (Ocampo)
Santa Juliana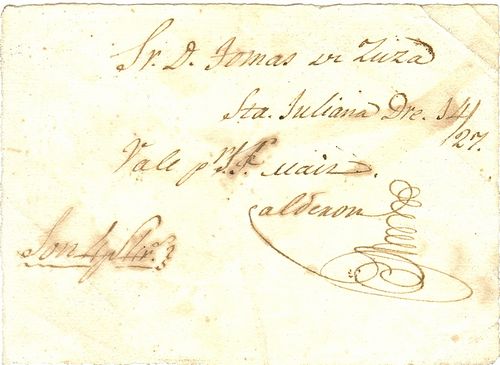 An early example of scrip is a handwritten note drawn on Tomás de Zuza, in Santa Juliana, Jesús María (renamed Ocampo in 1902), dated 14 December 1827 with the inscriptions Vale por [ ] maiz. Tomás de Zuza was born in Tajonar, Pamplona, in 1775. He settled in Sonora and was one of the first owners of the mines at Mulatos in 1807, and later mined in El Rosario and Jesús María. He held various public offices, and in 1828 was exempted from the expulsion of Spaniards. He finally moved to Chihuahua and died in 1845.
In 1894 a Mexico City newspaper reported that before the law prohibiting payments in scrip (fichas, cacharpas, vales al portador y otros objetos) came into effect, the practice was rife but now people were paid in legal tender. However, in Ocampo it appeared that the law was less efective, given the great circulation of aluminium tokens (monedas ó contraseñas de aluminio) issued by the compañía minera de Santa Juliana, redeemable only in the tienda de raya for highly-priced goods. Any worker who needed banknotes to pay his taxes etc. had to sell the tokens at a 25% discount to other businesses as the tienda did not exchange them at any priceVoz de México, Mexico, 4 August 1894.
M R Meuro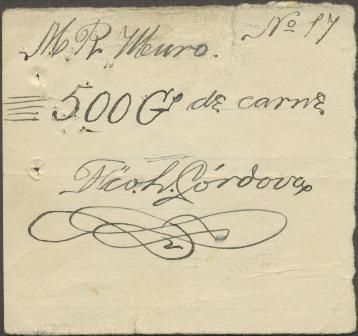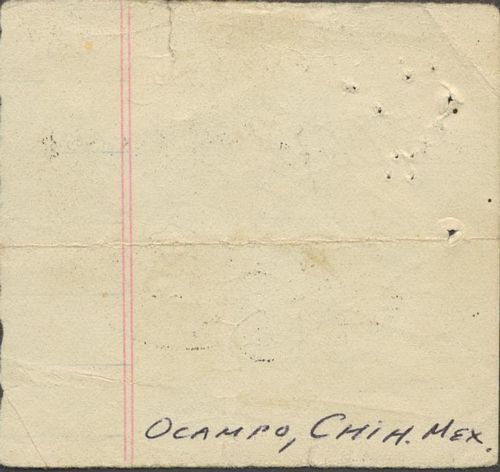 Another example is a small handwritten vale on lined paper with the text 'M R Meuro No 17 / 500g de carne / Fr'co. W. Cordova' and the annotation 'OCAMPO, CHIH' on the reverse. The annotation cannot be contemporaneous but, if correct, would locate this note in Chihuahua.
Negociación de Santa Eduwiges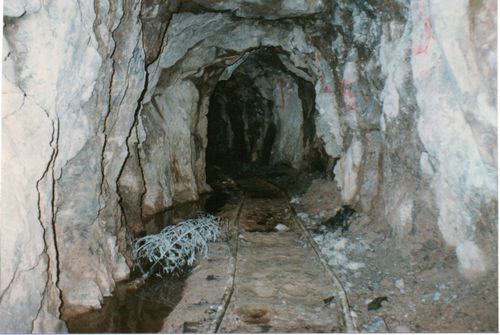 The Santa Eduwiges mine is situated a couple of miles outside the town of Jesús María (Ocampo). In the 1880s it was owned by a former governor of Colorado, Horace Tabor.

The Negociación de Santa Eduwiges (misspelt Negociation on the notes) issued scrip payable in cash in Jesús María and Chihuahua and accepted by nine stores (casas comerciales) in Jesús María, though the local government declared that they were not officially sanctioned. Almada mentions five denominations: half real, one real, two reales, four reales and one pesoFrancisco Almada, Apuntes Históricos de la Región de Chínipas, Chihuahua, 1937.
Two series are known.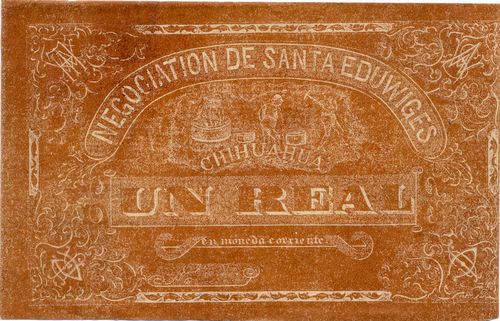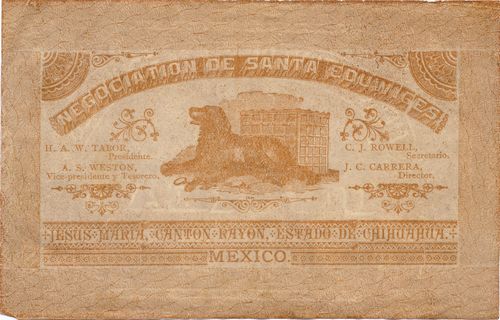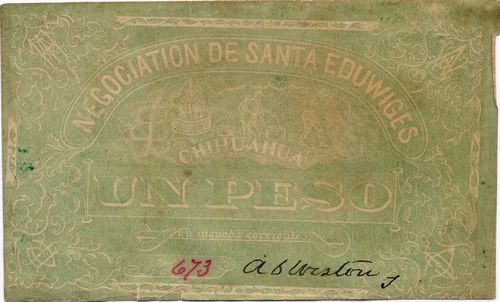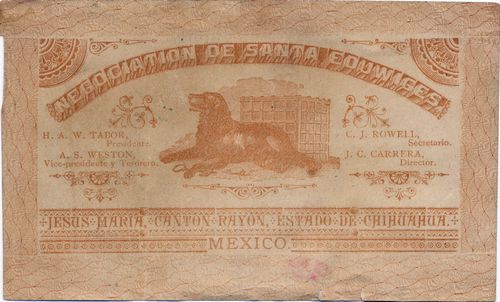 The first series (sequenced simply on the basis that Weston's signature (if legitinate) is hand-signed on these notes and a facsimile on the second series) bear a striking resemblance to the Pinos Altos notes, whilst the common reverse has a vignette of a dog guarding a strongbox and the printed names of H. A. W. Tabor, as President; C. J. Rowell, as Secretary; A. S. Weston, as Vice-president and Treasurer, and J. C. Carrera as Director. Two values (one real and one peso) are known.
Horace Austin Warner Tabor: Tabor was born in Holland, Vermont in 1830. By 1861, he had joined the emigrant movement west to the gold region of present-day Colorado, establishing a dry goods store in the mining camp of Buckskin Joe. Tabor would continue to prospect for gold in Oro City, and took up residence in Leadville in 1877. During this time Tabor bought into a number of mines, including the Little Pittsburgh Mine, and in May 1878 a massive lode of silver was discovered there. Tabor sold his interest in the Little Pittsburgh for a huge profit, and in turn became sole owner of the Matchless Mine where an equally large silver vein had been discovered. Almost overnight Tabor had become one of the wealthiest men in the United States. With his new-found wealth, Tabor bought a number of newspapers and large tracts of property in both Leadville and Denver. He was elected Lieutenant Governor of Colorado in 1879 and a U.S. Senator in 1883.

Tabor purchased the Santa Eduwiges mine in 1884 and boasted "My Colorado mines are nothing compared with this Mexican bonanza, as it seems to be practically inexhaustibleDaily Herald, Leadville, 7 May 1884". Unfortunately, he became embroiled in a court dispute with his Mexican partners over the ownership of the mine. He finally gained control in 1893, but that year the silver panic and subsequent passage of the Sherman Silver Purchase Act devastated his fortune. Tabor hoped that the Santa Eduwiges would save his collapsing mining and business empire and he personally travelled to Mexico to oversee its functions. Sadly, by mid-1894 even this effort had failed. The expenses of dead work, heavy equipment, and ordinary operations depleted his already dwindling capital, and "pockety" veins did not produce any steady profits. For Tabor, the Mexican venture proved the final blow to his empire. Practically penniless but still a respected public figure, he was made Postmaster of Denver in 1898, but died of appendicitis in 1899.

C. J. Rowell:
A. S. Weston:
J. C. Carrera: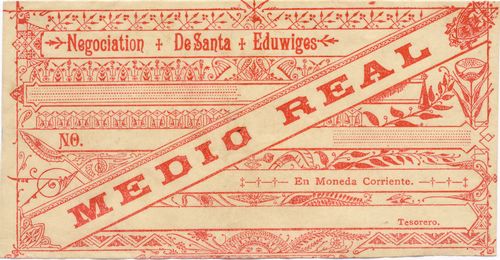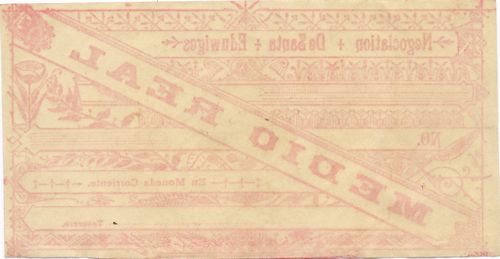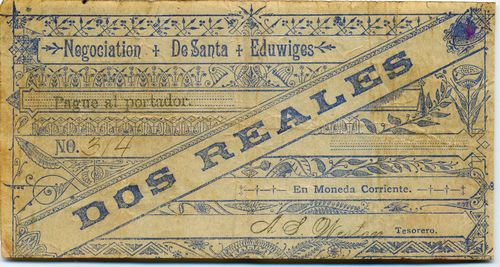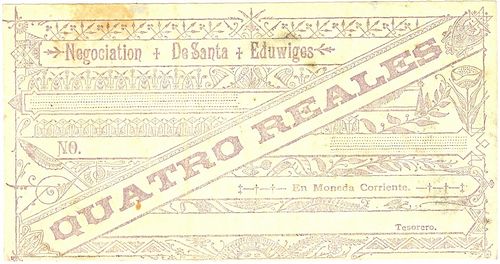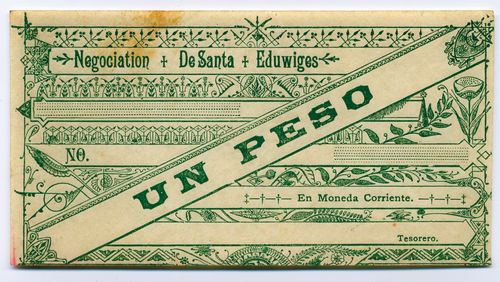 from
to
total
number
total
number
½r
includes number 2

CNBanxico #10008

2r
includes number 314

CNBanxico #10009

4r
$1
Of the second series, four values are known as uniface issued notes or remainders: a red ½r, a blue 2r, a purple 4r and a green $1, all payable en moneda corriente and signed by A. S. Weston, as Tesorero.
La Soledad
La Soledad was a mine about three miles due north of Jesús María which issued notes under the title 'Negociacion la Soledad-Mineral J. Maria'.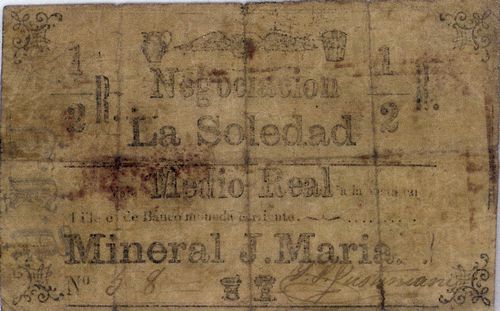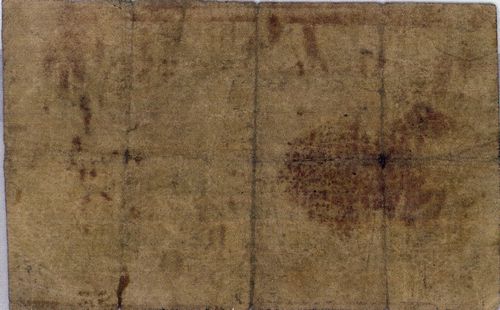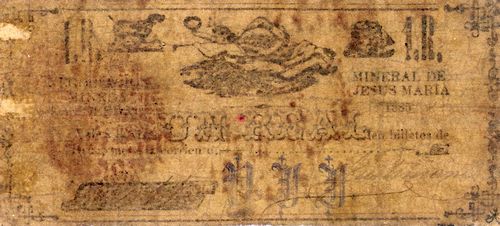 date on note
from
to
total
number
total
value
½r
includes number 58
1r
1885
The two denominations known are ½ real and 1 real, payable on sight in banknotes (a la vista en billete de Banco moneda corriente). Both bear the handwritten signature of Y. J. Justiniani.