Mining scrip
Santa Juliana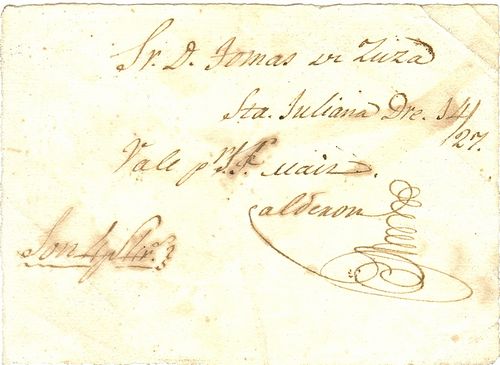 An early example of scrip is a handwritten note drawn on Tomás de Zuza, in Santa Juliana, Jesús María (renamed Ocampo in 1902), dated 14 December 1827 with the inscriptions Vale por [ ] maiz. Tomás de Zuza was born in Tajonar, Pamplona, in 1775. He settled in Sonora and was one of the first owners of the mines at Mulatos in 1807, and later mined in El Rosario and Jesús María. He held various public offices, and in 1828 was exempted from the expulsion of Spaniards. He finally moved to Chihuahua and died in 1845.
In 1894 a Mexico City newspaper reported that before the law prohibiting payments in scrip (fichas, cacharpas, vales al portador y otros objetos) came into effect, the practice was rife but now people were paid in legal tender. However, in Ocampo it appeared that the law was less efective, given the great circulation of aluminium tokens (monedas ó contraseñas de aluminio) issued by the compañía minera de Santa Juliana, redeemable only in the tienda de raya for highly-priced goods. Any worker who needed banknotes to pay his taxes etc. had to sell the tokens at a 25% discount to other businesses as the tienda did not exchange them at any priceVoz de México, Mexico, 4 August 1894.
M R Meuro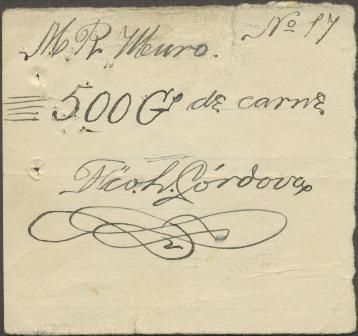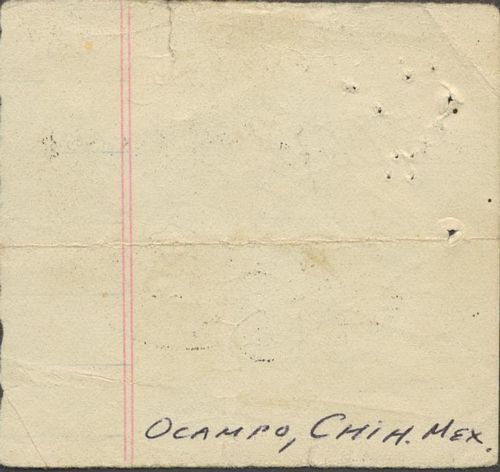 Another example is a small handwritten vale on lined paper with the text 'M R Meuro No 17 / 500g de carne / Fr'co. W. Cordova' and the annotation 'OCAMPO, CHIH' on the reverse. The annotation cannot be contemporaneous but, if correct, would locate this note in Chihuahua.
Santa Eduwiges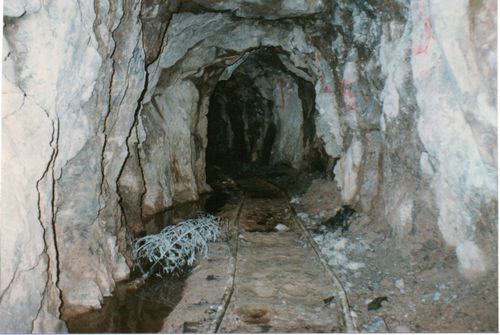 The Santa Eduwiges mine is situated a couple of miles outside the town of Jesús María (Ocampo). In the 1880s it was owned by a former governor of Colorado, Horace Tabor.

The Negociacion de Santa Eduwiges (misspelt Negociation on the notes) issued scrip payable in cash in Jesús María and Chihuahua and accepted by nine stores (casas comerciales) in Jesús María, though the local government declared that they were not officially sanctioned. Almada mentions five denominations: half real, one real, two reales, four reales and one pesoFrancisco Almada, Apuntes Históricos de la Región de Chínipas, Chihuahua, 1937.
Two series are known.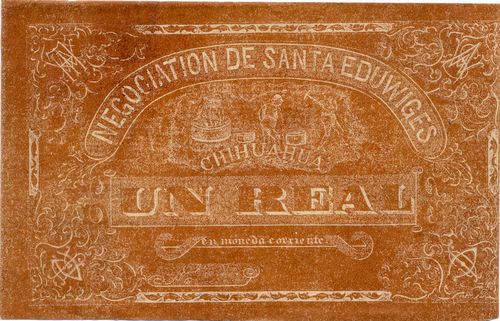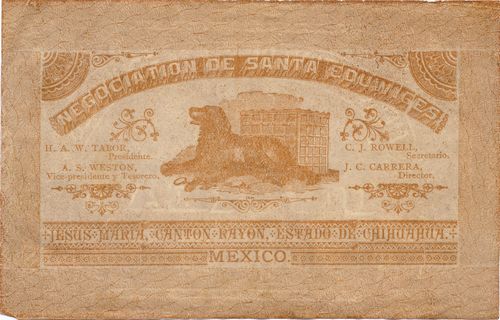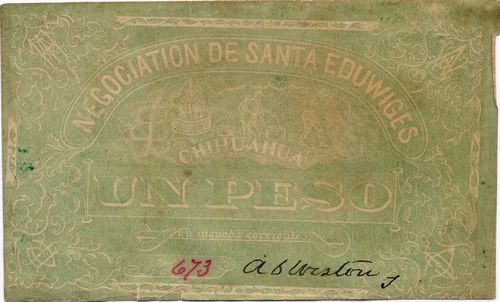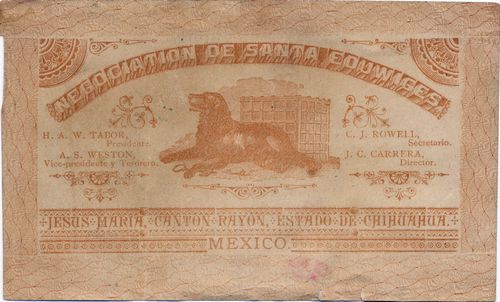 The first series (sequenced simply on the basis that Weston's signature is hand-signed on these notes and a facsimile on the second series) bear a striking resemblance to the Pinos Altos notes, whilst the common reverse has a vignette of a dog guarding a strongbox and the printed names of H. A. W. Tabor, as President; C. J. Rowell, as Secretary; A. S. Weston, as Vice-president and Treasurer, and J. C. Carrera as Director. Two values (one real and one peso) are known.
Horace Austin Warner Tabor: Tabor was born in Holland, Vermont in 1830. By 1861, he had joined the emigrant movement west to the gold region of present-day Colorado, establishing a dry goods store in the mining camp of Buckskin Joe. Tabor would continue to prospect for gold in Oro City, and took up residence in Leadville in 1877. During this time Tabor bought into a number of mines, including the Little Pittsburgh Mine, and in May 1878 a massive lode of silver was discovered there. Tabor sold his interest in the Little Pittsburgh for a huge profit, and in turn became sole owner of the Matchless Mine where an equally large silver vein had been discovered. Almost overnight Tabor had become one of the wealthiest men in the United States. With his new-found wealth, Tabor bought a number of newspapers and large tracts of property in both Leadville and Denver. He was elected Lieutenant Governor of Colorado in 1879 and a U.S. Senator in 1883.

Tabor purchased the Santa Eduwiges mine in 1884 and boasted "My Colorado mines are nothing compared with this Mexican bonanza, as it seems to be practically inexhaustibleDaily Herald, Leadville, 7 May 1884". Unfortunately, he became embroiled in a court dispute with his Mexican partners over the ownership of the mine. He finally gained control in 1893, but that year the silver panic and subsequent passage of the Sherman Silver Purchase Act devastated his fortune. Tabor hoped that the Santa Eduwiges would save his collapsing mining and business empire and he personally travelled to Mexico to oversee its functions. Sadly, by mid-1894 even this effort had failed. The expenses of dead work, heavy equipment, and ordinary operations depleted his already dwindling capital, and "pockety" veins did not produce any steady profits. For Tabor, the Mexican venture proved the final blow to his empire. Practically penniless but still a respected public figure, he was made Postmaster of Denver in 1898, but died of appendicitis in 1899.

C. J. Rowell:
A. S. Weston:
J. C. Carrera: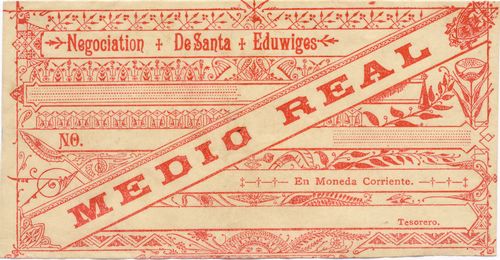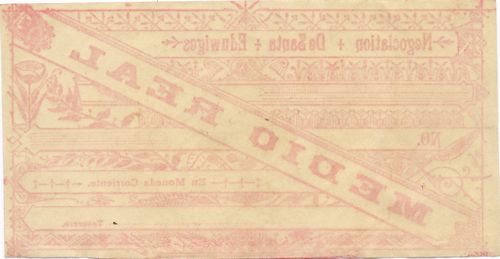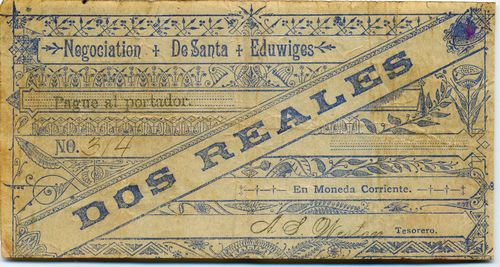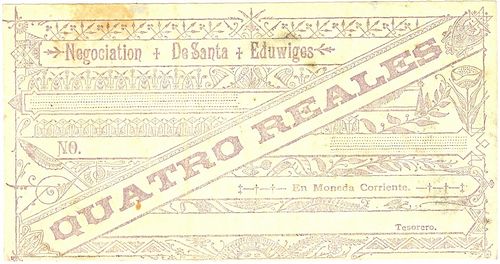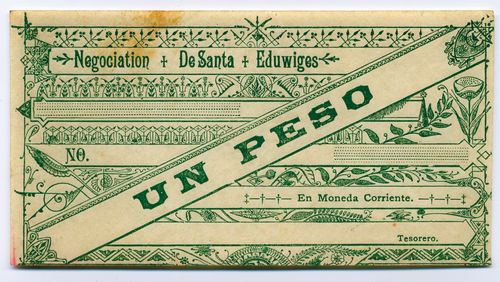 from
to
total
number
total
number
½r
includes number 2

CNBanxico #10008

2r
includes number 314

CNBanxico #10009

4r
$1
Of the second series, four values are known as uniface issued notes or remainders: a red ½r, a blue 2r, a purple 4r and a green $1, all payable en moneda corriente and signed by A. S. Weston, as Tesorero.
La Soledad
La Soledad was a mine about three miles due north of Jesús María which issued notes under the title 'Negociacion la Soledad-Mineral J. Maria'. The two denominations known are ½ real and 1 real, payable on sight in banknotes (a la vista en billete de Banco moneda corriente). Both bear the handwritten signature of Y. J. Justiniani and the 1 real is dated 1885.
Herrera, González, Salazar y Compañía
The business house of Herrera, González, Salazar y Compañía, founded by Manuel de Herrera, Juan María Salazar and Celso González, ran a mining business in Cusihuiriachic, and later established the first Banco Minero Chihuahuense. In 1874 thirty-six of its employees unsucessfully tried to stop the company illegally paying in wooden tokens that were only redeemable at the company store. The case went to the Supreme Court, where the judge upheld a judgement of the Chihuahua court that the company's workers had no redress against the company, nor against the state's governor or the judge for his refusal to act as the right of amparo (judicial protection) only related to government departments, not private individuals, and only to acts not to omissions. However, the court declined to fine the litigants as they were noticeably poor. It could have added that they would have been twice as poor as the company only cashed its own scrip at half its face valueSemanario Oficial, 30 June 1875.
Uruachic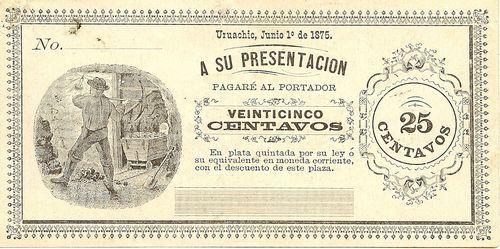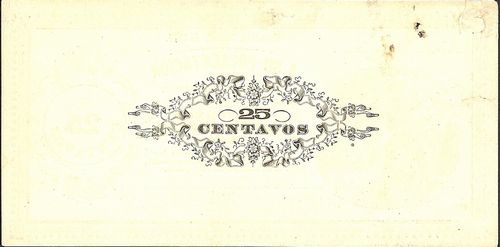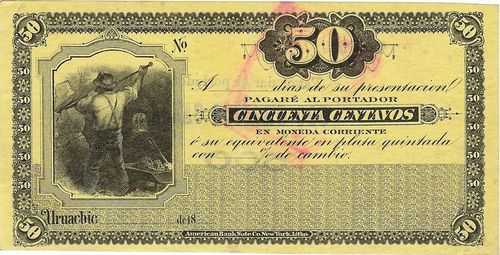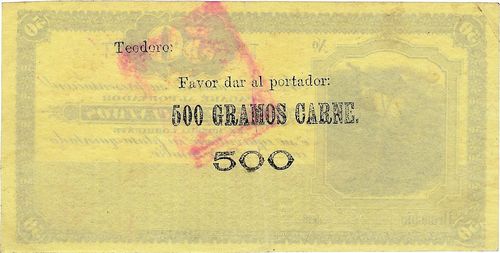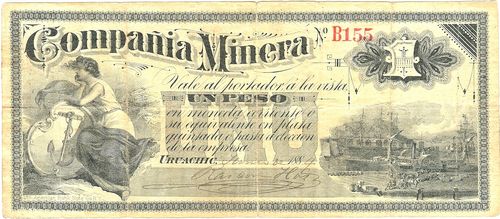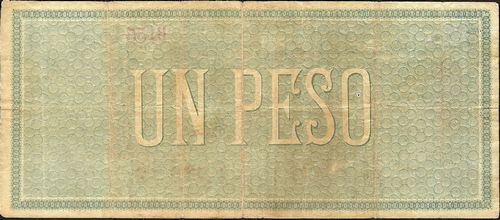 series
from
to
total
number
total
number
25c
50c
$1
B
includes number 155
H
includes numbers 463

CNBanxico #302

to 474

CNBanxico #10014
Epigmenio and Ignacio Rascón ran one of the most successful mining operations in Chihuahua. In the 1870s their company, the Compañía Minera, Uruachic, issued both tokens and paper currency, the tokens being produced at the Alamos minttokens dated 1873, with legend 'N y E Rascon Hermanos / 10 / centavos / 1873 Mineral de Uruachic / (eagle on cactus with snake) / MEXICO', and same for 12½c, 25c, 50c and 100c. (Richard D. Worthington, Catalogue of the trade tokens of Chihuahua, Mexico, El Paso, 1990) and the notes either produced locally or printed by the American Bank Note Company in New York. Both were redeemable at the company store, which was run by their distant relatives Ezequiel and Daniel Rascón. Notes in three denominations (twenty-five centavos, fifty centavos and one peso) are knownAlmada, op. cit., mentions vales with a value of two, four and eight reales. Were these the same or did he know of an earlier issue? Was he in fact referring to the tokens listed above?. The twenty-five centavos note (dated 1 June 1875) is payable in government-assayed silver or its equivalence in legal tender (i.e. copper coins) with the usual discount (en plata quintada por su ley ó su equivalente en moneda corriente con el descuento de esta plaza) and the fifty centavos (dated 18—) conversely in cash or its equivalence in assayed silver with a discount (a ... dias de su presentacion .. en moneda corriente ó su equivalente en plata quintada con _ % de cambio). Examples are known with the inscription 'Teodoro: / Favor dar al portador / 500 GRAMOS CARNE/500' ('Teodoro, please give the bearer 500g of meat') printed on the back. The one peso is known both as a green uniface note measuring 104mm by 56mm dated 1 March 1875 with legend 'Vale al portador por / un peso de efectos' and as an American Bank Note Company note dated 188-. The latter is payable on sight in cash or its equivalence in assayed or bullion silver (en moneda corriente ó su equivalente en plata quintada ó pasta á elección de la empresa). The only issued example is dated June 1884.
Urique
Urique in the next valley was another mining town dominated by a single family, in this case the Becerra. Juan N. Becerra moved to the region in the early years of the nineteenth century, becoming an important mineowner and local political official. His sons Buenaventura Agustin and José María expanded the family's economic holdings. Buenaventura, in particular, grew rich selling mines to foreign companies, dying a millionaire in 1907. The brothers briefly tried to obtain statewide office in 1877, when José María ran in and lost the gubernatorial election. Thereafter they allied themselves with the Terrazas. Marriage linked them to foreigners who operated their mining enterprises and to local political officials.
By 1909, as well as their mining interests, the family ran the beef trade and held all federal, state and municipal posts. A newspaper reported that it represented the 'height of patronage' (el colmo de compadrazgo)El Correo de Chihuahua, 14 May 1909.
After the start of the revolution, one family member was jefe político during the revolutionary governorship of Abraham González, so that they apparently played both sides during the years of upheaval. The Becerras continued to mine and ranch in Urique through the 1920s.
These notes were payable in banknote or its equivalence in assayed silver with an 8% exchange rate (al portador en billetes de Banco ó su equivalente en plata quintada con el ocho por ciento de cambio). The twenty-five centavos note is known in Series E, dated 1887, Series F, dated 1888, and Series G, dated 1889, and the one peso is known in Series D, dated 1886, and Series E, dated 1887.
Some notes have a stamp on the reverse stating 'BECERRA HERMANOS - URIQUE - CHIHUAHUA' while another has 'BECERRA HERMS - HACIENDA DE SANTA RITA - GUAZAPARES'.
On 8 April 1895 Becerra Hermanos went into liquidation with its assets being bought by the Banco MineroAGN, Antiguos Bancos, Actas de Banco Minero, libro 1, 28 February 1888 to 5 January 1899.
Guadalupe y Calvo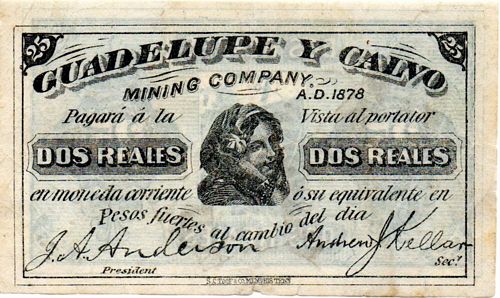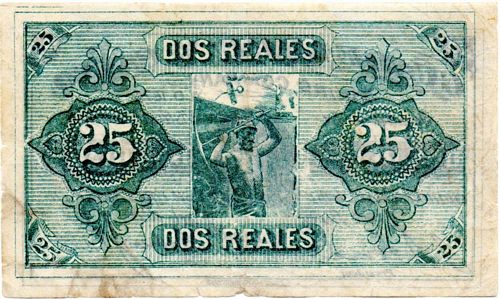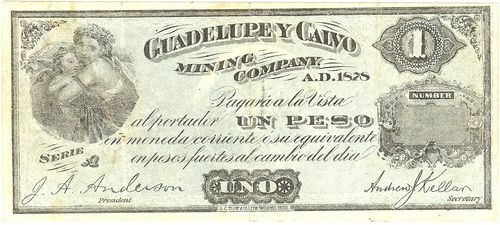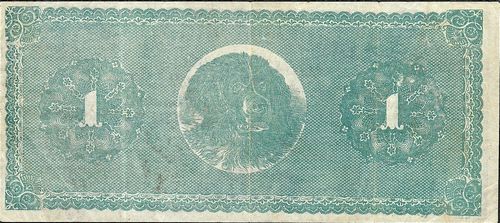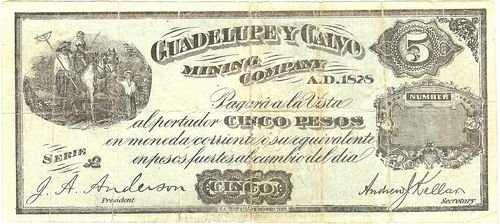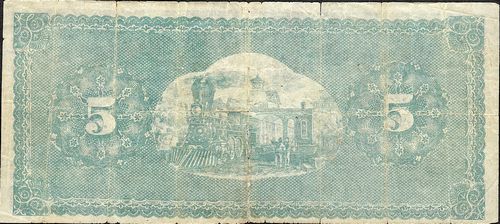 series
from
to
total
number
total
number
25c
$1
A
$5
A
Guadalupe y Calvo is an old mining town squeezed into a narrow valley where the air is redolent of pine smoke. It is reached from Hidalgo del Parral along a road where you are constantly looking down on where you were half an hour ago or will be in ten minutes' time. The trip to the mine, however, is well worthwhile and the view from the mine entrance, the narrow gauge railway track weaving around the rock face, and the cavern that has been dug to follow the vein down below a waterfall could make you forget the appalling conditions under which the Mexicans laboured to earn their pieces of paper.
Antonio Ochoa (state governor 1856-1861 and 1873-1877) and his brothers inherited the Nankin mine and a smelting plant here and in 1850 organised the Compañía Minera de Guadelupe y Calvo. For the next thirty years it was the most powerful mining company in this part of the state. In 1878 the mines were sold to the Guadelupe y Calvo Mining Company, based in Tennessee, with the brothers retaining a 20% shareholding.
The notes issued by the Guadelupe y Calvo Mining Company are known in three denominations: two reales, one peso and five pesos. The notes are payable in copper coins or their equivalence in silver pesos at that day's exchange rate (en moneda corriente o su equivalente en pesos fuertes al cambio del dia). The two reales note is dated 1878, whilst the one peso and five pesos notes are undated. All have the printed signatures of J. A. Anderson as President and Andrew Kellan as Secretary.
Palmarejo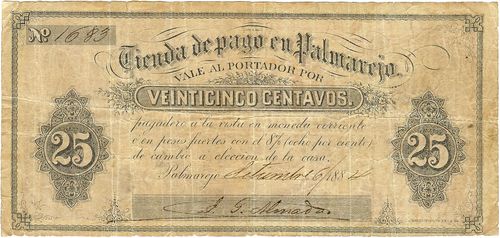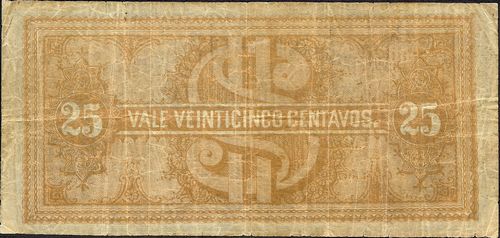 Palmarejo is a small mining community in the mountainous southwest of Chihuahua on the road from Temoris to Chínipas. Miguel Urrea bought the mines there in 1845 and worked them for several years, and they were then sold in 1886 by his heirs, the Almadas of Alamos, to the Palmarejo Mining Company Limited. Later this company merged with the Mexican Railway Company Limited, which ran the narrow gauge railway between Palmarejo and El Zapote, to form the Palmarejo and Mexican Gold Field Limited, which, according to AlmadaFrancisco Almada, Resumen de Historia del Estado de Chihuahua, Mexico, 1955, issued scrip though none is known. However, we do know of a 25c note of the Tienda de Pago en Palmarejo, dated 6 October 1884 and signed by Jesús G. Almada. It is payable in copper coins or silver pesos at an 8% discount (pagadero á la vista en moneda corriente ó en pesos fuertes con el 8% (ocho por ciento) de cambio á elección de la casa).
Oscar Ocharan
Oscar Ocharan, of Alamos, operated the narrow gauge railway between Palmarejo and Chínipas and issued tokens for use by either passengers or freightElwin C. Leslie, The Palmarejo Railroad Token, in Plus Ultra 69. Ocharan also operated the stage coach between Alamos and Guaymas.. His company, Ocharan y Ca, of Palmarejo, also issued a note dated 8 April 1888 for twenty-five centavos payable in Chihuahua banknotes or their equivalence in silver coins (en Billetes de los Bancos de Chihuahua o su equivalente en moneda de plata).
Guillermo Hagelsieb
Guillermo Hagelsieb of Presidio del Norte (now Ojinaga) issued circular 10-centavos card tokens, which are known dated 1869 and 1870Richard D. Worthington, op. cit. The booklet lists other companies in Chihuahua that issued metallic tokens. They include Cia. Minera Ignacio Rodriguez Ramos of Almoloya; Hacienda de Dolores of Aldama; 'La Coahuilense' of Julio Bonilla and Justo Saenz y hermano, both of Escalon; the Santa Juliana Mining Company of Jesús María; Compañía Minera of Naica and José de Stefano of Naica; Tienda de Raya of Santa Clara and Tienda de Raya of Cosihuiriachic.
Guillermo (Johann Friederik Wilheim) Hagelsieb was born in Cassel, Germany on 6 March 1832 and migrated to Galveston, Texas in 1852. He eventually ended up in Ojinaga. He was Director of the official journal, El Estado de Chihuahua, in November 1885 and died in 1902.