El Banco Nacional Mexicano
This bank was founded by Edward NoetzlinNoetzlin was the most important foreign financier during the Porfiriato and involved in virtually all the key financial events in Mexico. The fact that Noetzlin was a foreign financier, involved in numerous "national" financial arrangements both helped him advance, and limited his successes. Perhaps most illustrative of the weakness that his foreign status conveyed was the infamous 1884 foreign debt negotiations between Noetzlin (and his European banking syndicate) and the Mexican government. While this debt arrangement was being scrutinized and debated in the Mexican Congress, street protests erupted in Mexico City denouncing the deal with shouts of "Muera a Noetzlin." The arrangement was scuttled. Despite this and several other private incidents where Noetzlin's status as a foreigner was used to discredit his role in Mexico's national finances, Noetzlin traded gainfully in Mexico and in Europe on his social capital, on the value and worth of his social networks. In Mexico Noetzlin represented himself and his bank as part of a broad European capital network, a network he argued was necessary for Mexican entrepreneurs to gain access to lucrative foreign credit markets. Moreover he used similar arguments when he negotiated with a credit-strapped Mexican government or when it sought to diversify its financial exposure in Europe. Similarly, in Europe, Noetzlin represented himself as the consummate Mexican insider with a wealth of experience, contacts and intimates, and thus he was the necessary linchpin between European capital and the expanding Mexican market (Thomas Passananti, Banking on Mexico: Edouard Noetzlin and the Role of Financial Networks in Porfirian Mexico) and its shareholders were mainly identified with the Franco-Egyptian Bank. It was granted a federal concession on 16 August 1881 and began operations on 23 February 1882El Diario del Hogar, Tomo I, Núm. 122, 22 February 1882, with its main office in Mexico City and branches in Guanajuato, San Luis Potosí, Puebla, Veracruz and Mérida. It had a number of privileges, among which was the important one that its notes were accepted as unlimited legal tender in all offices of the federal government (a privilege soon restricted as far as branch issues were concerned).
On 15 May 1884 it merged with the Banco Mercantil Mexicano to form the Banco Nacional de México. Both banks agreed to retire their notes within two years and replace them with notes of the new bank. As a consequence surviving notes are extremely rare.
American Bank Note Company print runs
The American Bank Note Company produced the following notes.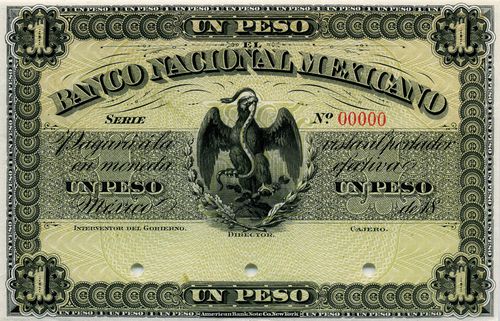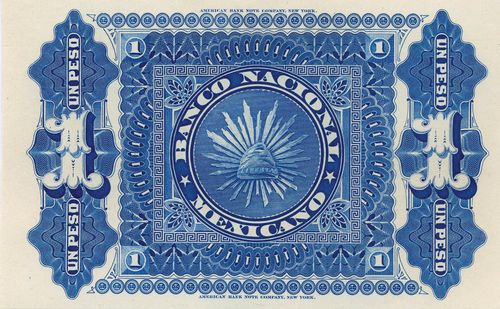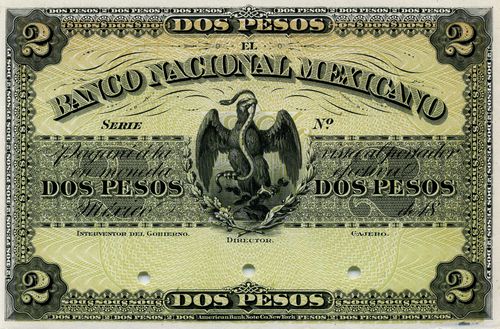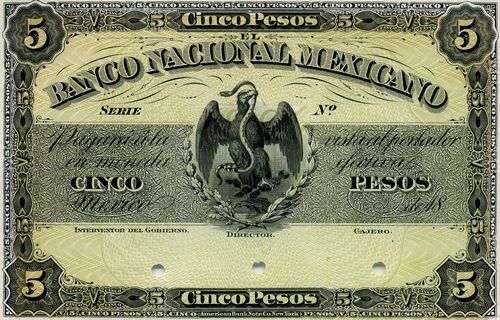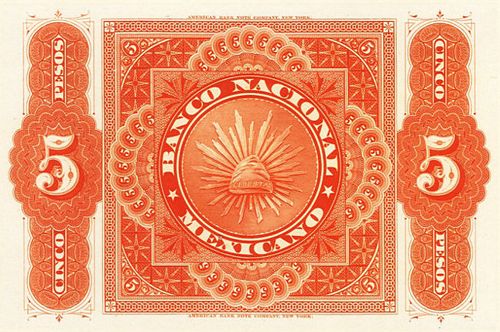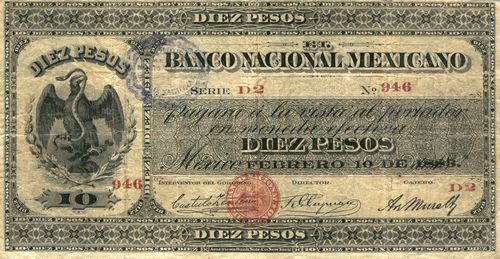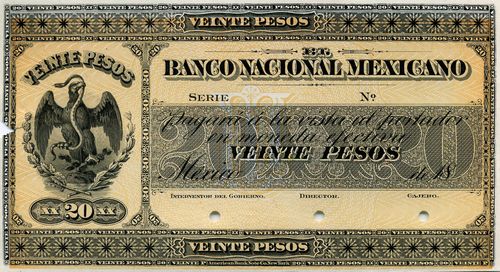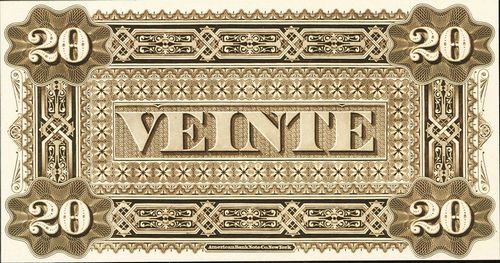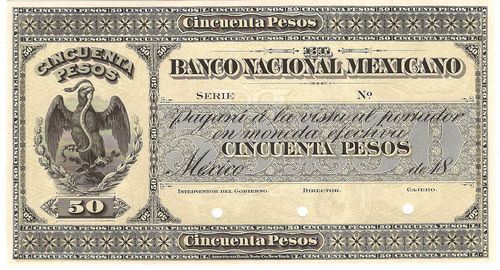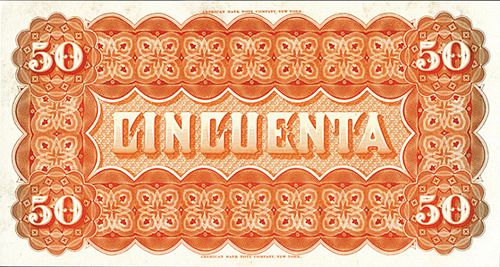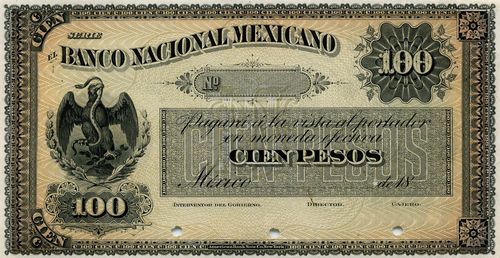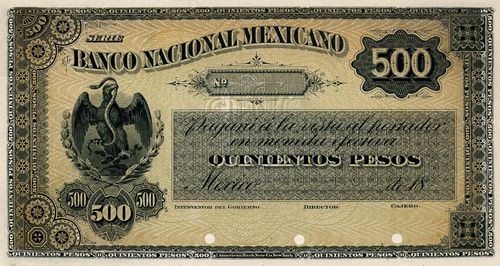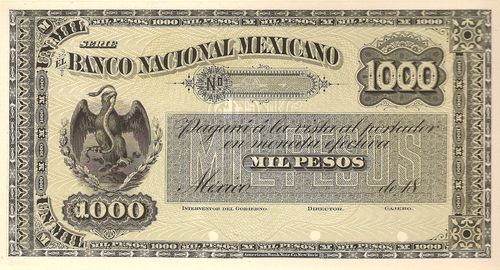 Date
Value
Number
Series
from
to
Comment
October 1881
$1
50,000
A1-Z2
000
999
50 series from A1 to Z2 with 1,000 notes each (I1 and I2 were not used)
$2
100,000
A1-Z4
000
999
100 series from A1 to Z4 with 1,000 notes each (I1. I2, I3 and I4 were not used)
$5
350,000
A1-Z14
000
999
350 series from A1 to Z14 with 1,000 notes each (I1-I14 were not used)
$10
250,000
A1-Z10
000
999
250 series from A1 to Z10 with 1,000 notes each (I1-I10 were not used)
$20
100,000
A1-Z4
000
999
100 series from A1 to Z4 with 1,000 notes each (I1. I2, I3 and I4 were not used)
$50
20,000
A1-U1
000
999
20 series with 1,000 notes each (I1 was not used)
$100
20,000
A1-U1
000
999
20 series with 1,000 notes each (I1 was not used)
$500
3,000
A1
000
999
B1
000
999
C1
000
999
$1000
1000
A1
000
999
Date
Value
Number
Series
from
to
Comment
August 1882
$500
2,000
D1
000
999
E1
000
999
$1000
12,000
B1
000
999
C1
000
999
Signatures
The (identifiable) signatures are Castulo Zenteno and Manuel Romero Rubio as Interventor, Ramón G. Guzmán and José María Bermejillo as Director, and Alberto de Muralt as Cajero.
Interventor
| | |
| --- | --- |
| Cástulo Zenteno was born in Matamoros, Tamaulipas on 22 May 1837. He owned the El Cristo coal mine in Tempoal, Veracruz, served as a special messenger for Porfirio Díaz in 1876 and attained the rank of colonel in 1878. As well as political offices (deputy for Yucatan (1876-1878), senator for Yucatan (1884-1888) and deputy from Yucatan (1896-1900)), he represented the Mexican government on the Oriental, Internation and Interoceanic Railroads (1881), and was chief tax collector for the Federal District (1884). | |
| Manuel Romero Rubio was born on 7 March 1828 in Atzcapotzalco, Mexico City. He was a lawyer and politician holding various offices including deputy from Puebla (1856-1857, 1867-1868), governor of Mexico City (1857). He joined Juárez' Liberals during the revolution of Ayutla (1855-1856), was captured by the French and exiled to Europe in 1863, as a supporter of Lerdo and his secretary of foreign relations he opposed Díaz' Plan of Tuxtepec in 1876 and was exiled to New York from 1877 until 1880. He returned to establish an opposition newspaper and became a senator from the state of Tabasco from 1880 to 1895. He eventually collaborated with his former political opponent by serving as Díaz' Secretario de Gobernación for eleven years until his death (1 December 1884-3 October 1895). He was the father of Carmen Romero Rubio, the second wife of Porfirio Díaz, as well as the father-in-law of the prominent banker José de Teresa. He died on 3 October 1895. | |
Director
| | |
| --- | --- |
| Ramón G. Guzmán | |
| José María Bermejillo | |
Cajero
| | |
| --- | --- |
| Alberto de Muralt | |
Branches and overprints
The reason for the branch overprints was the rule for redeeming notes. On its opening the bank published a notice that notes issued by branches would have two stamps (one central and one local). The branch would reemburse its own notes but had no obligation to remburse the notes of Mexico City or of other branches. Branch notes could be reembursed in the head office, according to rules that the bank would issueEl Diario del Hogar, Tomo I, Núm. 122, 22 February 1882.
On 6 June 1882 the government agreed terms for accepting the branch notes which limited the federal offices' obligationsEl Siglo Diez y Nueve, 22 June 1882; La Voz de México, Tomo XIII, Núm. 141, 22 June 1882.
Veracruz
Veracruz was the first branch and opened on 1 March 1882.


Guadalajara
San Luis Potosí
After agreeing a contract with the governor, Pedro Diez Gutiérrez, the bank opened its branch in San Luis Potosí on 30 October 1882La Patria, 18 November 1882. The members of the local board were Matias Hernandez Soberon, Felipe Muriedas and. José Encarnacio Ipiña. The manager was Santiago Wastall and the cajero Celestino Labarthe.
Guanajuato
The Guanajuato was established in November 1882La Voz de México, 16 November 1882. The director was Francisco de Ibarrondo and the cajero Francisco de Ezcurdia.
Puebla
The branch opened in 1882 under Mariano Pasquel, a member of an ancient and moneyed family with links to Veracruz and Mexico City(?).
Mérida
On 17 October 1882 the governor of Yucatán, General Octavio Rosado, and J. Mammelsdorf and Santiago Kulp, for the bank, agreed a contract to open a branch in Yucatán. The contract allowed the bank to issue banknotes which would be accepted as legal tender in all payments to the state and municipalities with the bank obliged to redeem them in cash at the bank's branch.
The branch opened on 15 November 1882Le Trait d'Union, 25 November 1882 with a capital of $300,000 and under the management of Carlos VaronaThe junta de viligancia was composed of Pedro de Regil y Peón, Manuel Dondé Cámara and Camilo Cámara. The cajero was Emilio Márquez.